November 11 is Veterans Day, a day established to honor the men and women who serve or have served in the United States Armed Forces. Many companies try to promote goodwill by running special Veterans Day promotions or sharing Veterans Day messages that thank our nation's troops. This can be a very positive thing—America's military absolutely deserves recognition. However, if a Veterans Day marketing campaign is not done well, it can backfire, damaging your brand and your reputation.
Here's a short overview of what can work and fail when it comes to Veterans Day marketing.
What Can Work
Offers Exclusively For Veterans
Veterans Day is a day to recognize veterans. Any promotions should be targeted specifically to veterans and their families. This is an opportunity to show that your brand or business appreciates the sacrifices they have made for our country.
If you do plan to run a Veterans Day promotion for the general public, offer additional savings or freebies for veterans. Keep in mind that if your offer to veterans is not compelling or appears to be simply a token discount, you run the risk of making your veteran audience feel patronized.
Genuine Messages Of Gratitude
A meaningful, straightforward message of thanks can be an authentic way to connect with veterans. Be respectful and develop content that reflects the true meaning of the day. Let your tribute to veterans take center stage. Add your branding subtly to the bottom of your image or at the end of a video.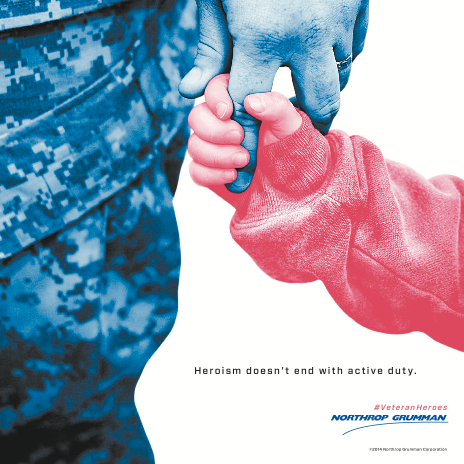 Cause Marketing Campaigns
Align your brand with a reputable organization that helps veterans. Offer to make a donation for every purchase. Even better? Create lasting impact by making helping veterans a part of your company mission, such as establishing a job training program for transitioning military.
What Can Fail
Self-Serving Messages & Images
Thanking veterans is good. Forcing a fit between your products or services and the military is not. Consider choosing an image that is focused on veterans and the military, even if that means not including a picture of your product.
A Veterans Day Marketing DON'T
A Veterans Day Marketing DO
Excluding Some Veterans
Some businesses restrict their Veterans Day deals and discounts to just active duty military. Veterans Day is a day to honor those who are currently serving, as well as those who have served in the past. If you are running a Veterans Day promotion, be inclusive and make it available to all veterans.
Choosing The Wrong Stock Photos
One quick way to potentially turn off service members and veterans is to use a photo that depicts military personnel improperly, such as wearing an outdated or non-regulation uniform. To avoid this, try using images like an American flag or another patriotic symbol, or a soldier in silhouette. If you must use images of service members in your marketing campaigns, do your research to ensure that the person in your photo represents the military correctly.
According to the Department of Veterans Affairs, there are more than 20 million veterans in the United States.  With careful planning, you can execute smart Veterans Day marketing campaigns that convey appreciation to veterans and engage, rather than exploit, this large and diverse group.