Picture this: you wake up randomly at three in the morning to a QVC infomercial blaring at you to buy the latest in cleaning technology.
Fast forward a few years: you're scrolling through your favorite social media platform only to stop and see an influencer hocking their favorite makeup item.
What do these two things have in common? They're both live shopping.
Live shopping as we know it today did indeed get its start with those infamous commercials and networks that hit their stride in the late '70s and early-to-mid-80s. But we've come a long way since wacky infomercials in the early hours of the morning were the main way to bring real-time purchasing opportunities to life for consumers. And it's big business; according to Coresight Research, live shopping is expected grow to $68 billion in sales by 2026.
Let's take a look at how live shopping works today, why it's important, and how you can make it part of your marketing strategy in 2023.
What's so special about live shopping?
Today's consumers are savvy and they want instant gratification. From two-day shipping with Amazon Prime to buying online and picking up in-store, consumers want to get what they want when they want it—and not a second later.
Statista found that purchases from live shopping increased by an average of 76% worldwide from pre-pandemic times to 2021. With brick-and-mortar stores closed, people flocked to social media channels and retail platforms and websites to see products in action in a live format and make purchase decisions in real time. Even with the economic slowdown, that's one pandemic-related trend that hasn't changed.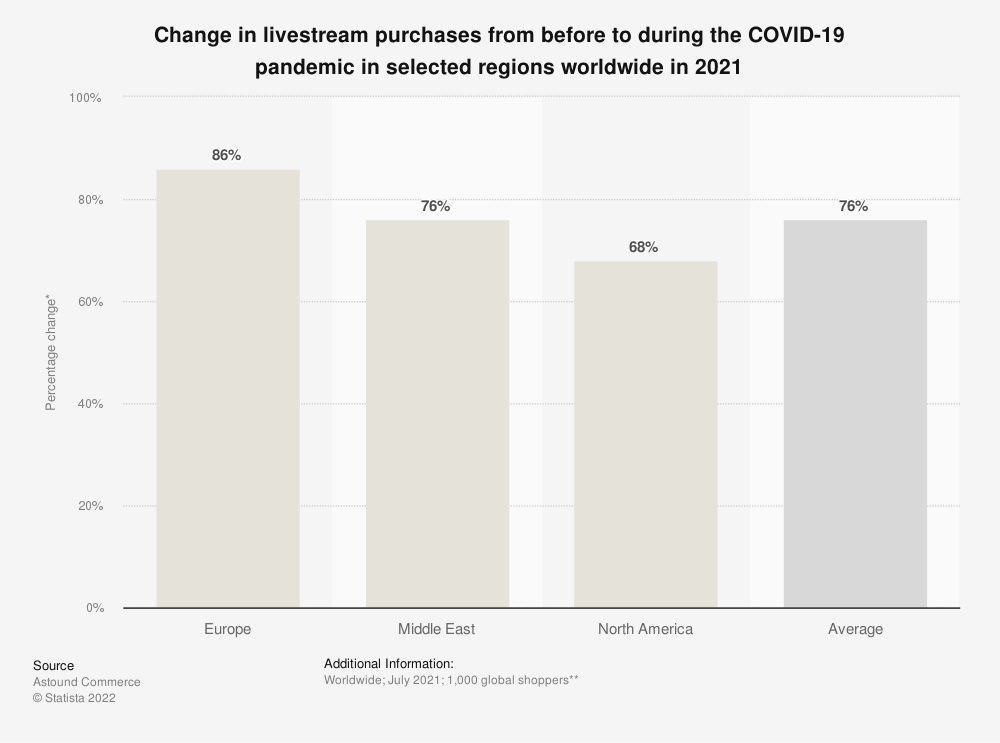 Source: Statista
And the consumers engaging in live shopping are skewing younger. Unlike QVC's audience, which has always catered to an older clientele, 47% of consumers who have made a live shopping purchase in the US are Gen Z, according to a study by The Influencer Marketing Factory.
The reasons live shopping helps brands connect with Gen Z audiences aren't limited to that cohort. In fact, live shopping campaigns can help you:
Drive consideration: Show off your products or services in a real time environment while directly interacting with your customers. Connect on an authentic level while offering them reviews or recommendations.
Feature new products, promotions, and services: Keep your followers, customers, and potential customers up-to-date about everything new with your brand or business in a fun and exciting way. Offer limited-time deals with the livestream to drive demand.
Leverage creator partnerships: Tap into your current influencer network or seek out someone new to reach your desired audience. Let the creator inject their personality into what you're trying to sell so your audience is primed to make a purchase.
And, if you decide to host the live shopping session on your own site, you'll own the first-party data gathered from video engagement.
Today's live shopping options offer features that go way beyond a simple video
Choosing the right virtual venue for a live shopping experience ultimately depends on your goals and KPIs, as well as the time, money, and effort you're willing to put into it. For brands with smaller budgets or who don't have the capabilities to host live shopping on their own site, social platforms are an excellent place to start.
In 2022, Facebook Live was the top live shopping destination for consumers, but Meta has since shuttered the feature. But Instagram Live and TikTok Live were the two next-biggest destinations for shoppers at 19% and 18% respectively.
Your business is probably on one or both of those channels, and live shopping will help you utilize their capabilities to the fullest.
On Instagram Live, you can sell items within the app so that customers have a seamless experience from start to finish. You need to have an Instagram or Facebook Shop set up so you can tag your products on organic social, paid social, and influencer content.
You can also save your Instagram Live videos so customers who missed the live session can still get in on the fun and make a purchase later.
View this post on Instagram
TikTok Shopping offers full-service or third-party options if you're partnering with Shopify, Square, Ecwid, or PrestaShop. The platform also expects Wix, SHOPLINE, OpenCart, and BASE to follow soon.
TikTok Live Shopping includes some unique features, including:
Invite a co-host: Host the livestream on your own page while including a TikTok creator so you can reach their audience as well as your current customers
Add a moderator: Ensure brand safety by assigning a moderator so that rogue or spammy comments can't derail what you're trying to accomplish
Offer a Q&A: Separate questions from the comment stream so you can respond to them quicker
Live shopping capabilities aren't limited to those two channels. Depending on your target audience and your media mix, Pinterest, YouTube, Twitter, Twitch, and Snapchat also have social commerce tools available in-platform.
Another alternative is Amazon Live. The ecommerce giant has put a lot into building out an effective live shopping experience, but it's necessary to use the in-house offering, which does come at a price. Even if your content is fabulous, your content won't get pushed in front of people or featured on the Amazon homepage without Amazon's support.
If you're looking to host live shopping on your site so you can own the entire experience from top to bottom, you will need to invest in the backend so that the customer experience is still seamless.
One example of a brand doing this very well onsite is performance apparel powerhouse Vuori, especially the live shopping campaigns for their EcoOuterlands collection. And they're not just taking advantage of the real-time nature of the event: they have previous live shopping events readily available to rewatch and have also updated traditional product page layouts to include video instead of the typical flat-lay image.
The rule of thumb is that live shopping generally drives a conversion rate lift of about ~10%, so it's well worth considering as an addition to your mix alongside more traditional digital media. But there are overhead costs to take into account if you're doing it all yourself. To decide if it's worth the investment in your own site, you need to look at how the cost of the tech + production + media preheat + media reengagement + live shopping CVR compares to the CVR of media alone.
Thanks to the progress of live shopping tech and growing consumer adoption, it's much easier for brands to test into this new way to engage with their audiences, and the value of the data capture alone from an on-site experience could give it the edge over options on social or retail channels.
Getting started with live shopping is easier than you may think
The consumer behavior shift towards live video consumption has opened up opportunities for brands to lean into this intersection of content and commerce.
If you think you're ready to jump on the live shopping train, whether that's on your site or on another channel, make sure you keep this checklist handy:
Choose your product category
Develop your creative concept
Collaborate with a creator/influencer
Align your media campaign
Align your livestream operations
Ensure platform integration
Set up analytics
Promote cross-channel and cross-platform
Live shopping can help consumers get a better look/feel for your products, learn more about your brand, and engage in a meaningful way that can help deepen their relationships with your business. It's time to start exploring your options.