Giving back to the community is an act of philanthropy that not only helps charitable organizations and their beneficiaries, but also benefits those who donate their time and energy. In a society where volunteerism has an ever-growing role, community service represents an avenue for people to have immediate impacts on service projects that are personally meaningful to them. And the digital era has only made it easier by opening doors for organizations and individuals to reach underrepresented populations and help causes around the globe, enabling many to contribute to the common good.
Providing community service goes beyond the obvious benefits that recipients and givers derive. It also provides marketing opportunities for business owners. With a wave of the invisible hand, a company can simultaneously contribute to the public good and put its company on top. Since most people are driven by an instinctual desire to give back, establishing a corporate mission to serve the community that everyone will buy into and revere isn't too difficult. At Wpromote, we have a dedicated committee called Wprovide that spearheads all of our community service efforts. By serving charities and programs that employees, job candidates, customers, and members of the community are passionate about, everybody wins. It seems like a forgone conclusion, but some companies fall short when trying to implement civic engagement into the core of their business.
That in mind, developing a sense of social responsibility in the corporate world bolsters a company's marketing efforts only when done correctly. Coercing employees to "volunteer," or only participating in community service events that are self-serving do not exactly fall under the umbrella of philanthropic endeavors. Volunteering must come from the individuals that make up your company, and the programs you help should be appealing to employees based on personal beliefs. It doesn't hurt to choose charities and organizations that align with your business to ensure that customers care about the cause as well. Here at Wpromote, the range of clients we serve is exponential, so we aren't very limited in who we partner with or help. We have done food drives, beach cleanups, a blood drive, Valentine's Day cards for children's hospitals, a child reading development program, Special Olympics support, and more. Assuming that the community involvement is genuine and the bottom line isn't the primary objective, companies that include corporate social responsibility (CSR) into their business plan boost interest and support from employees, job applicants, customers, and the community. Below are some of the methods companies can seamlessly weave into their business efforts.

Employees
In a world where volunteerism is increasingly more important to the Gen-Y/Millennial population, a strong sense of community service creates and sustains great employee morale. Employees who have multiple ways to volunteer throughout the year develop a strong sense of pride associated with the company. In the 2016 Cone Communications Employee Engagement Study, 74% of employee respondents claim that their job is more fulfilling when provided opportunities to make a positive impact at work. This line of work creates a breeding ground for positivity, giving people that 'feel good' aura that so many companies strive to integrate into their work culture. Additionally, employees can transfer their work skills into a volunteer role, developing creativity, problem-solving, and other useful skills that otherwise wouldn't have been practiced in the workplace. At Wpromote, we offer multiple opportunities for employees to get involved and we strongly encourage everyone to attend biweekly meetings to discuss new or upcoming events. The wide variety of programs with whom we work ensures optimal participation and supports a larger range of interests across the company. Overall, volunteerism sends job satisfaction soaring and perpetuates a cycle of positive vibes amongst and across teams and departments. Talk about an easy way to increase performance and productivity.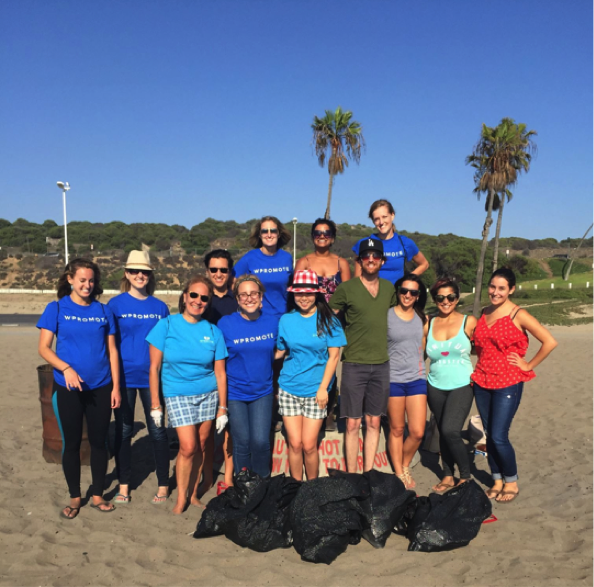 Job Applicants
Perhaps less recognized is the effect that CSR has on potential job candidates. Millennials seeking jobs often take this element into account due to the importance of volunteerism. For example, 51% of employees surveyed in the 2016 Cone Communications Study say they won't work for a company that doesn't have strong social and environmental commitments. As they enter the workforce and move up the ranks, it is wise to have an edge over your competition. Therefore, don't forget to promote your service efforts prominently so that job applicants are drawn to your company. Increasing employee recruitment and retention spells long-term success. Not to mention, those who enjoy donating their time to meaningful causes will just as likely be passionate and go above and beyond to perform well at their job.
Customers
Improving customer satisfaction is undoubtedly vital to sustaining a profitable business, but in order to do so, a company must earn the trust of its customers. The 2012 Cone Communications Corporate Social Return Trend Tracker reported 86% of consumers are more likely to trust a company that communicated the results of its CSR efforts. By showcasing the community programs with which your company is involved, you build trust between your business and those who pay for your product or services. You can also partake in events that involve your clients to strengthen your existing relationships and hopefully develop new ones with potential customers. An idea might be to host a silent auction where products/services are offered from surrounding community businesses, as well as your own clients, with proceeds going to an organization that many people will want to rally behind. This strategy is inclusive of many different contributors and it's beneficial for all parties. When a business demonstrates its unwavering commitment to the community, customers will take notice and potential ones will likely hold you in high regard.
Community
Lastly, companies can leave lasting impressions on the communities in which they are located. According to the 2015 Cone Communications Millennial CSR Study, 91% of Millennials would switch brands to one that is associated with a cause, while 74% said they would volunteer for a cause supported by a company they trust. To cement a positive reputation and to contribute to a healthier community, a company should make a concerted effort to join causes that are important in the eyes of other businesses, organizations, schools, local governments, and other members of the community. In this mutual relationship, the more a company networks with the community, the more widespread goodwill becomes.

Conclusion
When it comes to promoting your business on a local, national, or global scale, community service should not be viewed as just an offshoot to gain higher ground over your competition. The objective of crafting a CSR plan shouldn't rest on the ability to create and sustain a good reputation, or the advantage of hiring better employees, or the likelihood of generating more revenue. Those are all residual gains, not the primary driving forces. Instead, build your business around the values of your employees, potential job applicants, customers, and all the other individuals who make up the very community that supports your business. The bottom line is that when carried out with unselfish intentions, philanthropy has the nature of putting a wealth of benevolence back into your business model.