We got the opportunity to sit down (virtually) with John Becker, Chief Marketing Officer at Investor's Business Daily (IBD), the leader in powerful investing products and stock market coverage for the self-directed investor.
The topic? IBD's unique marketing strategy, which prioritizes building deep relationships and a sense of real community with customers through high-quality content and events, and what the future holds for digital marketing in the financial technology industry in particular.
Christine Schrader: Tell us about IBD's current marketing strategy: are there specific channels you're focused on? What goals are you prioritizing?
John Becker: While other companies shifted their priorities or cut budgets when the pandemic first hit, we actually increased our digital marketing efforts by 70% and pumped more money into the channels that were working extremely well for us. At the onset of COVID, we saw increased website traffic and higher engagement because people were at home, the market crashed, and consumers had more time to get involved with investing. I think the number of online brokers offering commission-free trading has also had a big impact on attracting new investors to the market. For instance, Robinhood opened 3 million new accounts in Q1 of 2020, which is a really big number. So a lot of new people became engaged in the stock market in general and with our products specifically.
We're also partnering with Wpromote and focusing on optimizing and scaling up our best-performing channels such as email marketing, paid search, social, and content marketing.
"Our Content Team produces so much great information that we can repackage and leverage in myriad ways on the content marketing front—from infographics and educational email series to videos and webinars. Having a partner like Wpromote that specializes in audience targeting really helps us get our quality content in front of the right people and build robust brand awareness."
We're always testing and trying new things. One of the newer tactics is advertising across streaming platforms, which allows us to retarget audiences through connected devices, on social media, and more.
We also have an influencer network. I believe we were the first company in the financial services vertical to build out an influencer network, which we did about three years ago.
We have many influencers in the program that are very well-known in the investing community, predominantly on Twitter, but also on Facebook, YouTube, and StockTwits (which is like Twitter for stock investing). One of our influencers is Howard Lindzon, who is the founder of StockTwits.
We've partnered with our influencers to expand our reach outside of our own ecosystem, so a lot of the people that we're reaching through the network are Millennials and Gen Z'ers. We've reached a ton of new people through our efforts on this front.
IBD has seen a surge in business during the pandemic. Are your new customers different from your normal base customers? How are you planning on retaining those new customers?
We've been ramping up our marketing efforts to focus on multiple segments, from targeting customers who have just opened a new brokerage account and are learning how to trade, to consumers who have some experience in the market and are becoming re-engaged during the pandemic, to people who have been investing for over 10 years and are now deciding to get serious about their performance and try one of our products.
But yes, we are getting a lot of customers who are new to investing, so we are focused on developing more educational opportunities that cover more of the basics. We've expanded our onboarding process for new customers, added more educational videos, and we created a "New Member" webinar that occurs every two weeks and is focused on helping beginners get a jump start on learning investing and seeing how to get the most value out of our products.
Let's talk about some of the ways your business has invested in building a community in the financial niche: How do you find the right balance between being acquisition-focused (sharing educational content for first-time investors) and retention-focused (making sure existing customers understand the new features of your products)? How do those two sides of marketing interact?
There's a lot to unpack here!
In terms of communication strategies that we leverage for acquisition and immediately after purchase, we utilize infographics, email newsletters, instructional videos, a guided onboarding process, and beginner webinars. We want to make sure our members get off on the right foot, understand the products, and get the most value from them immediately.
We have incredibly diverse strategies for retention purposes, including monthly "Scorecard" webinars for our Leaderboard and SwingTrader products that review the performance of our stock picks over the last month and cover other product and education-related topics.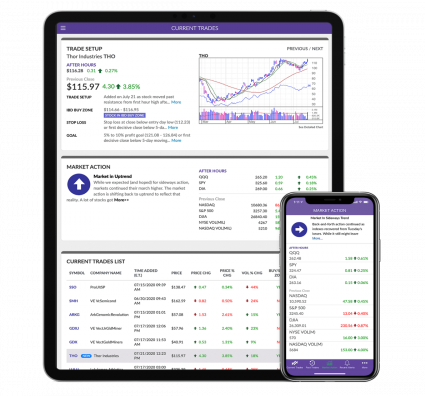 We also offer free product coaching and special event webinars on advanced investing strategies. When our customers want to reach us, our best-in-class Customer Success Team handles their questions via phone, email, and chat with some of the quickest response times in the industry. We're always trying to improve the customer experience.
Many of these tactics cross over, so they're really a hybrid between acquisition and retention. Everyone benefits from product coaching, new product features, and a great customer experience.
"Many of the tactics I just mentioned play into the overall strategy of building a community. Our members are not only subscribing to one of our products, they're joining a community of experts and fellow members that are focused on being the best investors they can be."
IBD is unique in that we provide our members with multiple opportunities to interact with our team and other members. There is a lot of sharing of ideas, experiences, and learning that help members avoid some of the common investing mistakes people make and assist in accelerating their investing and product expertise. Members have access to our product coaches, who all know our products inside and out and are excellent stock traders in their own right. Our members can ask questions during webinars and learn from the questions of other members. We have a free weekly podcast that provides investing insights from our team and guests that are some of the top investors out there, we produce live, in-person events and virtual events where customers can interact with the IBD Team and with each other, we have a vast social network that provides opportunities for engagement and finally, we have a network of 150 Meetup groups across the globe. Most of these groups grew organically over the years and meet to discuss IBD's investing methodology. So, we've created all these amazing opportunities for customers to interact with us and each other. This is something that you won't find anywhere else.
Investing is a complex topic, which poses some inherent marketing challenges. How do you make the case when it comes to new potential customers? How do you figure out what they care about?
That's so true. One of our biggest competitors is the amount of free investing information that's available out there, but as they say, you get what you pay for. So, it's incumbent upon us to communicate the immense value that our products deliver, showing they are more than worth the price. We communicate this in several ways depending on the product, but it can include the outperformance of our stock picks, our proprietary stock ratings and investing tools, ease of use, product support, overall customer experience, and of course the community aspect that we were just talking about.
In terms of investing being complex, I think a benefit like product coaching makes customers feel more secure in their purchase decision. And the network of education and training we offer helps them to continually learn, improve, and become a more confident investor. They know they're not alone. Our team is here to help them be successful.
Can you tell us a little bit more about how you integrate customer feedback into your product development and marketing strategy? How do you go about developing content that's not only useful to existing customers but also valuable to potential new customers?
We use several methods for collecting consumer insights: we have automated surveys that go out to the customer immediately following any touchpoint (call, email, and chat) with our Customer Success Team, we deploy NPS surveys, we have product-specific surveys, we have quarterly customer satisfaction surveys and we collect feedback at our events.
The quarterly customer satisfaction surveys are immensely helpful and actionable. There are 10 different factors that we ask customers to rank us on, and we track the results over time. And depending on what the ratings and comments are, we develop strategies to address each item. For example, we noticed coaching was receiving a good rating, but not great, which is unusual because our customers love it. We took a deep dive in the follow-up comments and learned that a lot of people were not aware that coaching was available, so they were rating it low as a default response. And we thought we were over-communicating product coaching! Based on the survey, we really increased the amount of messaging around the coaching program.
We get a lot of great ideas and suggestions for new product features or improvements from many of the feedback tactics listed above. The ideas that will benefit the most people are prioritized with what's in the product roadmap and get implemented as soon as possible.
On the content side, we do surveys after our webinars and ask questions like, "How do you rate the webinar?" then follow up with two or three questions about what other content topics our customers want to learn about, then those ideas get added into the content schedule.
Do you have any advice for marketers thinking about how to distill a big complex topic into a comprehensible story?
It's going to require a lot of testing, and that's what we've done over the years.
"You don't need to explain everything right away. Focus on the main benefit, how does the product make the consumer's life better? Easier? And what are the key features that customers use the most? The consumer can always learn more further down the funnel or after they take a trial or buy."
For instance, our product MarketSmith is a comprehensive stock research platform that has a ton of features and is a pro-level product.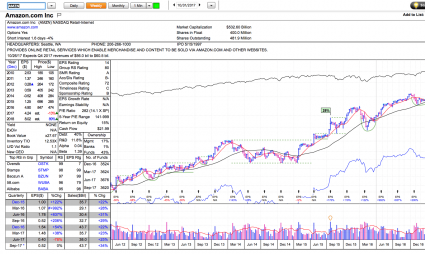 We distilled the platform into a 1-2-3 messaging approach. 1) Use the Growth 250 stock list to get ideas, 2) Check out a stock chart to get all of the fundamental and technical data you need in one place, 3) Use our Pattern Recognition technology to see the best time to buy and sell the stock. Now, MarketSmith has so many other features that are super cool and very powerful, but customers probably are not going to learn all of those on their first day using the product. But by focusing on these three key features that the platform is built around, customers can come in start using MarketSmith right away and potentially start making more money right away.
One communication example is that the copy in the emails we used to send was very long. We did a test and cut half the copy—and it outperformed. And then we chopped half the copy again—and those outperformed once again. We also used to have too many tasks in the emails, so we decided to consolidate them to one idea, one button, and call it a day. We've iterated lots of ideas like that over the years and because there are places where consumers want more information, you have to find out where those are. Is it the landing page, or a product microsite?
It's our job to find out where those opportunities exist and give consumers more information when they want it.
Which trends in the fintech industry do you think will have the biggest impact on IBD in the next five years?
In terms of the financial and investing space, I think the major trend is the move to simplicity, and that's been my mantra for a long time: simple, simple, simple. It's going to be about improving the user experience while providing the right data and just enough of it. Some apps are super simple and easy to use, but they don't provide enough data and insights for the consumer to make an informed investing decision. Simple is not good if you're losing a ton of money.
For example, a lot of Millennials and Gen Z'ers are going on apps focused on trading options with no clue what they're doing. And then after a week, they say, "Wait, I lost all my money, what happened?" The simplicity of the app is awesome, but the fact that there's no real training or education there to help people make informed decisions is not so great.
"With IBD, we have
too
much information. So we're always thinking of ways to make the apps and digital products simpler and simpler. We have the data and education, so we look for opportunities to sprinkle it in when the customer needs it most. Our approach is giving people enough information so they can make smarter decisions right away and they can get even smarter and more successful as they learn more."
What marketing trends are you most excited about or find the most challenging? Which do you think will have the biggest effect on your business?
One massive shift that has to be mentioned right away is data privacy. I think a lot of companies are going to have issues dealing with that trend in an effective manner. When you're not able to leverage user data in the same manner you're used to, you have to find new methods for establishing a direct relationship with the customer. There needs to be some value exchange at the beginning which builds a foundation for developing a deeper connection with your customers. Then you're able to grow with them and leverage whatever data you can collect over time.
IBD is fortunate to have so much amazing content that we're able to leverage to establish that direct relationship with the consumer from the beginning. I think most companies are going to have to create some sort of content marketing program—and those in the digital space will have to do this for sure. That's one big thing: developing that direct relationship with the consumer. It's going to be new for a lot of companies that are used to just doing all the things they've typically done over the years.
I also want to bring up the influencer space, which I think is going to be even bigger. I think a lot of the CPG companies jumped into this space and, for some, it worked—for others, it didn't. And for some businesses, it makes perfect sense, but most other industries haven't learned how to leverage influencer marketing effectively. I think it's going to be huge because when done correctly, it works for awareness, acquisition, and retention. It speaks to a lot of different areas and allows you to reach completely new audiences, which is not always easy for companies to do.
Finally, there's order attribution. This is a huge challenge for every CMO I speak with. Are you giving some channels too much credit and others not enough? How are channels functioning holistically to increase the volume of orders? Are you using the correct attribution model? This is super critical to every marketing organization and will have even greater importance moving forward. Right now, we're partnering with Wpromote and our analytics team to develop a more sophisticated model that will give us a better picture of everything I just mentioned.
Do you have any last thoughts or takeaways you'd like to share before we conclude this conversation?
The one thing that I always talk about is customer success or customer service. I think it's going to be a huge differentiator moving forward.
"If you have knowledgeable, customer-centric people, it's going to result in a good experience for the customer regardless of which channel is used for communication. It doesn't matter
how
you do it—you should be using
all
of these communication channels. If you do this and deliver a great experience, it's going to be a big value add moving forward because there's just not a lot of brands that are doing this very well right now."
In our case, we have a super sophisticated Customer Success team that communicates with our customers through calls, emails, and chats. Our team is in our headquarters in L.A. and regularly communicates and collaborates with marketing, product, content, engineering, and other teams. This ensures the entire organization has a direct line into what customers are thinking, what they like, dislike, what ideas they're sharing. It's incredibly powerful.
We use a chatbot as well, but it's for four or five really basic issues that come up quite often that can be effectively resolved through a chatbot. I think a lot of companies utilize a chatbot with no real strategy, so customers start a chat and after several back-and-forth conversations the chatbot tells them to call in. That's incredibly bad for the consumer relationship, but brands do it all the time.
Ask yourself: If you have a chat feature on your website, are customers actually getting their questions answered or their issues resolved through the chat? If you have a chatbot, is it an effective chatbot, or is it just there for the sake of being there? If people are getting frustrated using it, it's hugely counterproductive.
We're increasing resources to our Customer Success team both in terms of people and technology to help them become even more effective. I think our average hold time is just over a minute and a half, which is pretty good. As I mentioned earlier, we have surveys that are deployed after a contact with our team and our representatives achieve over 90% approval. So, I think looking at the area of customer service and how it impacts retention is going to be a huge trend.
Ready to get more insight on building long-term, high-impact customer relationships? Check out Rise to the Challenge of… The Customer: Earn Lifetime Customers On Every Channel, a virtual on demand event led by some of the most thoughtful marketing leaders we know, including the expert behind Beyonce's digital strategy.