It's not new news that customers are more empowered than ever, but nowhere is that more apparent (or important) than in healthcare. The pandemic accelerated an incredible digital transformation in an industry known more for its resistance to change than its agility, from traditional providers embracing telehealth to a plethora of new products and services in the market that allow consumers to take elements of their healthcare into their own hands.
The end result is the convergence of two major consumer demands that represent areas of opportunity for your brand—if you're prepared to move fast enough:
Prioritize convenience and accessibility
Embrace technology and digital solutions
Healthcare consumers demand convenience above all else
Millennials have long flirted with a hodgepodge of urgent care, retail clinics, and digital services that offer alternatives to the traditional primary care route. In fact, according to a 2019 Harmony Healthcare IT survey, almost 25% of millennials haven't visited a primary care provider in five years or more.
The biggest factor driving younger customers away from traditional providers? Convenience. Millennials are often first adopters for new digital services like virtual care or app-based solutions. And while changes to healthcare plans used to be hindered by the complicated considerations of insurance coverage, 80% of consumers said they would be willing to switch providers solely for convenience factors, according to a 2019 NRC Health Report.
The difference between generations when it comes to healthcare is also narrowing, as convenience became a primary concern through the pandemic. Older cohorts were forced to get more and more comfortable with telehealth, text messaging, and mobile scheduling. Now 92% of all US consumers indicated that convenience is important in healthcare in CVS Health's 2020 Path to Better Health Study.
Highlight convenience in your marketing messaging
Make sure you are putting your best foot forward by leading with convenience in your digital marketing campaigns. What unique features, products, or services does your business offer that nobody else does that make healthcare more convenient?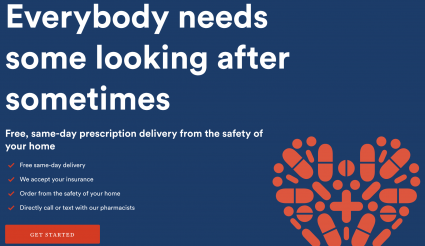 Align your creative and messaging around those themes, emphasizing accessibility, ease of use, and other convenience differentiators. From mail-based pharmacies that eliminate the need to stand in line like Capsule to apps that immediately connect you to a therapist like Talkspace, the brands who are capturing market share from the major players are directly appealing to the customer need for convenience first and foremost.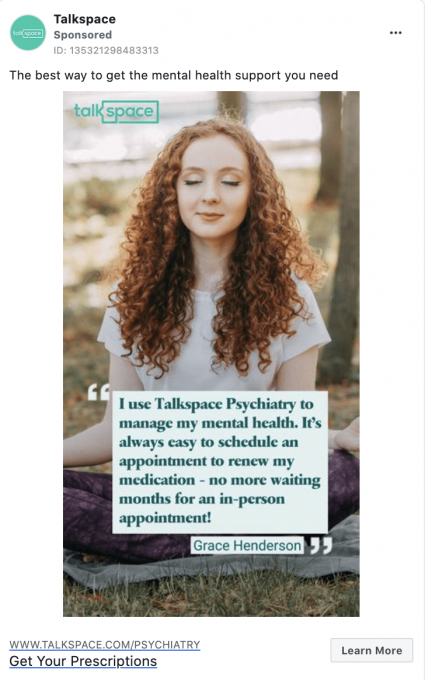 Don't be afraid to highlight healthcare technology
The old image of a kindly community doctor with a little black bag feels increasingly like something from another century (well, it is). But for many years, healthcare providers and insurance companies have tried to align their marketing with that throwback ideal, often underplaying the role of technology in their offerings (perhaps because that technology tended to lag behind other industries).
But in our hyper-connected, stuck-at-home-with-our-devices reality, the best technology might just be the thing that makes your brand stand out from the crowd. The digitization of healthcare has already begun in earnest: if you need no other evidence, tech giants like Alphabet (Google), Amazon, Apple, and Microsoft have all been investing in expanding their healthcare footprint and stealing market share through tech-first, digital health solutions.
Tech companies have a couple of inherent advantages when it comes to healthcare. First, they were built to be agile and to rapidly respond to new customer needs, with the added benefit of existing infrastructure and customer bases that unlock scalability. But they're also inexperienced in the highly regulated industry, which leaves the door open for both traditional providers willing to seriously invest in tech solutions and newcomers who are developing more narrow health tech solutions.
According to Rock Health, the opportunity hasn't gone unnoticed by investors: there's been more VC investment into digital health in 2020 than any other year. And we're likely to see traditional providers try to shore up their offerings through partnerships with, investment in, and acquisitions of start up tech. Venerated hospital system Cedars-Sinai, for example, runs an innovation accelerator that awards promising healthcare startups both investment and access to Cedars-Sinai experts and infrastructure.
Lead with value in your health tech marketing, not the other way around
All tech companies struggle with balancing impressive tech cred with stories that actually connect that technology with customer needs, and health tech is no different. It's important to remember that your technology doesn't need to be "hidden" in your marketing, but you do need to connect that tech to the actual value it drives for your customers to be successful.
Carbon Health's initial value proposition was its technology: its platform was built to gather all of a patients' important data and make assessments based on symptoms ahead of an actual appointment. While that might be exciting in its own right from a dev standpoint, their marketing focuses on what it actually means for customers to take control of their healthcare and limit the need for in-person appointments.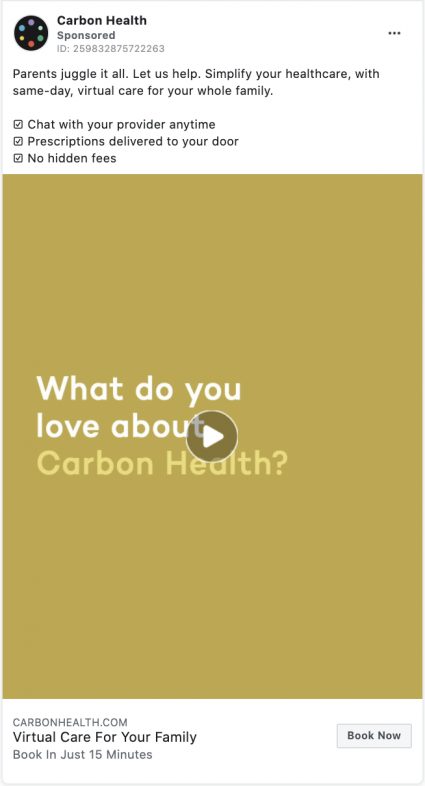 That's not limited to B2C offerings; text-based care solutions like 98point6 are marketing to businesses on the basis of their usability and customer satisfaction, not their tech bona fides. Again, both ads featured here are highlighting technology through story and value.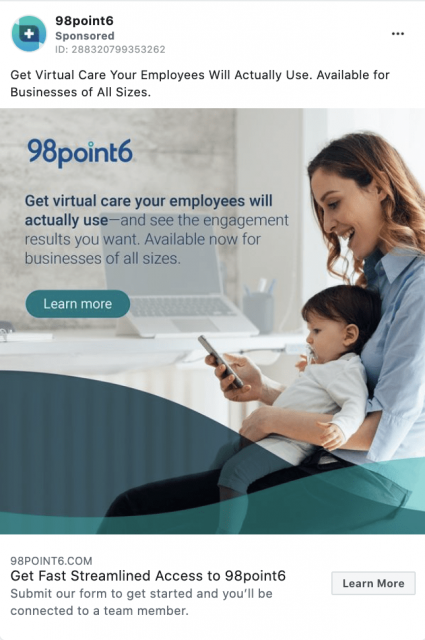 The healthcare customer is empowered: are you ready to give them more control?
The real question is whether your brand is positioning itself to provide both information and empathy, culminating in a seamless customer experience.
The growing need for knowledge and control means your brand must invest in a robust content marketing strategy that serves consumers with the information they need to make good decisions. 45% of US online adults say they conduct personal research about their health online; your business needs to show up through a robust organic strategy.
Your brand should also position itself as a partner: can you help a consumer reach their goals or make better decisions? What does support look like? That support can be facilitated by technology but needs to balance authority and empathy, much like the traditional role of a doctor. That's a challenge in digital ads, which need to make an impression very quickly.
Privacy regulations can make ad targeting more difficult, but it's impossible to cut digital ad to scale effectively in today's world. According to eMarketer, healthcare is shifting dollars to digital, but slowly. Building a strong digital strategy that connects with your customers and drives adoption of your solution, technology, product, or service will put you ahead of the competition if you move quickly.