While banks were originally slow to embrace social media marketing, they are now realizing the profit-driving benefits this channel provides. They are also branching out and discovering the powerful world of influencer marketing.
Influencer marketing is growing fast and furiously. Through everything from sponsored Instagram ads and blog posts to YouTube videos, influencers are dramatically shaping buying behaviors. Recent research published by eMarketer found that 44.7% of U.S. internet users between the ages of 18-34 bought a product or service recommended by an online influencer. And it's not just the Generation Z and millennial markets that have come under the influence of social media stars and thought leaders—31% of users between the ages of 45-54 and 22.7% of users 55 or older have also been motivated to make purchases promoted by influential individuals.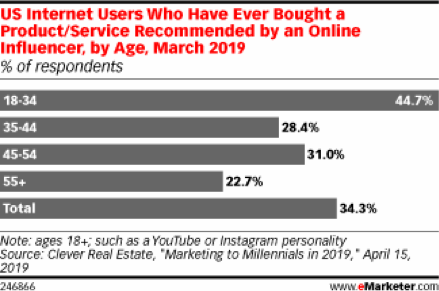 The fashion, beauty, travel, and fitness industries were some of the earliest adopters of influencer marketing. However, it offers huge opportunities for financial services companies. If you're a financial services marketer, here are a few reasons why you may want to include influencer marketing in your next social media campaign:
Reach Millennials & Gen Z
As the eMarketer research shows, influencer marketing can be an effective marketing tactic for brands looking to reach the Gen Z and millennial markets.  While there's a big difference between marketing makeup and money market accounts, at the end of the day the audiences are still looking for the same thing—something that will enhance their lives.
Build Trust By Making A Personal Connection
An influencer who shares your target market and reflects your brand's values can introduce your products and services to new audiences through relatable content that "shows" rather than "tells." 
Instead of hard-selling a product or service, an influencer can create content that is tied back to authentic life experiences, such as saving for a wedding, buying a home, expanding a family, or enjoying a vacation or a great meal. Influencers can tell stories and personal anecdotes to humanize financial services companies. This type of quality content is more about promoting a lifestyle benefit than hitting the reader over the head with an "apply now" button.
Boost Credibility & Engagement
Influencers are people whom your audience trusts, so partnering with those people can help boost your credibility. It's a modern-day take on word-of-mouth and product placement marketing. Plus, while people may have become somewhat desensitized to display ads, influencer content doesn't suffer from the same burnout and can attract their attention and encourage engagement through liking or sharing the content or adding a comment. Influencers can drive other actions as well, such as clicks to the brand's social profiles, visits to the website, entries to contests, etc.
Support Community & Charitable Efforts
Financial services products generally do not generate that warm and fuzzy feeling that other types of products can. And since the 2008 financial crisis, the industry as a whole has been struggling with its reputation. Influencer marketing has the power to highlight a company's positive and personal side beyond the products through content about local events, charitable contributions, and humanitarian or environmental initiatives.  By aligning with an influencer who is passionate about their community or a certain cause, a bank, credit union, credit card company, or other financial services business can showcase its philanthropic efforts in sincere and genuine ways. 
Legal Considerations
Due diligence and planning ahead are essential for any financial services company that is thinking about influencer marketing. While all influencers and brands regardless of industry are subject to Federal Trade Commission (FTC) regulations, financial services companies also have to follow the rules set forth by the Financial Industry Regulatory Authority (FINRA).
From influencer vetting to content review and disclosures, there are a lot of things to consider and compliance should be involved from the very beginning of any campaign. For example, an influencer cannot imply a guarantee of a fund performance or suggest a specific investment fund. While your campaign won't even get off the ground if it's not legally compliant, it can be extremely effective if it follows the rules.
Influencer Marketing May Be Right For You
Influencer marketing is not a novelty. It's a viable and important marketing strategy, especially if you are trying to gain market share with Generation Z and millennials. Lots of community banks, credit unions, and financial services businesses like to say they are friendly and approachable and understand your needs—but influencer marketing gives you an opportunity to prove it by conveying those messages in distinctive and memorable ways.