Earlier this year, Instagram announced it would begin testing out the removal of "likes" on posts in 7 countries including Ireland, Australia, Brazil, and New Zealand. While this may be a test run, influencers and marketers alike are curious about the impact this feature could have on influencer marketing as we know it.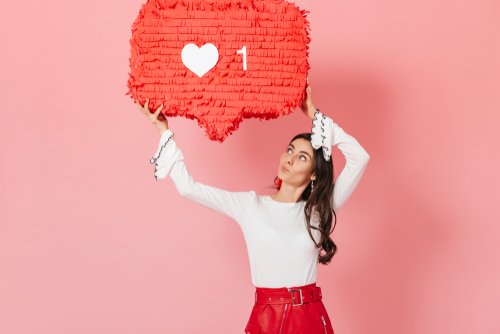 Why Is Instagram Doing This?
This past April, Instagram's CEO Adam Mosseri explained that this test was partly inspired by Instagram's Stories feature, which the app released back in 2016. Instagram co-founder Kevin Systrom explained that one of the main reasons for the creation of Instagram Stories was to remove like counts and move towards a gentler, friendlier app experience. With 500 million people viewing Instagram Stories everyday as of January 2019, Stories are now one of Instagram's most successful features (and there is no liking involved!)
In another interview earlier this year, Mosseri explains that the move away from likes is intended to make Instagram less of a competition and more about "connecting with the people that they love and the things that they care about." An Instagram spokesperson told TIME magazine during the time of the announcement that they were testing out this change so that individuals and their followers could focus more on the content they are sharing rather than the likes they get.
Instagram, like many other social platforms working to prioritize mental health, is hoping that the removal of likes will alleviate pressure on the app and make people feel more comfortable expressing themselves through their content.
The platform also cited the "fake engagement industry" which allows people to purchase likes, comments and followers. These likes can create a false sense of engagement and be damaging to users for a multitude of reasons, including decreased self-image and lower self-esteem.
While a healthier environment is definitely a goal, many marketing experts say the changes are also intended to incentivize brands to continue to put paid media support behind their influencer posts.
What Does This Mean For Influencer Marketing?
This change, even in the test phase, emphasizes the importance of working with an influencer marketing team and having a dedicated strategy to ensure that you have an accurate understanding of the influencer world. You cannot optimize an influencer campaign on Instagram, or any other platform for that matter, if you don't have a clear picture of how the influencers you partner with are truly performing.
Data And Insights
Marketers will have access to the same reporting information and data-driven insights about influencers in order to maximize campaign success. Reporting technologies for agencies will only continue to improve as the issues of fraudulent bot accounts and inflated metrics continue.
As social media evolves into its pay-to-play model, paid media support will become even more important. From 2018 to 2019 alone, branded content has increased 150% on Instagram. Working closely with your paid media team will help you amplify influencer campaigns to a wider audience and offer our client's better targeting and more precise measurement abilities.
Content
While some marketers' initial reaction has been one of concern, removing likes all together from Instagram could have a positive impact for marketers as well as influencers. Wpromote Director of Influencer Marketing Jenna Larsson explains that "this could kick off a decrease in other vanity metrics–the importance of building a genuinely engaged community will become a greater and bigger feat for brands and influencers. Driving quality content versus quantity will take more creativity and campaign management."
Authenticity
As Gen Z consumers grow up and millennials begin to shift their purchasing perspectives, it will become crucial to focus on building genuinely engaged communities.  With 81% of Gen Z consumers rating their friends as their top influencer on purchases, it is clear that as marketers we need to focus on driving these peer-to-peer conversations. Success will lie in understanding your consumers, building communities where they feel included and establishing long-term relationships.
The move in question is still in test and hypothetical. But as digital marketers, we are hopeful that any action improves the user experience. By removing likes, both influencers and brands will need to shift their focus from gaining fans to creating genuine content and building powerful communities, which we can all support.