After months of speculation and anticipation, Apple has officially launched their latest update – iOS 14.5 – bringing with it a slew of new features, emojis and support for gaming platforms.
But by far, the most important (and controversial) of the updates is undoubtedly the company's new App Tracking Transparency, or ATT, feature.
The company first announced the ATT feature back in summer 2020, but was delayed in launching it due to pushback from some heavy hitters, most notably Facebook. For those who haven't heard of the new privacy update, the App Tracking Transparency feature provides consumers with meaningful new tools to protect their privacy and control the data that is shared with various companies – like Facebook and Google – to target online ads.
With this new ATT feature, users will no longer have their data shared automatically. Now, apps have to explicitly ask users for permission to collect and share their data, or risk being blocked by Apple's App Store.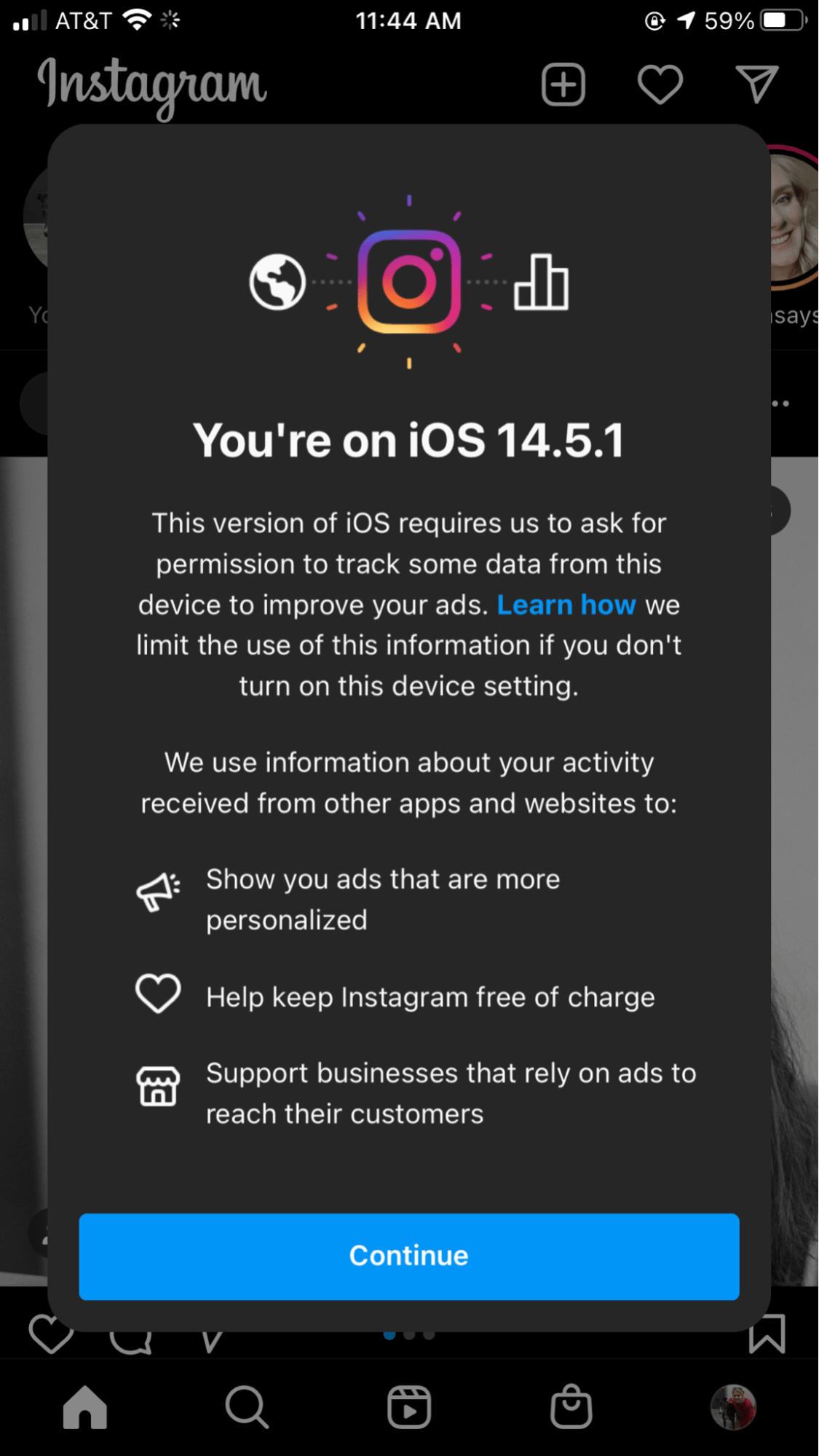 While this update is certainly a positive step for consumer privacy, it has been nothing less controversial, and a bit contentious in marketing and advertising circles, with app developers and other technology-based companies that rely on consumer data to drive results questioning just how much data they will be cut off from now and in the years to come.
To help retailers understand Apple's iOS 14.5 update, particularly as it relates to the App Tracking Transparency feature and its implications, today, we are going to take a deep dive into what all of this means for ecommerce advertisers as well as how to deal with the potential ramifications.
That said, let's lay the groundwork by exploring how App Tracking Transparency has changed the data collection paradigm for Apple users, and the advertising world as a whole.
How App Tracking Transparency Changes Data Collection
Prior to the iOS 14.5 update, app developers had a myriad of tools at their disposal to track user data within applications. Advertisers could then utilize that data in tandem with other data sets from around the web to create a user profile and refine strategies to target them with relevant adverts.
For many, the primary tool that has been used to achieve this is an Apple-controlled system called "Identifier for Advertisers," often abbreviated as IDFA. However, developers could employ other third-party tools and tactics for aggregating user data.
Now, it is worth noting that prior to the introduction of the App Tracking Transparency feature, consumers have historically been capable of opting out of IDFA-based tracking initiatives.
However, what the ATT feature changes is that it highlights this option for consumers in a massively prominent way. Through the implementation of the ATT feature, developers are given the choice of explicitly asking app and website users for permission to collect their data via a standardized prompt developed by Apple.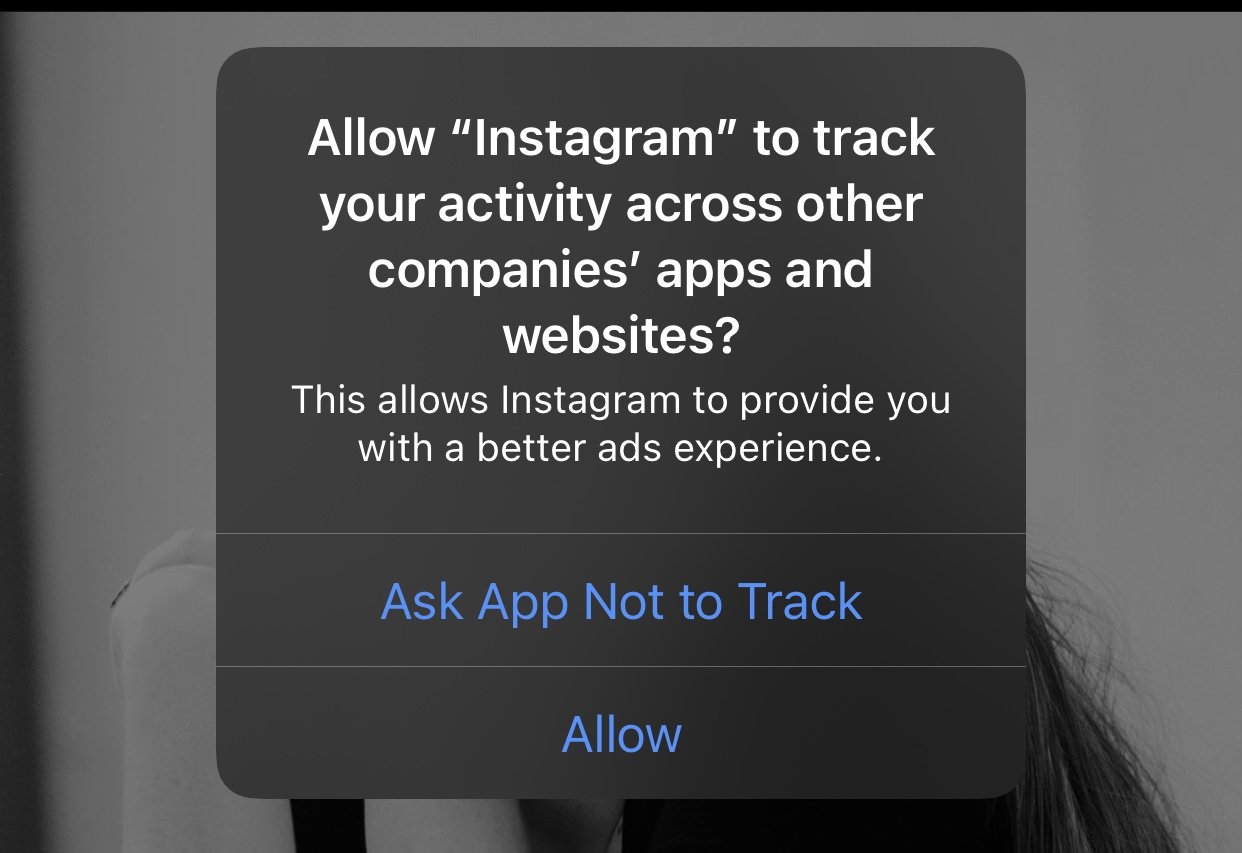 If users are okay with being tracked and handing over their data, they simply click "Allow" and carry on as usual.
However, if consumers click the "Ask app not to track" button, the developer is unable to track consumers using their data in the app or sell the user's data to other organizations.
As our very own Will Perkins explains about the feature and its implications on online advertising:
"Due to Facebook's heavy dependence on app advertising, these changes will negatively impact their Audience Network. As a result, small businesses attempting to reach their target audiences will experience difficulty with accurately targeting and measuring campaigns. Unless advertisers receive permission from the user to track them, this user data will be unattainable. "
"Based on the current digital landscape, this tracking change from Apple will impact Facebook the most, along with those who advertise app install and download campaigns on Facebook's platform. Google will also be impacted; however, Amazon and their 'sponsored product' landscape will receive the most minimal effects."
With that said, let's go ahead and examine how Apple's iOS 14.5 update will alter advertising operations for those promoting their business through Facebook and Instagram, as well as Google.
How Apple's iOS 14.5 Update Impacts Facebook Advertising
The truth is that Facebook is not happy about Apple's alterations to data collection. In fact, the social media giant went so far as to take out a full-page newspaper ad criticizing Apple, arguing that the ATT implementation will be "devastating to small businesses" that rely on Facebook advertising to generate sales.
While this might be true to some degree, it is likely that Facebook is not fighting the App Tracking Transparency features out of some altruistic compulsion but to help defend the company's bottom line.
The fact is that, as The Information detailed back in January, while Apple's ATT feature would only impact less than 5% of the ads that make up Facebook's $84 billion in annual ad revenue, that small percentage could still cost the company upwards of $4 billion per year, given that Facebook expects about 80% of iOS users to opt-out.
Moreover, this 80% figure is likely on the mark. Historically speaking, the adoption of iOS updates tends to reach about 50% about one month after the launch. The following month, that figure is likely to rise to about 75%.
Therefore, while the ATT feature might not be a huge deal at this precise moment, its impact is likely to be significant in the months to follow.
Moreover, Apple is also using a privacy setting called limit ad tracking (LAT) from previous iOS updates to automatically opt users out, thereby decreasing the number of individuals who are even presented the prompt where they might opt into data tracking.
Therefore, the dip in performance resulting from limited data tracking is not a matter of if, but a matter of when, though it is likely to occur for different brands at different times.
Whereas some advertisers might opt to shut off their campaigns, others will shuffle their budget to different channels and others still will just stay that course without making changes.
As a result of these potential responses, particularly from advertising whales, CPC and CPM are likely to see sizable fluctuations for various industries and ad categories.
However, the biggest fear that most advertisers are currently grappling with is the potential loss of visibility into channel-specific conversions. While there are no major disruptions as of yet, this does not mean that these fears will not come to fruition.
In fact, there is a good chance that someday in the near future, Facebook Pixels will be relegated to the dustbin as a result of the continued mitigation of in-browser tracking technology, thereby forcing ecommerce marketers to adapt as things change.
That said, there are several significant ways in which Facebook advertisers are likely to be impacted in the more immediate by the iOS 14.5 update, including:
Campaign Performance
Retailers should expect to see deteriorating results attributed in Facebook Reporting User Interface as the result of sunsetting the default 28-day click and one-day view attribution windows.
Additionally, Apple's update is likely to have a negative impact on seven-day click and one-day view windows for those who have opted out. Those who have opted out will only be capable of passing back one-day click data on the highest configured event.
Furthermore, it is essential to note that the one-day view windows will be modeled going forward.
Audience Size
Given the implications of the ATT feature, there is a considerable chance that sellers will see a reduction in the size of remarketing audience pools built using Facebook Pixel Signals. Therefore, it is likely that some retailers will experience a negative impact in retargeting and retention marketing efforts that utilize such audience segments.
Moreover, there is a chance that Lookalike Audiences built upon seed audiences from pixel pools will be negatively impacted as well.
However, on a bright note, interest-based targeting is likely to be left relatively unaffected, given that it is based primarily on self-reported user information. Moreover, leveraging first-party data and CRMs will become increasingly important for building out retargeting and retention audiences, as well as those that will be used to create Lookalike Audiences on the platform.
Advertising Costs
As touched upon earlier, there is likely to be some ebb and flow in the CPMs and CPCs seen on Facebook for various industries, which could end up causing low inventory on alternative platforms as advertisers seek to invest their ad dollars outside of Facebook.
Attribution and Measurement
Since Apple's App Tracking Attribution feature has gone into effect, attribution and measurement on Facebook have been greatly impacted. However, this phenomenon is not merely limited to Facebook, as other social media platforms are experiencing difficulties as well.
Of the issues that have been cropping up, advertisers have reported conversion feedback latency, decreased attribution windows, increased data modeling and even the complete loss of attribution.
As a means of helping to combat all of the aforementioned problems, Facebook is recommending changes in tracking to more successfully capture user data through the Facebook Conversions API.
The Conversions API will send user data directly from an advertiser's site to the Facebook server, thus bypassing Apple-imposed limitations.
How Apple's iOS 14.5 Update Affects Google Advertising
As noted earlier, Google is likely to be far less impacted by the Apple update than their social media counterpart.
However, this does not mean that the platform's advertising offerings will be wholly unaffected. Instead, the effects that are likely to be seen include impacts to:
Search
While it does not seem that the iOS 14.5 update will have any sort of meaningful impact on search measurement, there is a chance that first-party audiences will begin to shrink, thereby potentially influencing search campaigns that target such audiences.
Display
As far as display is concerned, it is to be expected that Apple's update will sever the data chain for mobile conversions taking place in mobile apps where users have opted out as a result of the ATT prompt.
Therefore, reporting may end up misattributing some of these conversions as direct traffic.
YouTube
Similar to the impact to display advertising, there is likely to be a similar effect on YouTube app interactions and conversions for users who are not logged into their accounts.
Applications
App campaigns that target iOS devices will undoubtedly be the most affected as advertisers' ability to use Identifier for Advertisers to cobble together performance insights will be impeded.
Moreover, iOS-based app campaigns that utilize images and video creative or that run mainly through Google Display or YouTube networks could see a meaningful drop in visibility on down funnel event volume. The reason for this is that users opting out means that their data will not pass event data back to Google.
However, when speaking to all of the potential ad delivery channels, in order to mitigate conversion loss, Google is recommending that advertisers implement Enhanced Conversions on the conversion actions that are currently being tracked.
For those who are unfamiliar with this feature, that is likely because it is still in beta. Google describes Enhanced Conversions as:
"A feature that can improve the accuracy of your conversion measurement. It supplements your existing conversion tags by sending hashed first-party conversion data from your website in a privacy-safe way."
That said, to put things in a nutshell, our recommendations for navigating the iOS 14.5 update, as it pertains to Google Ads, is to ensure that retailers have the global site tag (gTag.js and/or Google Tag Manager) properly implemented on their site and to set up Enhanced Conversions.
Additionally, while most advertisers won't need to change their website, a small percentage may need to adjust settings to allow arbitrary URL parameters on their website in order to ensure continuity of campaign measurement. If sellers aren't sure of their website's status, it is wise to confirm this information with dev teams.
Looking Beyond iOS 14.5
Wpromote has been aware of this change for a number of months and has taken steps to ensure we proactively prepare to navigate this constantly evolving PPC landscape.
For our clients, Wpromote's paid media and advertising experts will continue to lean into first-party data to keep targeting as data-driven as possible while also utilizing backend ecommerce platform sales data to better manage budget distribution, campaign optimization and monitor performance changes due to this update.
Outside of these measures, there are a variety of steps that sellers can take to mitigate any potential losses or damages caused to PPC efforts.
As mentioned earlier, some sellers are likely to invest their advertising dollars in different avenues. Should merchants make this decision for their brands, acting now rather than delaying the inevitable is the best course of action. A few of the best ecommerce marketing investments that can be made at this time include:
Email Marketing
Email marketing is one of the most reliable and profitable marketing channels available to ecommerce retailers. The fact is that a multitude of studies has shown email marketing efforts to produce tremendous returns.
For instance, a 2019 Data & Marketing Association report revealed that email marketing generated an average ROI of $42 per every $1 spent.
This is far from the only study of its kind.
Therefore, if sellers wish to invest their social media advertising dollars elsewhere, email marketing automation is an ideal channel.
To boost your email marketing strategies and compensate for the recent changes in the social advertising space, check out these four helpful tips: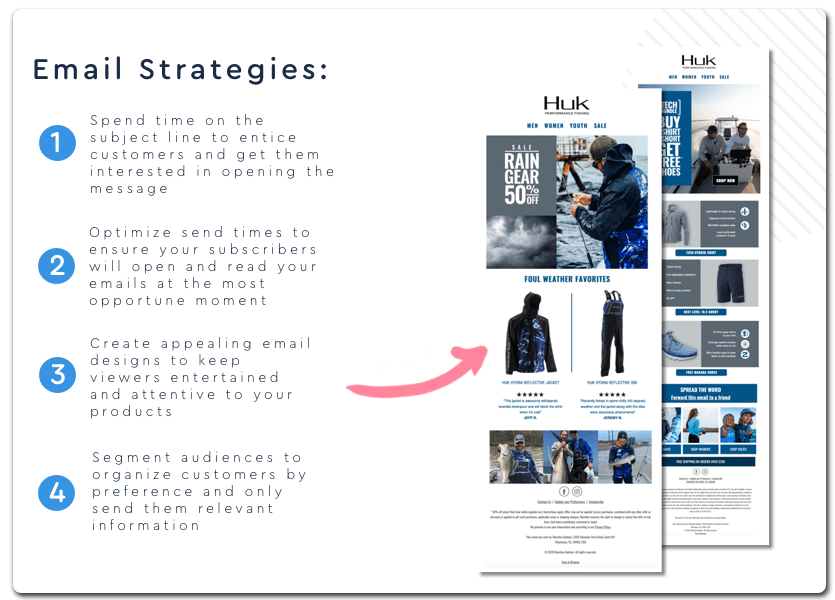 Search Engine Optimization
The internet is largely built on search. Google is the single most popular website in the world. As a result, search engine optimization has long been a pillar of online success.
While it is true that most product searches begin on Amazon, roughly one-third still start on search engines like Google, which amounts to hundreds of millions of queries per day.
However, it is crucial to understand that SEO takes time to produce results. Unlike PPC advertising, search engine optimization is all about playing the long game and building a sustainable online presence.
Therefore, sellers who wish to focus more of their marketing efforts on SEO should not wait to get started.
If you're concerned about maintaining your brand presence in social advertising, here are five actionable SEO strategies you can put into motion: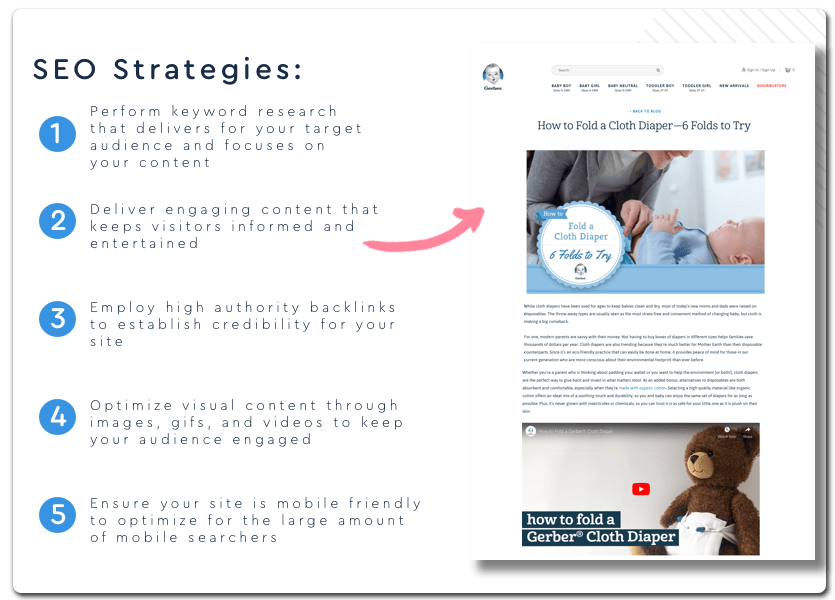 Google Search Ads
As mentioned earlier, Google is likely not to be nearly as impacted by Apple's iOS 14.5 update as Facebook. Therefore, those who have been debating Google Ads vs. Facebook Ads have likely had their question answered for them.
The fact of the matter is that paid search marketing has a panoply of benefits for retailers to reap. However, those who have been engaged in online advertising are likely already aware of this fact.
That said, if sellers opt to divert their Facebook advertising funds into using SEO and PPC together, there is a considerable chance that they will see a far greater ROI in the long run.
Google search ads can help retailers to gain short-term visibility by surfacing at the top of the SERPs, allowing sellers to drive more awareness, clicks and conversions, thereby helping to climb the organic rankings.
However, this is only one aspect of the synergistic relationship between SEO and PPC.
Nonetheless, even if retailers merely want to divert their Facebook advertising dollars into Google search ads, there is a great chance that their budgets will be better spent at this point in time.
To truly nail down your Google advertising, working with a Google Premier Partner is a great way to stay ahead of the competition. There is a significant amount of strategy that goes into crafting and managing profitable Google campaigns, and enlisting the help of a Google Premier Partner like Wpromote can allow you to achieve a greater degree of market share and success.
Final Thoughts
The fact of the matter is that digital advertising and data collection methods and allowances are undergoing drastic changes right now and will continue to over the next several years. As things stand, there are certainly challenges to be had in the digital advertising space, but that does not mean that the discipline is outright dead. Instead, innovative tactics will need to be developed, and retailers will need to lean into their first-party data to continue driving results.
At the same time, this does present merchants with a welcoming opportunity to begin exploring and optimizing other methods of reaching consumers, such as paid advertising on Google search, as well as incredibly impactful marketing methodologies like SEO and email marketing.
With that in mind, Wpromote will continue to keep a close eye on the situation as things develop and help our clients realign their priorities to produce optimal business outcomes. If your brand would also like some assistance in establishing how this update will impact its advertising efforts and how to successfully pivot for minimal impact to marketing outcomes, reach out to Wpromote's search engine optimization specialists.
Our team of SEO professionals can help to ensure that your brand earns the visibility required to continue expanding its online presence, growth and ROI.