It's time for the rubber to meet the road: the holidays are over and you're ready to step on the gas when it comes to your 2021 marketing plans.
That's why we've taken a step back (so you don't have to) to analyze our 2020 proprietary data and pull out the essential marketing insights you can use to ensure you're winning in 2021.
So buckle up: it's going to be a wild year.
Optimizing ad spend on Instagram will help brands stay ahead of the competition
Engagement with social media remained high even as the pandemic wore on. Instagram, in particular, saw explosive growth in 2020. In fact, it was the only networking service to see YoY increases in CPM (cost per thousand impressions) for retail and ecommerce brands every quarter, even during the onset of the pandemic in Q1:
Q1 CPM up 51%

Q4 CPM up 61%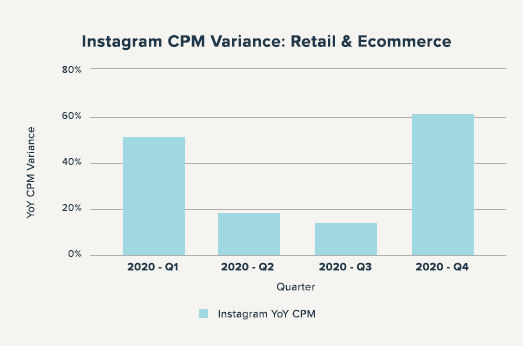 Instagram is noteworthy as a social advertising channel because it is essentially a mobile-only platform. As consumers continue to use social media platforms like Instagram at elevated rates, marketers need to consider their goals on the platform, how to best utilize social ads across the funnel, and how they're measuring success, especially as competition continues to rise.
The platform also represents an opportunity to build authentic long-term relationships with customers through engaging content and feedback loops that encourage two-way conversation with customers.
"Brands have to invite customers into their marketing and the development of their marketing. On the flip side, we as brands have to consider how to become more human, act as active participants in our communities, and show up for customers more authentically. There's been an evolution of people and their expectations, and I think for brands, we have to meet the customer where they are today."
Social spend across the board is likely to recover after 2020: eMarketer projects social ad spend to rise by 21.3% this year. On Instagram in particular, brands that are able to optimize their investment and deploy the right ads to the right audiences on the platform will reap higher and higher rewards.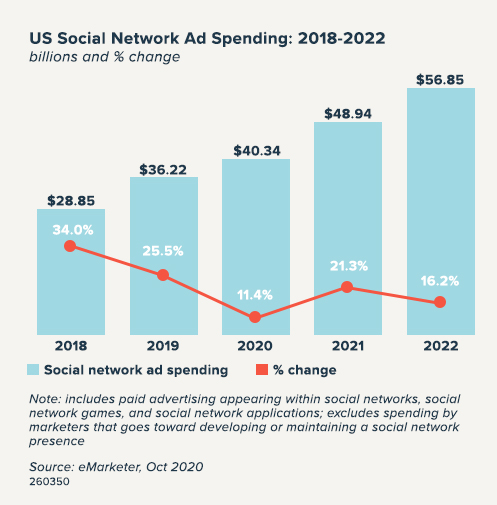 With an advertising audience of more than 1.16 billion people, there's no question that Instagram offers dramatic opportunities for new customer acquisition. In the last quarter alone, the social ad network increased audience reach by 76 million people.
It's also worth noting that investment in your first-party data collection will help insulate your brand from the expected negative effects from Apple's iOS 14 update that will restrict cross-channel tracking for Apple device users. Building a process to feed your first-party data back into a platform like Instagram will help ensure future success even with the changes to data privacy that will affect audience building and targeting on social platforms.
Here are some of the top Instagram marketing trends and tips that marketers should prepare for in 2021:
SEO drives organic Instagram visibility:

Until November, people could only search for usernames, hashtags, and locations on Instagram. Now people can also

search with keywords

to find relevant videos, profiles, and posts—expanding marketers' opportunities for greater audience reach.

Usage of Instagram Reels expected to rise:

Reels, Instagram's response to TikTok, lets users create and edit short-form video content of 15-seconds each. While ads are not yet supported in the Reels area of Instagram Explore as of yet, they can be seen publicly by people who don't follow your brand, giving you the ability to connect with customers across the globe.

Brick-and-mortar stores embrace the shift to online shopping on Instagram:

With Instagram's new in-app purchasing features, the path to converting a user to a customer will be much more direct—and the gap between "scrolling" and "shopping" will be significantly blurred.

The explosion of user-generated content (UGC):

More and more marketers are recognizing the power of UGC and finding clever ways to incentivize it among their customer base for use in their marketing. UGC content can range from testimonials to snappy Reels-style edits of how to use your product or service. This will become increasingly central to ad campaigns moving forward as companies recognize the ROI.

Brands must lead with authenticity:

Forward-thinking brands will understand that being transparent, authentic, and even vulnerable is smart marketing in 2021. People connect with people. This means your brand should be personified in a way that reveals who they stand for and what they stand for.
Shifts in consumer behavior will accelerate mobile ad spend growth
The pervasive use of smartphones and tablets has paved the way for mobile commerce to take a larger piece of the marketing pie. Unsurprisingly, the mobile revolution has dramatically eaten into desktop's share of the market. As we look to 2021, demand for mobile ads on Facebook, in particular, may continue to outpace demand for desktop ads.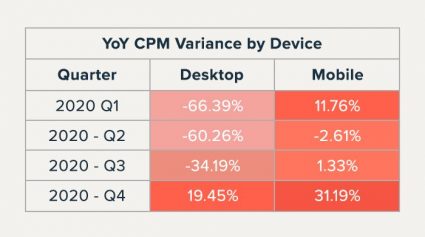 On Facebook, CPM on mobile devices was up YoY in all quarters except for Q2, while CPM on desktop was down YoY in all quarters except for Q4

In 2020, mobile CPM ($8.67 on average) was also significantly higher than desktop CPM ($3.87 on avg)
This can be attributed to both increased ad spend on mobile as well as accelerated behavioral shifts among users who spent more time video streaming, gaming, and mobile shopping.
Although some of these changes will fade post-pandemic, increased digital video viewing and ecommerce adoption will continue to persist and boost the time users spend on mobile. With the widespread rollout of 5G imminent, mobile advertising is likely to pull even further away from desktop over the next several years.
Brands should invest more of their spend on Facebook mobile ads to keep up with the competition as the world continues to shift away from PCs towards mobile devices. In the hyper-competitive space, it's up to retailers to get more creative, adaptive, and immersive in their digital marketing than ever before.
Here are some high-level takeaways on what lies ahead for mobile marketers in 2021:
Local search will rebound powerfully:

With US mobile search ad spending to increase 22.4% to $44.32 billion this year, the overall search market will go strong, according to

eMarketer

. As consumers begin shopping again, they will be supportive of businesses that are taking the right measures to prioritize their safety, and local information accuracy will be more crucial than ever.

Regulations will further reduce the amount of precise location data:

The

release of iOS 14, as well as the newly passed California Privacy Rights Act (CPRA),

reduced the amount of precise geolocation data available to marketers. However, further scrutiny is likely on the way with a new administration. As consent becomes more prevalent in a location space, more brands will have to focus on the quality of data they get and where it's derived from when planning location activity.

Mobile will gain more premium OTT (over-the-top) minutes:

US adults spent 19 additional minutes on average watching digital video this year (including 5 more minutes on mobile) primarily on connected devices, according to eMarketer. Advertisers noticed and will pour more than $8 billion into CTV ad spending, up 27.1% YoY. As home entertainment habits change during stay-at-home orders, further optimizing spend in CTV may be an effective way to reach audiences.

In-app contextual advertising will take a big step forward:

In light of the

pending deprecation of third-party cookies and other identifiers

, contextual advertising has risen in the digital world. In 2021, more publishers will adopt or develop contextual tools to activate their own content and first-party data.
Earlier planning and promotion for the holiday shopping season leads to long-term gains
This past year, the holiday shopping season expanded to engulf the entire second half of the year, with more retailers rolling out their promotions earlier and spreading them out over time.
While Black Friday sales were down 5% from 2019, sales in the first three weeks of November were up by 7%, according to Criteo data. This is probably due to earlier online promotions from major retailers such as Amazon and Walmart, among others.
Our major takeaway: the BFCM (Black Friday–Cyber Monday) shopping period was not negatively impacted by the pandemic or other major disruptive events in 2020, largely due to this extended promotional period.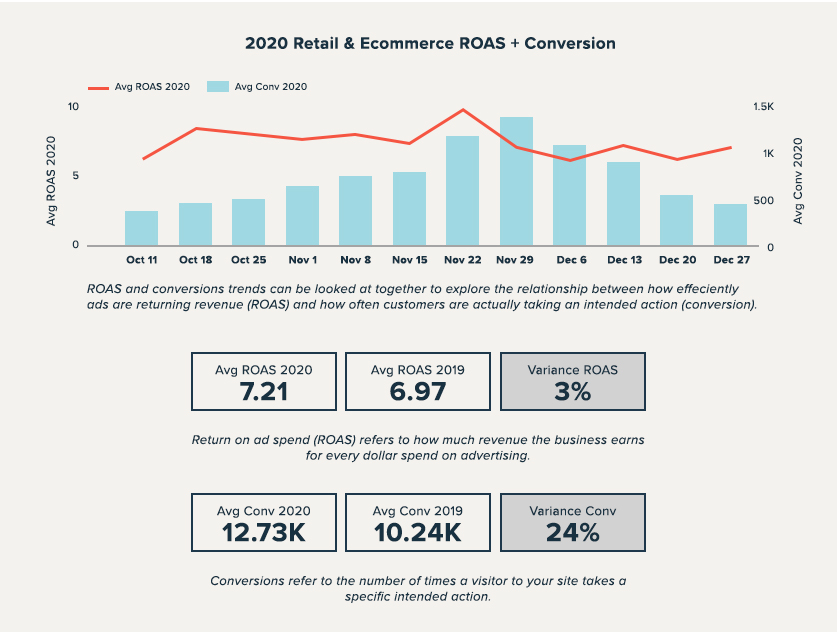 For paid social campaigns that ran in Q4 2020, the average ROAS (return on ad spend) and conversions peaked during the weeks of November 22 and November 29

Conversions were 51% higher YoY

ROAS was 44% higher YoY
The pandemic seems to have accelerated a trend toward a longer holiday shopping season, and we'll likely see it return in 2021. Retail and ecommerce companies should continue to invest in Q4 as consumers in 2020 flexed their purchasing power (as they have historically done in the holiday season) and, in turn, drove strong revenue for brands despite turbulent events throughout the year. Here are some foolproof strategies to consider to ensure your team is ready for anything this holiday season:
Don't expect a restocking/preparation lull:

The ecommerce surge will probably still be with us in 2021, so don't assume you'll have a break to prepare and restock before launching holiday campaigns. That means getting creative: not just around fulfillment strategies, but by using technology to move marketing spend according to performance, make real-time adjustments to campaigns and promotions, and track and update an inventory that might be more widely dispersed into local stores.

Do more scenario planning to remain agile:

Consider different advertising scenarios and build contingency plans in advance, including supporting assets that will need to go through approval processes that run longer around the holidays to get ahead of longer approval times around the holidays.

Have a clear BOPIS/BOPUC process in place:

1. Designate a clearly marked pickup area. 2. Provide specific details on parking-space signs, including the number to text or call and the order information to provide. 3. Design systems to provide flawless inventory visibility so ordered items are not out of stock. 4. Arrange the store with dedicated areas for organizing the orders, and make sure you are adequately staffed. 5. Put procedures in place to help prevent fraudulent online orders, and make sure to verify the customer's identity before handing off the order.

Make the case for an infinite marketing budget now:

The best thing about a digital budget is its movability: you can adjust spend in real-time to adapt to evolving market conditions and changing customer needs. Uncapped budgets during peak shopping periods allow you to follow the demand.
Budget fluidity is a must-have to follow demand more effectively
Unsurprisingly, COVID stimulus payments triggered an increase in customer confidence and their ability to purchase for retail and ecommerce brands, especially in paid search and social.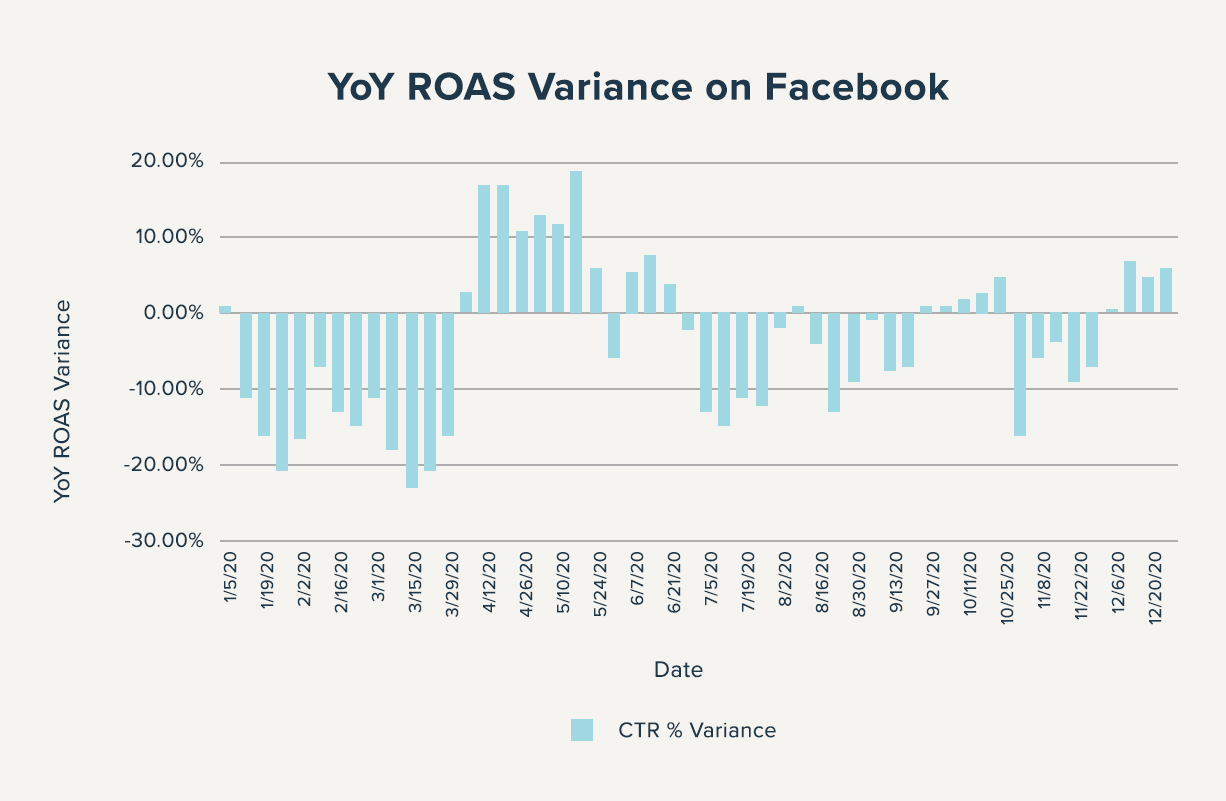 On paid social, CTR (click-through rate) increased 17% YoY in the 2 weeks following the deposits of the first COVID stimulus package. CTRs continued to perform higher YoY for the following 4 weeks.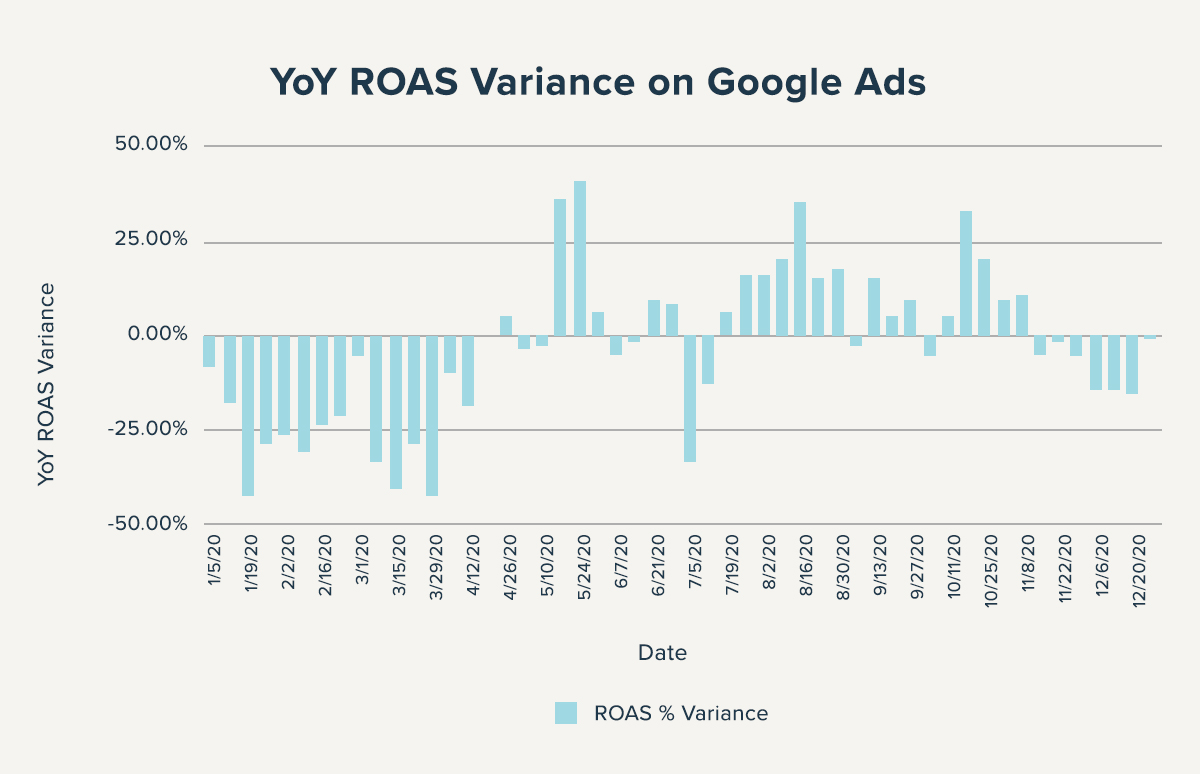 On paid search, ROAS increased 36% on May 17 and 41% on May 24
These spikes occurred right around the time the U.S. House passed a $3 trillion coronavirus relief package that sent a second round of $1,200 payments to American taxpayers.
For the most part, the checks appear to have had their desired effect. In particular, they helped drive purchases of non-essential items that people had been skipping during the early days of the pandemic. For instance:
Apple

CEO Tim Cook said on the tech company's earnings call that it also saw "an uptick really across the board" in the second half of April, and gave some credit to newly deposited stimulus checks.

Target

CEO Brian Cornell saw a noticeable bump in discretionary spending fueled by extra money in customers' pockets. Cornell said there was a resurgence in sales of clothing, cosmetics and other discretionary items.

Lowe's

CEO Marvin Ellison said the retailer saw indicators that checks boosted the sale of home improvement items. "We definitely saw an uptick in sales, an uptick in ticket transactions and our business definitely responded to it," he said.
While stimulus checks worked, the bump was short-lived and businesses were hesitant to forecast future sales and spending patterns. With a second and third round of stimulus packages currently in the fold, marketers will have to find new ways to optimize spend to follow demand more effectively.
The key to successfully navigating these unknown timelines: budget fluidity.
Budget fluidity is the heart of agile marketing. Having a fluid marketing budget can be the difference between success and failure, especially during a period of economic recovery. Flexible marketing budgets allow brands to take advantage of consumer purchasing behavior and plan for these spikes in consumer demand.
Just like anything else in life, you need a strategic and specific plan with measurable results so that you can be nimble and adjust allocation of budget in smart ways.
Here's what you need to know to make the case for budget fluidity in 2021:
Uncap budgets and up cash flows to rapidly scale the highest performing channels

and ultimately increase profitability for your business.

Follow demand in real-time by optimizing and automating spend.

Machines will be able to keep up with the changes and the demand better than you will.

Don't sacrifice volume for efficiency if your goal is driving profits.

Many marketers make the mistake of trying to maximize ROI, but that's not actually the same thing as focusing on profit.

Build the right dashboards and put the right processes in place

at the planning stage so you can make the most of your digital channels. When it comes to upper-funnel planning, a great way to start integrating brand and performance marketing is by planning for tactics that align with the channels that are already working for you.
The halo effect is real and has a direct impact on performance branding viability
In both paid search and paid social, we saw an increase in performance across the funnel in 2020:
Paid Search:

Impressions: +58% YoY

Clicks: +55% YoY

Conversions: +24% YoY
Paid Social:

Impressions: +48% YoY

Clicks: +27% YoY

Conversions: +51% YoY
The uptick in activity we observed in the upper funnel had a direct impact on performance in the lower funnel. This correlation illustrates the "halo" effect in marketing: how the weight of a first impression in the awareness and consideration phase can significantly impact a person's perception of a brand later down the funnel.
"An extraordinary amount of value is created by building a brand: people go directly to your site, or search for your brand on Google, or convert at a higher rate or have a higher lifetime value as a customer. The most important thing is understanding the value of building a brand and really believing in it."
Brands who don't recognize the connection between upper funnel brand investment and lower funnel effectiveness are essentially competing with one arm tied behind their back. So how can you capture the power of the halo effect for your brand in 2021?
Build your brand for performance
First, marketers must acknowledge and embrace the fact that "branding" and "performance" are essentially one and the same: we've said it before and we'll say it again, all marketing should both perform and build your brand.
That's why you need to actually align your upper funnel "brand marketing" with your performance marketing channels and track the impact across your entire business. Here are some actionable steps you can take to build a successful performance branding strategy:
Measure the full value of a channel, from the top of the funnel to the bottom, not the value of each part individually.

Start moving up the funnel slowly: start by focusing at the bottom, then move to consideration, then up to awareness.

Prove it works by testing in a limited area: once you have full-funnel coverage, you won't need a hardcore attribution model to see the effect.

Give it time: performance marketers are used to seeing immediate results, but brand marketing initiatives take more time.

Find short-term metrics that project long-term impact, like cost per lifted user or cost per brand search lift.