Digital marketing, over the past 15 years, has had a huge impact on the way we shop and on the way we as consumers even approach the idea of purchases. Mobile and online shopping have transformed our lives, and digital marketing trends such as programmatic and native advertising have risen to prominence alongside these new forms of commerce. Social media and reviews radically shape our perceptions in terms of what we'll trust and decide to buy, and both paid and organic digital marketing dominate these spaces. Digital marketing's impact has been so profound that schools nationwide are beginning to teach it as a subject. The University of Colorado Boulder has taken that concept one step further: they've created a digital marketing class to keep up with growing demand for information about the field.
Recently, University of Boulder Colorado students studying in Leeds School of Business came to Los Angeles to tour our growing tech and marketing industry and visit several firms as part of their Career Trek program. As part of that tour, Wpromote was the first firm these intrepid students visited, thanks to both our expertise in the field and to our numerous University of Boulder Colorado alumni, such as Michael Stone, our Chief Relationships Officer, Aubrie Richey, our Director of Paid Social, and Jack Van Leeuwen, one of our Paid Search Managers. During their tour of our agency, the students got to hear from several Wpromote speakers, such as CEO Michael Mothner, Vice Chairman Bob Schwartz, Michael Stone, Director of HR Joanne Coghill, and participate in a Q&A with Aubrie and Jack.
Mothner gave the students a presentation on the digital marketing industry as a whole and what the students could expect from working in an agency such as Wpromote, in addition to welcoming them all to Wpromote and to LA in general. From Bob, they got to learn the ins and outs about how to leverage a brand in order to sell products, as well as the necessity of using a story to build that brand and draw in customers and ensure the brand is compelling. Bob also discussed how to build your personal brand on LinkedIn, as well as a few handy job searching tips for students just starting out in the job searching world.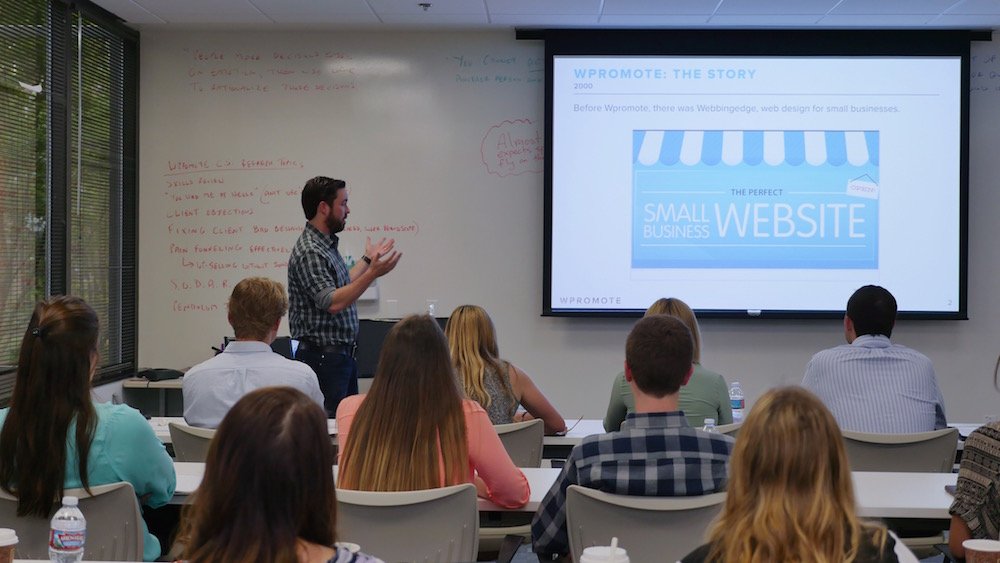 Joanne gave an in-depth discussion on what HR looks for from Wpromote applicants. She gave an overview of key points such as keywords in resumes that reflect the job description, using LinkedIn as a personal branding platform, and using Glassdoor as a platform to learn more about the company you intend to apply to. She also gave handy generalized tips, such as standing up for a phone interview and practicing the night before, in order to sound both more prepared and more commanding. She also instructed the students to dress appropriately for interviews, even if the company has a policy of dressing casually, as you're not part of the company until you're hired. Finally, she discussed important items that Wpromote specifically looks for when prospecting for employees, where our interns come from, and what their backgrounds are.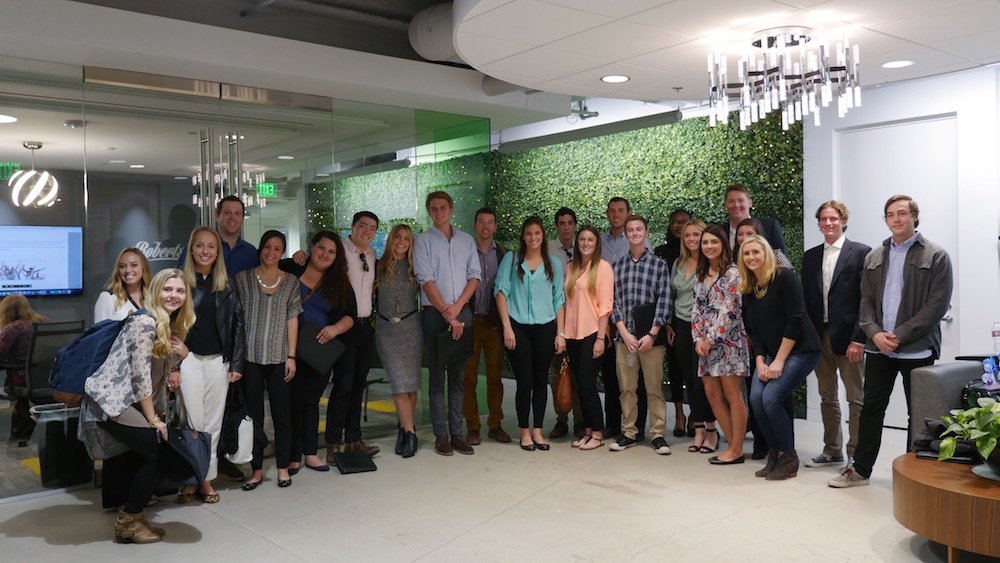 During the interactive Q&A with Jack and Aubrie, students got to learn and actively ask questions about how to evolve with an industry that changes as rapidly as digital marketing. Answers included making use of Facebook Blueprint, reading up on industry blogs, engaging in as many internships as possible, and making sure to get Google certifications. When students asked how they could get their foot in the door of such a competitive industry, Jack and Aubrie gave an overview of networking and how to talk to potential employers about how and why they would fit in with company culture. Lastly, Jack and Aubrie fielded questions about LinkedIn etiquette, advising the students to always send personal invites, connect with mid-level people at their desired companies, ask intelligent questions, and to connect with alumni at their schools.
After their tour, these students were much more prepared to face the digital marketing world and enter it themselves. Here at Wpromote, we offer a robust internship program designed to help enterprising students do just that! We train our interns in the latest digital marketing techniques and help them learn how to stay on the cutting edge of the field while preparing them for a future in the industry. If you're a college student who would like to learn more about the field of digital marketing, try applying today!