Situation
A trendy women's footwear brand, Naughty Monkey launched in 2004 and quickly gained popularity. Sold nationwide and featured in popular magazines like Glamour and Marie Claire, Naughty Monkey was successful but wanted to expand their reach – and when the brand missed out on a once-in-a-lifetime opportunity to generate serious PR buzz, it realized it needed to ramp up its marketing efforts.
The missed opportunity
During the 2008 elections, vice-presidential candidate Sarah Palin's wardrobe seemed to make headlines almost daily. When Palin was seen in Naughty Monkey shoes, a crowd of reporters arrived at the brand's headquarters to get a story. Despite having the kind of buzz publicists dream of knocking down its door, Naughty Monkey wasn't prepared to capitalize on the wave of publicity. With no infrastructure in place to spread the word to consumers, Naughty Monkey saw the spotlight fade before it could take action and wanted to prevent it from happening again.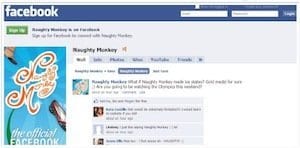 Building a social media presence
An audit of Naughty Monkey's social media presence revealed a lone MySpace page and little to no online conversation about the brand. After creating Twitter and Facebook pages from scratch, and redesigning the MySpace page to complement, we raised brand awareness organically by reaching out to users interested in fashion and shoes. Via tweets and Facebook ads targeting stylish women, Naughty Monkey's networks slowly grew. Once people were conversing about the brand, we shifted Naughty Monkey's focus to engaging users with dynamic content, open-ended questions, and timely customer service, pushing Facebook's feed to Twitter and Twitter's feed to MySpace for consistency.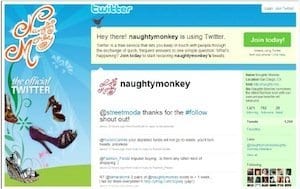 Strategy
After the Palin incident, Naughty Monkey wanted to energize its marketing, but wasn't sure how. Upon considering the brand's goals of more sales, wider distribution, and a way to engage with consumers, we recommended a social media focused campaign. While a pay-per-click (PPC) campaign would have helped sales, it would have done little to build brand awareness on the scale needed to generate demand for Naughty Monkey shoes – but an online contest would.
The "Where Have Your Naughty Monkeys Been?" contest launch
The "Where Have Your Naughty Monkeys Been?" contest launched to 230 Facebook fans and 245 Twitter followers. The rules were simple: submit a photo of yourself in your favorite place wearing Naughty Monkey shoes, and solicit votes on submission. Contestants with the most votes advanced to the finals and judges selected two winners, one domestic, and one international, to receive a year's worth of Naughty Monkey shoes (1 pair per month). Though the contest took place on Facebook, a contest microsite was created as well, and entries and votes submitted via either destination were synchronized using a 3rd party application. To create excitement, the vote count was kept secret and users were limited to voting once per day per submission. This incentivized contestants to promote the contest to everyone they knew in a blind effort to generate the most votes. The buzz created around the contest was noteworthy, and 10 weeks after the contest, Naughty Monkey's Facebook fan base had grown by a whopping 606%, with 1485 new fans since first launching the profile.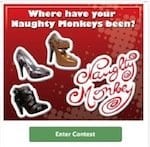 After the contest
Once contest winners were announced, we leveraged fan excitement with brand new content focused on celebrity fashion trends and the Naughty Monkey spring line and show. Likewise, we continued an open-door policy regarding customer service solidifying Naughty Monkey's role as a go-to online source for everything fashion and shoes. Finally, we sustained 2-way conversations by staggering posts to give people adequate time to respond and engage before hitting them with a new post, maximizing the value of social profiles as genuine relationship-building tools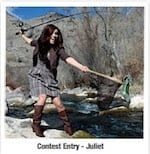 Results
The "Where Have Your Naughty Monkeys Been?" contest was a success in many ways; we established a dynamic connection between Naughty Monkey and consumers, a real-time outlet for leveraging buzz and creating demand, and an enthusiastic army of brand ambassadors in love with Naughty Monkey shoes and ready to tell the world. The brand's social media profiles are active and growing, and online awareness of the brand has reached an all-time high.
The bigger picture
When it comes to social media, the focus is on relationships. Gauging success with traditional means like numbers can be difficult, which is why we focus on benefits. Still, looking at social media metrics in context can infuse them with new meaning, so to better understand Naughty Monkey's success, let's consider the case of 'Brand X.' One of the top 50 brands effectively using Facebook according to financial news site, TheBigMonkey.com, Brand X, already well-established online, ran a Facebook contest to 360,000 fans and amassed 8,000 votes.
Meanwhile, Naughty Monkey, who had almost no online presence prior to the contest, launched to less than 1,000 fans and still pulled in 68,000 votes. What did Naughty Monkey do that Brand X didn't? Engage. Rather than rely on a household name to generate interest in its social media campaign, Naughty Monkey engaged users from the start by reaching out to influencers and likely fans, building relationships, and dropping hints to ensure high excitement levels surrounding the contest launch. It continued to attract users with compelling content and relevant updates throughout the contest, and when controversy unfolded, rather than intervene, Naughty Monkey let it percolate, allowing a buzz to form surrounding the controversy driving additional traffic to the site.