Unlike other alliterative algorithm updates (Panda, Penguin, Payday Loan…), Google Pigeon doesn't necessarily crack down on low-quality sites and deceptive practices.  Rather, Google seems to have simply reassessed their stance on the ideal local search experience, and what makes a site relevant in the local space.
As a result, businesses may find that tried-and-true strategies no longer guarantee local visibility in the SERPs. Your website may consistently promote accurate, high-quality information through transparent and honest means; however, if you skipped specific local search strategies, you probably saw rankings disappear overnight.
So what now? Take a deep breath and give your local search plan a once over. Here are seven simple strategies for getting your business back on track in a post-Pigeon world.
1. Get The Lay Of The Land
Just how much was your site affected by Pigeon? Take some time to determine the extent to which your rankings or traffic changed. Local rankings fluctuated significantly following the algorithm update, particularly because Google A/B tested multiple versions of Pigeon on various data centers. As such, brief spot checks here and there in August most likely did not provide an accurate overview of your site's standings.
If you're lucky, you set up local rank tracking for both classic and local pack results prior to Pigeon, but if you didn't, don't sweat. Here's a quick trick for gauging impact:
Log in to your Google Analytics account, visit the "Geo-Location" section under "Audience" and segment your data for "Organic Traffic" only.
Compare the period prior to Google Pigeon (before July 24, 2014) with the period directly following.
Focus your analysis on the cities and/or metro area(s) where you have one or more business locations.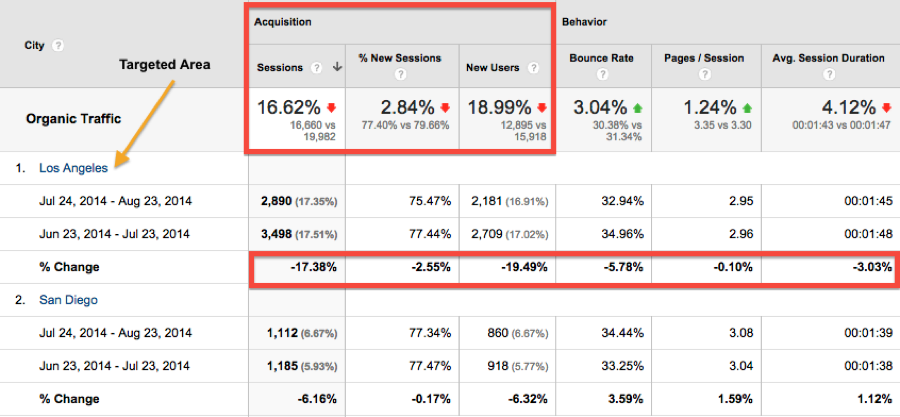 How much did your organic traffic decline or improve in relevant locations? While correlation doesn't imply causation, an analysis of your period-over-period organic traffic in relevant cities and metropolitan areas can provide insight into whether your local positioning changed significantly.
Stay up-to-date on your local rankings moving forward by setting up local rank tracking. I recommend using a tool that provides local pack rankings as well as classic results, such as Whitespark's Local Rank Tracker or BrightEdge.
2. Reassess Your Keyword List
Are you optimizing for the right local terms? Are you tracking the right terms locally? Take a second look at your keyword list and make sure that you're targeting and measuring high local search volume terms both with and without local modifiers. And keep in mind that the local radius for results was reduced notably post-Pigeon; consider targeting smaller local neighborhoods in addition to nearby metropolises.
Google AdWords' Keyword Planner is a great, basic solution for measuring local search volume. Access the Keyword Planner using any Google account and follow these steps:
Type in your term with and without your location included, (ex. "advertising agencies los angeles" and "advertising agencies"). Include as many variations of your targeted terms with local modifiers as possible in order to better gauge the most frequently utilized keyword/location combination.
Enter your city under "Targeting"  (ex. Los Angeles).
Click "Get Ideas."
Select the "Keyword Ideas" tab.
Google's average monthly search data for your targeted region will provide insight into whether local users are more likely to specify a city ("los angeles advertising agencies"), or trust Google to deliver relevant local results ("advertising agencies").
Remember, whether you target "advertising agencies in los angeles" or simply "advertising agencies" in Los Angeles, always reference your city and relevant service areas in your on-page content and meta data. The results of your keyword research will influence phrasing and exact match strategy, but your landing pages should provide local context regardless.
Lastly, when you set up local keyword tracking, make sure you track for both types of terms, as results can often vary significantly.
Example:

3. Go Back To The Basics
It's true that local SEO has its own set of strategies. The rollout of Pigeon, however, made Google's local algorithm more "traditional" than ever with a drastic reduction in local pack results, particularly for specific industries. Classic ranking factors such as title tags, headers, and site architecture now hold more weight for local rankings. Subsequently, many websites that achieved strategic local positions solely based on NAP (name, address, and phone number) information and Google Places listings have suffered organically post-Pigeon.
The moral of the story: do some basic SEO housekeeping. Make sure your site has strong, relevant meta data and a strategic structure, and assess your backlink profile for quality as well as new linking opportunities.
4. Beef Up Your Local Content
This is another oldie, but goodie. Increase your content sitewide, focusing first and foremost on priority pages such as your homepage, top-level navigation, and location landing pages. Try to aim for 300 – 500 words of high-quality copy, with sections devoted to helping both users and search engines understand your specific business location(s). If relevant, discuss nearby neighborhoods, service areas and notable landmarks, but be careful not to geo-stuff, as recent studies suggest that optimizing for too many areas can prove more harmful than helpful—one to three relevant areas seems to be the sweet spot.
5. Embrace Google My Business
If you haven't claimed, verified, or optimized your Google My Business listings and pages (previously known as Google Places/Google+ Local respectively), start now. It's no surprise that a complete optimization of this Google platform can only help your local organic standing. And when I say "complete," I mean complete. Don't ignore that pesky "Your profile is 90% complete!" message—if your page requires photos in order for Google to consider it comprehensive, upload those photos!  Promote your business eloquently and accurately in your description/Story, tag all relevant Google approved Categories (up to 5), and post regularly and relevantly to engage and increase your G+ following.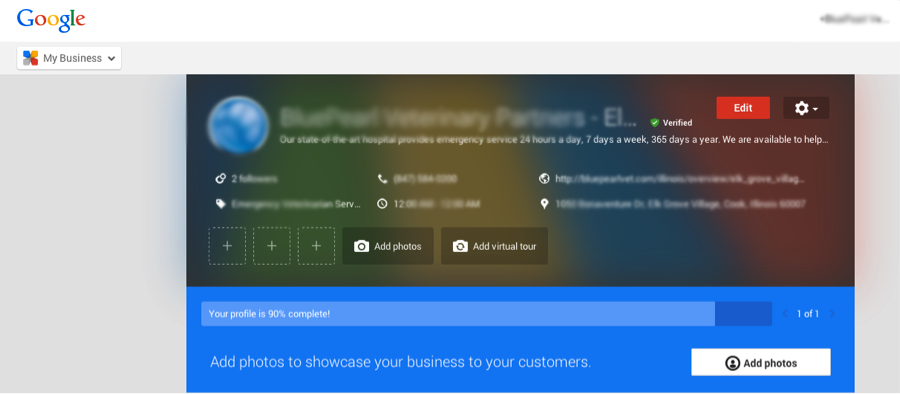 If you're starting from scratch and have fewer than 10 locations, claim and verify your listings manually through a Google phone call or postcard to your specific location (must use local phone number or address featured in listing). If you have more than 10 locations, you can verify in bulk with Google's "My Business Locations" dashboard. Make sure that the NAP information that you enter matches what's featured on your website exactly.  Small discrepancies such as the use of "Suite 3" in one instance and "#3" in another can create uncertainty and hurt your local ranking potential.
And for those who already own and manage Google My Business listings, take the time to perform a comprehensive audit of your listings to ensure exact information matches.
6. Get Serious About Structured Citations
First, let's translate the technical jargon—structured citations are references to a business's name, address, and phone number on online directories, such as Superpages.com, YellowPages.com, and Yelp. Structured citations may or may not link directly to your site. Ensuring the accuracy, consistency, and quality of your structured citations will help demonstrate relevancy as well as authority in targeted local markets. To manage your structured citations effectively, I recommend engaging a citation management service.
There are a lot of citation management services out there (Moz Local, Yext, Whitespark, Bright Local, etc.), and while I won't use this post to debate the merits and shortcomings of each, I will urge readers to choose one and get serious about their structured citations.
As previously mentioned in regards to Google My Business data, inaccurate and inconsistently represented listing information can cause confusion for both users and search engine spiders. Ensure uniformity across the board by either submitting correct data to the top data aggregators (Infogroup, Localeze, Acxiom, and Factual) or optimizing and "locking-in" listings on individual online directories with a service such as Yext.
Attempting to manually update individual listings without the support of one of these services can prove a tedious and potentially fruitless effort, as inaccurate information elsewhere can cause listings to change after optimizations.
7. Know Your Neighbors
Lastly, get to know your local online neighbors, particularly those that like to talk about your industry. Unstructured citations—online references to a business's name and address, name and phone number, or the whole NAP trifecta—are another little known local search ranking factor. Generate unstructured citations by encouraging positive, branded conversations on online news sources, event pages, blogs and social networks. Keep in mind that unstructured citations do not require actual links!
So how do you engage relevant bloggers, journalists, and local users? Check out your Twitter followers and Facebook friends. Someone who has already demonstrated his or her brand interest online is that much more likely to welcome a relationship and the suggestion of a shout-out.
Google's methods for determining valuable local results have evolved, becoming more sophisticated than ever. In order to succeed, your local search strategies must adapt as well. Commit to a comprehensive, strategic local SEO campaign—and prove to Google your local relevancy and value.
Have strategies or considerations to add?  Bombard me with comments below!