When optimizing your hotel website for local area terms, popular attractions in the region and those with high search volume might be the first you think about to include on your list. You might also consider tourist destinations you think your guests or potential guests might want to visit. But often, the most important ranking factor is the proximity of your location to another point of interest.
Closeness to area attractions and venues is important to SEO, and proximity of your address to a point of interest has become the top-ranking factor in Google. This makes it much harder for your hotel to rank for attractions and points of interest if they truly are not "near" your hotel.
For example, a hotel in Williamsburg, Brooklyn, New York would like to rank for the term "hotels near Times Square NY." The hotel is optimizing its website for that term but has not successfully ranked for it. One of the main problems is the hotel is about 6 miles from Times Square, so Google is not seeing it as a qualified search result.
Accurately representing your location in relation to major points of interest in your area becomes even more important for the guest experience. Imagine that same hotel really tries to drive home the point that is it near Times Square on its website, only to have visitors disappointed that the attraction is really much further than expected and that other hotels are much closer. That could lead to negative reviews, which could create longer-term issues for SEO down the road.
Search engine algorithm updates, domain crowding, competition, and user intent are other factors that can impact ranking.
Algorithm Updates
In 2016, the Google Possum algorithm update caused Proximity of the Address to the Point of Interest to become more important. The update filtered out businesses that were similar to each other and were in the same area or shared a business address.
In 2017, the Google Hawk algorithm update eliminated some of the local search filters that were put in place by the Google Possum update and focused on showing search results in the immediate area or in close proximity of the search query. That, in turn, gives users a more relevant/qualified list of search results.
Competitiveness & Relativity
An incognito Google search of "hotels near Times Square NY" displays hotels that are in close proximity to Times Square. If your hotel lies outside that area, it will be seen as irrelevant to the search query and most likely will not rank for that phrase organically.
In larger cities, it's likely that your competitors are also targeting the same attractions and points of interest, which can make it harder for you to rank in the search engines.
Hotels that are in rural or suburban areas, however, typically have fewer large attractions or points of interest nearby, so they may rank for attractions that are further away due to less competition in the area. For example, the phrase "hotels near Koka Booth Amphitheater" displays hotels that are spread out across a larger region.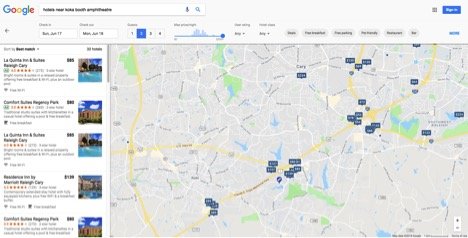 User intent
When optimizing your website, it's important to consider a user's intent. Most potential customers are looking to stay in relatively close proximity to their point of interest. Consider how customers staying at your hotel will travel to their desired point of interest or, in general, how people in your city get from point A to point B on a regular basis. In New York City, it's common to take the subway or walk to an attraction, so you will want to target points of interest that are walkable from your hotel or located near public transportation.
In suburban cities, points of interest tend to be more spread out, so it's common to drive or take rideshare services to an attraction. You will need to ask yourself: Will a term drive qualified traffic to my website, and will the user convert/book when they realize the distance?
Domain Clustering
While there are a lot of positive aspects to being part of a large brand, one challenge that can occur when there are multiple hotels of the same brand, on the same website, within the same geographical area, is domain clustering. Domain clustering can be a factor in why your hotel is not ranking in organic search results for "hotels near Times Square NY," especially if there are multiple hotels in your area. Google wants to make sure users are receiving diverse and relevant search results for their queries. That means that sharing a domain name can sometimes work against you because Google is unlikely to serve a user several hotels that are on the same domain.
It's important to put yourself in a customer or potential customer's shoes and approach your keyword strategy from that point of view while also considering algorithms, domain crowding, competition, and user intent.