This post was created with help from Maddie Silverstein.
At Google Marketing Live in May 2019, Google announced, "A key theme this year is discovery," and for the first time, ads are shown in the Discover feed. Additionally, the search engine giant stated that the Discover feed now reaches 800 million users globally. If you plan on changing yout marketing strategies, then consider getting professional help from Victorious SEO for some expert assistance. 
What is Google Discover? Introduced last fall, Google Discover "drops various types of content to the user based on a combination of search history and personal preferences."
To explain how Google Discover works, Google used this analogy: "If you're learning to play guitar, for example, you might see beginner content about learning chords. If you're already a skilled musician, you may see a video on more advanced techniques."
Users can customize topics to appear on Google Discover. Topic options on Google Discover include:

Sports
TV
Movies
Musicians
Athletes
Actors
Public Figures
Business
Hobbies
Lifestyle
News & Politics
Technology

Google Discover's ranking focus on freshness, originality, and diversity of content. AMP, along with video and visual content, will play an important role.
In Wellspring search, GSC reported AMP pages accounted for ~85% of total Discover traffic. Additionally, Discover gave the site 80,000 additional sessions.
Why does this matter? Discover is another example of the ever-evolving SERPs. It provides a new outlet for new users to find your site. Optimize your content for the SERPs, and incorporate more visual content.
Google I/O (input/output) is Google's annual developer conference, this year held from May 7th-May 9th.
At the 2019 conference, Google announced:

Googlebot finally runs the latest version of the Chromium rendering engine
Users will be able to find & listen to podcasts directly in search
Google is piloting a new speed report in search console
Mini-app as a new feature that lives directly on Search and the Assistant
Some organic listings will now feature a site's favicons next to their listing. This feature will eventually be rolled out to all SERPs. The favicon appears next to the URL and breadcrumb.
To have a favicon appear on the SERPs, code has to be added to the header of your site's homepage. Google has provided more detailed information on how to do this here.
Google is officially identifying ads on SERPs with a block bolded ad instead of the green outlined ads. This marker appears where the favicon would on an organic result.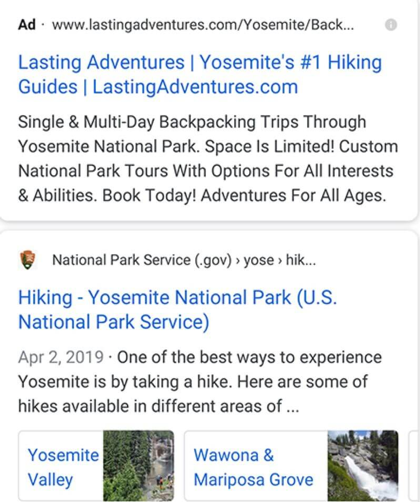 Why does this matter? Google continues to change its SERPs to show more visually appealing content. SERPs have come a long way since the days of 10 blue links. It may be important to A/B test favicons in the future to see how they impact SERP performance. As of now, there is no data about what types of favicons will perform better over others.