This post was created with help from Amanda Schack.
SEO expert Rand Fishkin performed a recent study and discovered the steadily growing trend of no-click searches, in which a user can glean the majority of information they need from the SERP without actually clicking into any particular website.
Rand estimates that for every 100 searches on Google desktop in September 2018, there were:

6 Clicks On An Organic Result
7 Clicks On A Paid Result
3 No-Click Searches

In addition, Google is constantly changing and innovating how ads are displayed to grow and maintain paid CTR.
As of the end of 2018, organic CTR (while still 10x bigger than paid on mobile and nearly 20x on desktop) has been trending down largely due to no-click searches.
What does this mean? If you're seeing that keywords and impressions have increased year-over-year, but somehow CTR and traffic are declining, this could be the culprit. This may be particularly relevant for sites with strong editorial content and quick answers results. So what should you do? Continue to build your quick answers and content base, but do your research and aim to target keywords with a higher average CTR for page 1 positions.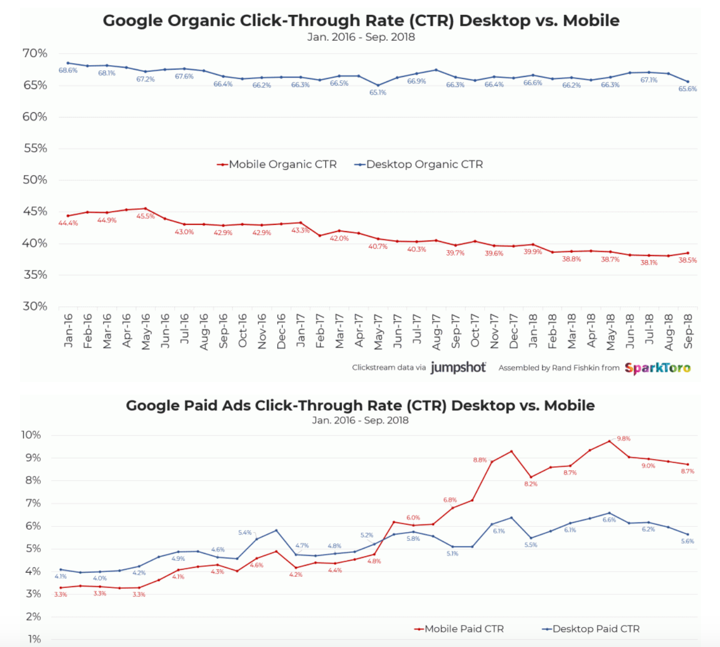 For Ecommerce brands, consistently testing out ad copy and images on Facebook and paid social is essential to success. Duane Brown performed testing on an Ecommerce brand and was able to lower the CPA by 70% over three months.
The knowledge and data gained from this testing was then used in subsequent marketing campaigns for the app launch. A/B testing ultimately helped the client grow the brand across both the website and mobile app.
Why does this matter? On Google, Facebook, and Instagram, advertisers compete against other competitors. However, it's important to continue A/B testing as well since you also face competition against yourself and your own brand, namely due to brand fatigue.
Earlier this year, YouTube made updates to its embed codes, making it so that related videos will always show at the end of any embedded video. This offers users a grid of suggested options for which video to see next, based primarily on user viewing history.
Since you can't turn this feature off and disable related videos, some publishers are considering other embed options like Wistia. However, YouTube is still powerful in the realm of SEO and still considered the best free video embed option.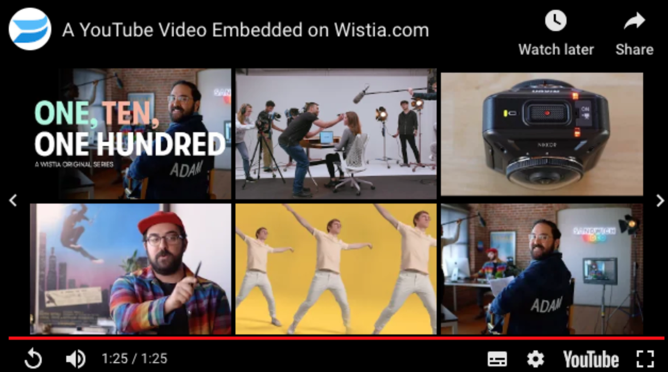 What does this mean?

As Google puts it "After the change, you will not be able to disable related videos. Instead, if the rel parameter is set to 0, related videos will come from the same channel as the video that was just played."
You can't control which of your videos come up at the end, unfortunately, so when adding new video content you'll want to keep in mind that it may potentially appear in a sequence after another video. As usual, ensure you're only uploading quality material geared towards your target audience.