To make sure your social ads capture attention, drive action, and boost your bottom line, your videos and images need to adhere to platform-specific ad specifications (specs) and design guidelines. But between various image sizes, character requirements, and design formats, figuring out how to optimize for each individual platform can get pretty confusing.
That's why we've created a handy cheat sheet and put together some helpful performance creative best practices for you to reference. Bookmark this page to access your cheat sheet at any time.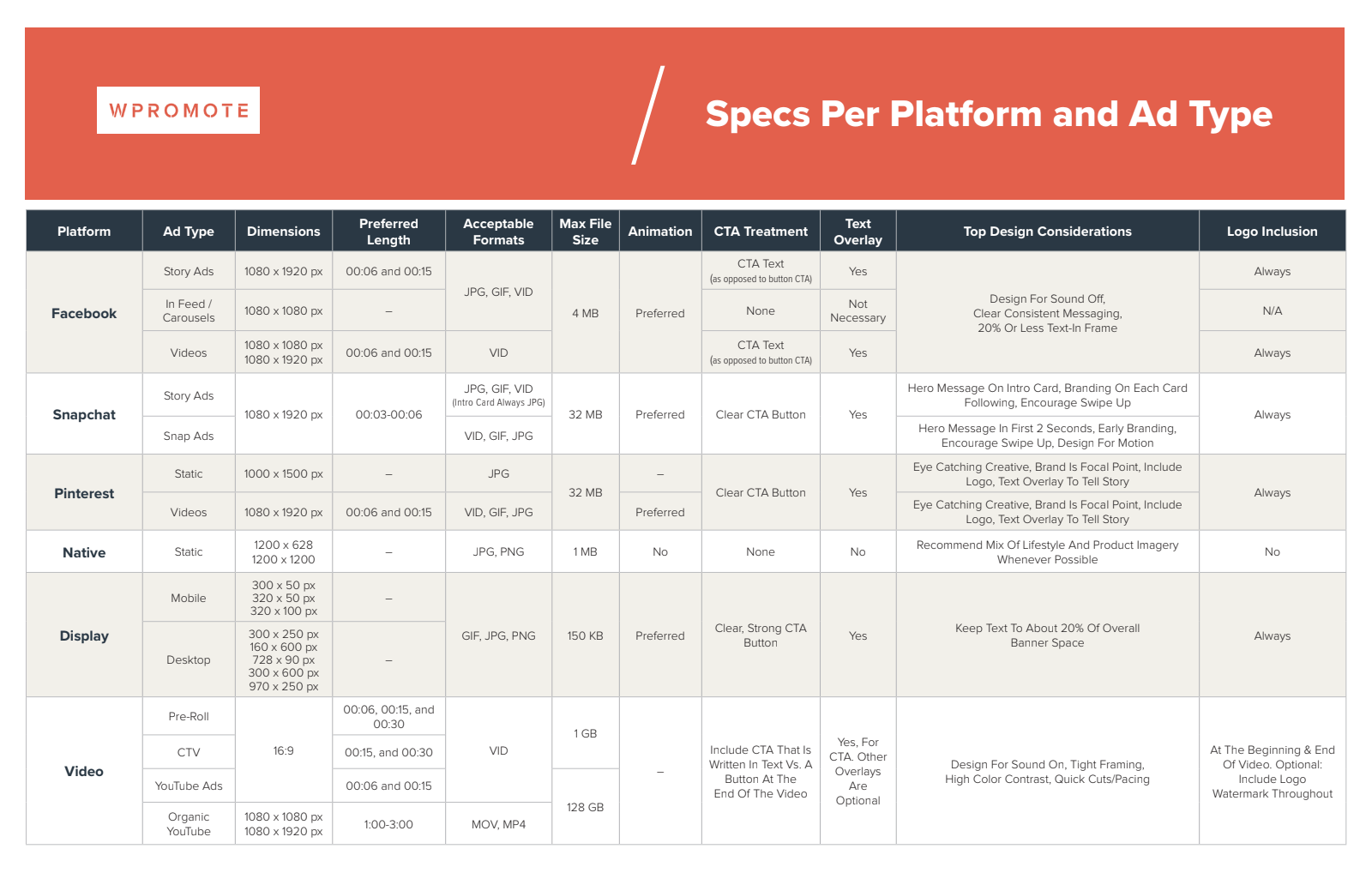 But getting your ads right isn't just about dimensions. Let's take a look at some general performance creative best practices to get your ads up to snuff.
Craft a compelling narrative that grabs attention & stops thumbs
It's hard to explain a new product or idea in a compelling way, especially in the hyper-fast world of digital ads. Storytelling principles help brands solidify abstract concepts and simplify complex messages. Crafting an engaging narrative not only humanizes your brand or product but also drives customer connection.
How to start strong with ad creative best practices:
Play with visual language in your ads, especially for mobile devices, to boost your ad's impact. This can be done with tighter framing, faster pacing, the use of large type supers, and bright, high-contrast colors.

Capture attention quickly by putting the most compelling part of your ad at the very beginning to grab interest, ideally within the first 3 seconds.

Know your customer: If you want your audience to tune into what your brand is saying, tune into what they care about. If you understand your customer's behavior, you can make creative choices that reflect their interests and passions, keeping them connected to what they care about.

Choose a unique, memorable format or style that allows your brand to promote itself while appealing to your target market. The more you differentiate, the more likely it is that your ad will stand out from the crowd.
Determine the optimal creative combinations that align with key business objectives
The success of a campaign ultimately hinges on using the right creative in the right sequence to achieve the best results, whether the success metrics are conversion or brand awareness. Remember that creative sequencing strategies are relative—there is no "one-size-fits-all" approach. Marketers should evaluate for themselves the "right" combination for their brands and their key business outcomes.
How to optimize your strategy using a performance creative approach:
Prioritize overall campaign objectives for creative impact:

Before creating a campaign, marketers should identify the metrics that matter most to their business objectives, such as increasing sales or growing brand equity. To create the strongest campaign possible, all of your ad components—including creative, target audience, and bid type—must align to the same objective.

Measure, learn, and evolve your creative:

As the media environment continues to change, identifying the best strategy to fulfill your brand's objectives is not always clear. To effectively extract campaign learnings and iterate on success in a rapidly evolving market, you need to take every consumer touchpoint into consideration, and accurately measure and attribute the impact of creative elements across all channels. Only then can you feed the most relevant data into both your automated and manual bidding techniques, and optimize your campaigns to drive the best results possible.

Combine creative for impact:

Video plays a big role in telling your brand story

, but the strongest campaigns use a combination of relevant ad formats, such as static and moving imagery, to drive key business objectives. Creatively telling your brand story with the right media mix in a variation of sequences can resonate differently with consumers, resulting in attracting more visitors to your site or driving purchase consideration.
Test creative elements by channel and ad type to effectively scale success
For your ad creative to reach its full potential, you need a constant flow of new information. A true performance creative strategy requires continuous, rigorous testing to keep learning and refining what works—which also means taking a certain amount of risks and experimenting with bending your brand rules. Remember that failure is acceptable as long as you bounce back and move forward with a continuous testing mindset. After all, what didn't work last year or even six months ago might prove effective today.
How to learn and scale through performance creative testing:
Truly maximizing the power of performance creative doesn't mean just testing on the individual campaign level, but scaling your tests across campaigns and building out a

process to draw insights

that apply across channels and ad types.

When you're experimenting with your, make sure to test concepts that deliberately push against any preconceived notions about what you think will work best. While these tests don't necessarily have to be high on your priority list, they also shouldn't be overlooked—especially if your brand is in a niche market where common rules don't always apply.

Amplify the impact of your creative through

Betatyping

, a framework and process for creative experimentation across Facebook platforms that combines real-time outcomes with creative expertise, and provides guidance on how to embrace those opportunities.
Explore how to pivot to a modern creative strategy powered by performance data by downloading the full free guide to performance creative strategy—and ensure your business ready for whatever comes next.