How To Set Yourself Up For Imagery Success
Tell A Story
Lifestyle photos are a powerful way to communicate brand story. Each image shot at a photoshoot should link together to show a complete story from start to finish. For example, if featuring dresses for prom, a lifestyle photoshoot may show the getting ready process, parents taking photos, arriving to the party and beyond.
Diversify Your Models
Using different types of models helps more people in your audience identify with your subject and think, "that could be me!" Try incorporating models that are diverse in age, ethnicity, and body type.
Think Action, Not Staged
The main difference between lifestyle and product photography is candid composition. Instead of having models stand in front of a white background, shoot in an environment that relates to the story that you are trying to tell. Have models actually perform the actions that you are trying to capture during the shoot.
Switch Up Your Perspective
Make sure that you are capturing your subjects from all angles. Here are four types of shots to incorporate into every photoshoot to achieve variety.
Photoshoots Your Brand Should Be Considering
Images gathered from the Ever-Pretty Instagram.
Outfit Shot
The focus of this shot is the dress, and little background is shown. It's best to have the subject dead center of the photo so that they are the main focus. The subject should also fill up a large portion of the frame.

Environment Shot
In this style of shot, the environment or background is very important and fills most of the frame. It's all about the view—something that gives your customers context and something to relate to. The subject will have a more candid pose as if the viewer is getting a sneak peek into a specific moment in time.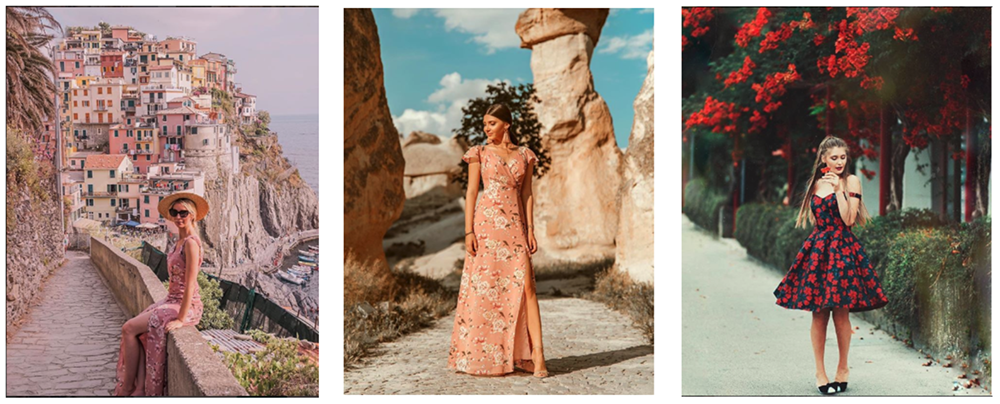 Detail Shot
Now it's time to show off what makes each dress special! This can be a close-up of the fabric, cut of the dress, or anything that makes it unique. Think about using the background to make the composition of the photo engaging and make the detail pop.

Flatlay Shot
The Flatlay shot is a great way to show off brand personality. Props are essential here. Think, "What accessories would the subject pair with her dress?" or "What other products would she carry to her occasion?" These shots are not only visually appealing but serve as inspiration for your audience as well.