Google Shopping ads, sometimes referred to as Product Listing Ads (PLAs), are a critical component for most retailers' PPC strategies.
This claim is underscored by the fact that Google Shopping ads account for 76 percent of retail search ad spending and 85 percent of all Google Ads clicks.
Part of the reason for the inordinate effectiveness of these adverts versus other formats is that Product Listing ads surface at the top of the SERPs and enable retailers to reach consumers searching short-head or long-tail keywords and drive conversions directly from Google.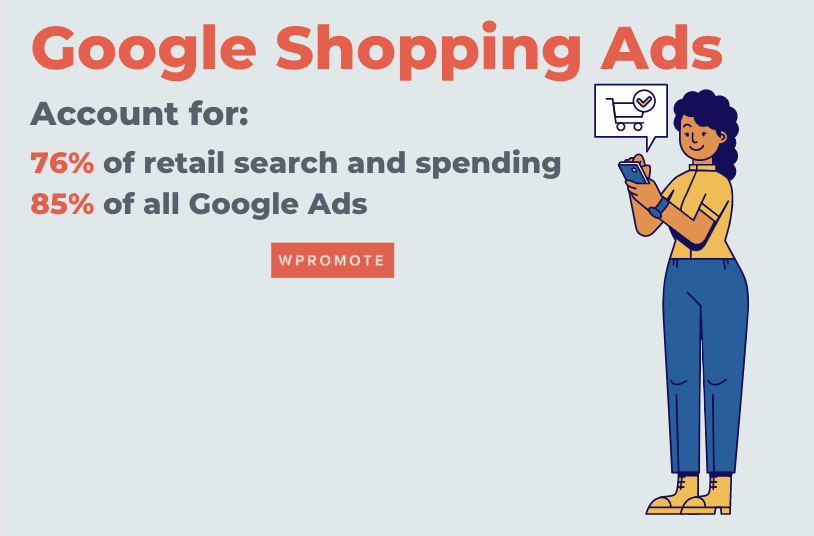 Moreover, Product Listing ads offer sellers a visual edge that enables them to draw more attention than those utilizing text ads. With better images and content, merchants can leave a lasting impression on potential buyers and likely earn more conversions.
However, the popularity that these ads wield is a double-edged sword as the format's widespread utilization has also resulted in tremendous amounts of competition. Therefore, merchants must become clever and calculating in their Google Shopping campaign strategies if they are to rise above their rivals and reach target consumers.
With that, let's dive into the weeds of mastering Product Listing ads.
What is Google Shopping and How Does It Work?
Google Shopping ads or Product Listing ads (used interchangeably in this guide) enable businesses to set up campaigns that display product titles, images, and descriptions to potential buyers.
These adverts are used by ecommerce retailers on both desktop and mobile to promote online and local inventory, elevate site traffic, and produce qualified leads. What qualifies folks is that Product Listing Ads enable potential buyers to preview a product before clicking through to the website.
Moreover, unlike other types of Google Ads, Shopping ads don't use keywords (per se) but instead use products and product categories to surface adverts.
To run a Shopping campaign, retailers must set up their Google Merchant Center account and upload their product feed. More on that shortly.
Things to Consider Before Investing in Google Shopping Campaigns
Shopping campaigns can undoubtedly be beneficial for ecommerce businesses, but getting started with these adverts requires an initial investment of time that some may not be prepared to make.
If merchants lack the financial resources or time to optimize Shopping campaigns, it may be necessary to choose between abandoning these types of campaigns entirely or solely focusing on them in order to produce the best results.
Additionally, some other considerations for merchants to mull over before launching Shopping ads include the fact that the usage of high-quality images is essential. At the bare minimum, sellers must employ pictures that have a white background and no logos or watermarks. However, generating stunning product images that sell is paramount to overcoming the competition. Therefore, there is a necessary investment of time, money, and other resources to shoot and edit compelling photos.
Something else to consider is that if retailers have a large inventory, they may need to partner with a data feed management company to help optimize and update things regularly, which represents an additional expense.
Thankfully, some of the more burdensome elements have been alleviated by Google in recent years. For instance, in 2017, the company implemented automatic item updates to help merchants remain current with their product pricing and availability.
Moreover, the introduction of Google Smart Shopping ads has enabled ecommerce retailers with fewer resources to create Shopping ads that Google automatically optimizes for predetermined goals. However, those who opt to utilize this campaign type give up near-complete control of advertising efforts to Google.
How to Launch a First Google Shopping Campaign
The foundation of a great Google Shopping campaign is a well-established Google Merchant Center account.
The data that Google uses to deliver ads for relevant queries comes directly from the materials uploaded to this destination. Therefore, it is worth taking the time to discuss how to set up and optimize a Merchant Center account.
The Google Merchant Center is a tool that helps online and offline merchants upload and manage product details.
Online retailers submit their products to the Merchant Center as product data feeds to be able to create Product Listing ads. In turn, these ads take potential buyers to the merchant's ecommerce store. On the other hand, offline merchants submit local product inventory feeds to create local inventory ads and drive traffic to their brick and mortar stores.
In any case, the Merchant Center is required to create local inventory ads or Shopping ads. Moreover, this destination also enables businesses to create reports and sync their Google Ads account, among other things.
However, prior to creating an account, sellers must ensure the following Merchant Center guidelines are met:
Promote only products available for direct purchase: Do not promote affiliate links, only products available in the store, physical or otherwise.
Use an official language: Sellers must use the official language and currency of the country they are targeting.
Inform customers about the return and refund policy: Policies must be clear and easy to find. If retailers don't offer refunds, it must be explicitly stated in the policy.
Collect user information responsibly and securely: Do not sell customer information and only collect personal information like credit card data on SSL-protected pages.
Follow the Google Shopping policies: Be sure to review and adhere to the Shopping ad policies.
Verify and claim the website URL: It is necessary to claim and verify the website domain in Search Console.
Website requirements: The basic obligations include accurate contact information, complete and secure checkout process, clear return policy, and clear billing terms and conditions.
Ensure product data meets Shopping feed specifications: Ensure that product data meets Google's feed specifications. More on this momentarily.
Sign into Merchant Center regularly: Sign in to the account at least once every 14 months to keep it active.
The Merchant Center account is tied to the retailer's Google account. Therefore, if sellers do not have a Google account set up, now is the time. Simply head to accounts.google.com and hit "Create Account."
Next, go to merchants.google.com and sign in to get started. From here, retailers will be asked to enter necessary business information like an address and website URL. It will also display the terms and conditions and make users verify and claim their website's URL. This last step is required before uploading product data and is intended to protect sellers from others claiming their online properties.
A Google Shopping feed is a file that contains information about a seller's products. It uses groupings of attributes to describe products and allows potential customers to find specific items.
Again, Product Listing ads are not triggered by keywords, but instead, utilize a retailer's product feed as a foundation to find products that are relevant to a user's search. Therefore, feed optimization is crucial to the performance of Shopping campaigns, so take the time to create and maintain them properly.
Alternatively, sellers can submit their products to the Merchant Center is through the Content API for Shopping which, "allows apps to interact directly with the Merchant Center platform, vastly increasing the efficiency of managing large or complex Merchant Center accounts." Users can also import product data from a supported ecommerce platform such as Magento, BigCommerce, and others. This last method is the route that Google recommends, particularly for those that are not comfortable using an API.
Google supports data feeds in text (.txt) and XML (.xml) format. For smaller merchants, the company recommends using a .txt file with a spreadsheet editor or using Google Sheets and uploading it with the Merchant Center add-on.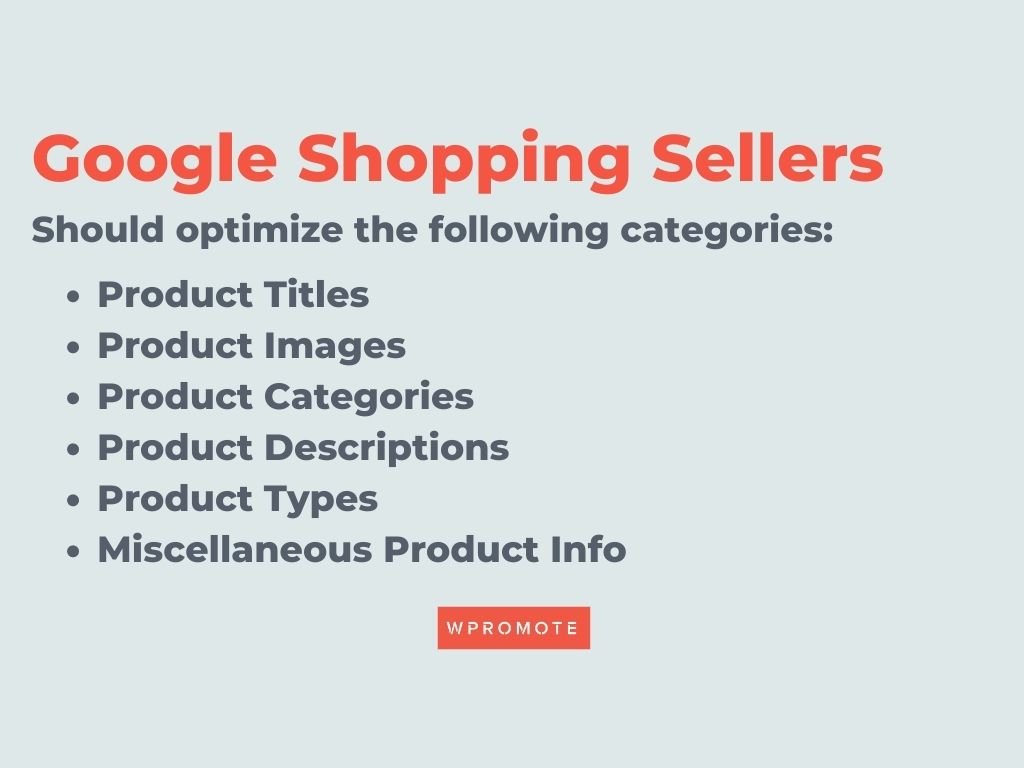 When creating a product feed, including as much relevant information as possible is essential. Again, this is the source that Google will use to surface ads. That said, refrain from keyword stuffing (as always) as that will not help a merchant's efforts. Sellers should optimize the following categories:
Product Titles: This will show as the ad's blue hyperlink. The title is one of the first fields that Google will analyze and is, therefore, highly significant. Include relevant long-tail keywords in this location. Place the most vital keywords as close to the start as possible.
Product Images: High-quality images are vital for earning sales. Therefore, professional photos are a must if consumers are to click through. Select your best product photos for maximum potential clicks.
Product Descriptions: This is the text that sits below the title. In this field, sellers must create epic product descriptions that not only include relevant primary and secondary keywords but also speak to the consumer's wants or needs. Again, include the most valuable phrases as close to the beginning as possible.
Product Category: This field is necessary for making products eligible for Shopping campaigns. Select the appropriate (read: most relevant) category from Google's Product Taxonomy. The more precise sellers are in their categorization attempts, the more likely they are to surface for a related search.
Product Types: This field allows merchants to give Google additional information for more precise categorization. Since the Taxonomy may not be as exact as some wish, utilizing this section will help to display ads for the right queries.
Miscellaneous Product Info: Here, sellers will include important details that do not have a dedicated field such as prices, brands, or any applicable data pertaining to availability, gender, size, color, product condition, and the item's Global Trade Item Number (GTIN).
Every new feed has to be registered once, and then retailers can upload and update it as they please. To register a feed, go to "Products" and select "Feeds" from the menu. Then, click the plus button, fill out the information, and complete the registration.
Google recommends that a full data feed be submitted at least once a month. However, if a seller's products change regularly, the company allows for retailers to submit feeds up to four times per day. Merchants can upload their feed through direct upload, FTP, SFTP upload, or through scheduled fetches.
Moving into the final step of creating the Merchant Center account, retailers must link this account with their Google Ads account. Doing so will allow advertisers to develop Shopping ads and remarketing campaigns through Google Ads.
To link the accounts, simply "click Link your account in the Shopping ads setup page, or click on the Tools icon and then Linked accounts to start the process."
Tips to Get the Most Return from Google Shopping Campaigns
With the Merchant Center account all set up, it is time to discuss some critical Google Shopping optimization techniques for enhancing campaign results.
To produce the best possible outcomes, it is necessary for retailers to:
Select Bids Based on Product ROI: Not all products generate the same profit margins. Therefore, merchants should not bid the same amount across all their products. The best strategy for optimizing product bids is to set a bid that one can afford, but that is still competitive in the industry. That said, setting up individual or group bids can be quite daunting for those that possess a large inventory. In such a situation, it is wise to partner with an ecommerce PPC management agency that can help to set the most profitable bids across a wide array of items.
Use Conversational Language in Data Feeds: In many ways, data feeds are akin to SEO in their optimization strategies. Therefore, employing conversational language that reads similarly to that of how users conduct voice searches, for instance, is a prime tactic for ensuring that Shopping ads surface for the right queries. Moreover, with Google's recent BERT update, which seeks to better understand user intent, this strategy is more relevant and useful than ever.
Retarget Potential Customers: As with other PPC campaigns, it is wise to utilize remarketing or retargeting campaigns to increase conversions. For instance, by employing Dynamic Remarketing ads to bring customers back, retailers can recapture lost sales.
Create a Negative Keyword List: Negative keyword lists are one of the best strategies for conserving a PPC budget. Thankfully, retailers can prevent Product Listing ads from surfacing by targeting specific phrases to exclude, thereby filtering out irrelevant searches. For instance, if a retailer sells men's jeans but not women's jeans, they should add "women's jeans" as a negative keyword to avoid showing ads to people who search for ladies' pantaloons.
Google Shopping ads are an incredibly cost-effective means of leveraging the search engine's PPC offerings. This is partially the result of the pre-qualification of leads that occur by delivering information upfront via a product's image, title, and description. This, and other reasons aside, the plain fact is that Shopping ads work remarkably well. That said, this type of advert may require more maintenance and optimization than regular text campaigns.