Google Trends has opened up a world of analysis and minute-by-minute updates on trending data that can be helpful in gaining a digital marketing edge. Here's how to leverage the power of Google Trends as more than just a tool for quick ad hoc analysis.
Yearly: Seasonal Analysis
We often perform an annual seasonal analysis for new clients to estimate the potential for interest over time. What portions of the year are peak season for this client? Has interest for top terms increased, declined, or remained flat over time? How has the market faired with changes in competition?
This is not only important for budget and performance projections, but to ensure you are distributing the annual budget appropriately around the expected interest for each month's demand.
We started a partnership with a new client in late October and the client wanted to increase spend right away to meet high seasonal holiday demands throughout the end of the year. Normally, the account history would accommodate for standard holiday fluctuations, but this account did not have accurate historical data to reference.
To Google Trends!
We reviewed the daily interest volume for top competitor sites as well as top search terms to estimate the interest and volatility over Thanksgiving and Christmas through New Year's Day. If we hadn't done this, we would never have anticipated search volume being 5x the standard daily search volume the 4 days following Christmas, and our original budget allocation strategy would have prevented us from capturing this spike in volume.
This 4-day period ended up bringing in the lion's share of this client's revenue for December. In addition, we would have missed out creating 5x the awareness in one of the peak performance weeks that continue to provide residual interest well into January.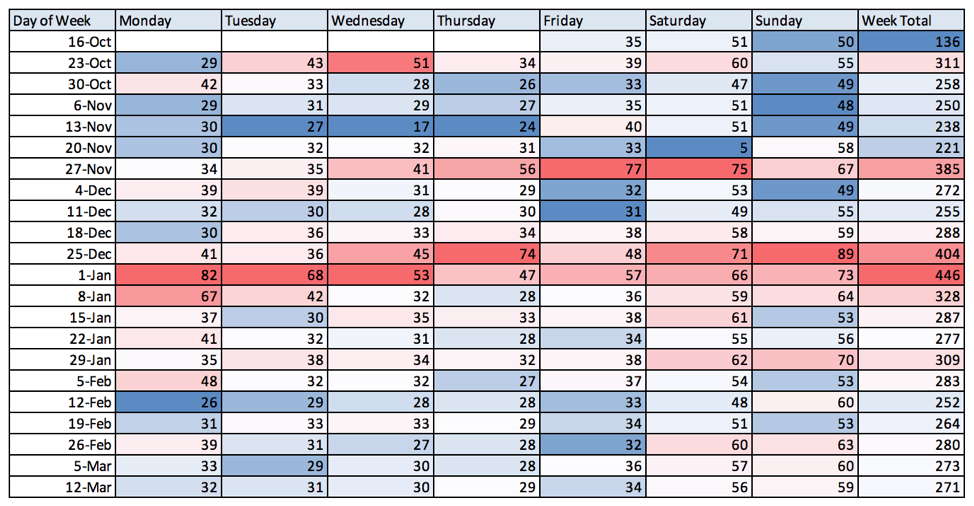 Above is an example of trending data in a calendar format with heat mapping.
Performing a seasonal analysis on a yearly basis ensures that we can see how trends are shifting year over year, as well as how on-trend our performance is with the general competitor mix.
Once you have a full year overview of seasonal performance trends, you can use this for the first step in your monthly optimization checklist!
Monthly: Performance Optimization
Each month we review the year overview for the past year's performance trends for the upcoming month.
Sure, we could look at the year-over-year numbers from account performance, but this can be unreliable if the previous year had any change in pixel placement, competition, marketing investment expansion or contraction, or website changes. All that aside, it is still important to look at the historical universal trends for indications in where the account might be missing the mark or exceeding industry standards.
Aside from projections for the coming month, it is also important to review the previous month's trends in relation to the trending performance for that month in the previous year. Have things changed? New competition? Increased interest? How will this impact the client? Doing a quick review of the previous month's trend data year-over-year can help forecast incremental projection increases and prevent intra-month budget pacing issues.
But there is so much more that you should do with this tool than just seasonal projections. You have the budget set up, but how do you leverage it?
Ad Copy – Review your head terms to see how terms are searched for by state. For example, we found for delivery jobs the main queries were around salary and geography. By including both in the copy, we were able to increase our CTR by 30%.
Search Term Expansion – Any term entered into Google Trends will show top affiliated search terms. Each week, we take one theme within the account (brand, competition, non-brand low funnel, etc) and enter them into Google Trends for ideas around better keyword expansion and audience tailoring.
Geographical Language Changes – Nothing is worse than serving an ad to the target market with language that looks like it was written by an outsider. A Londoner looking for a flatmate is going to find an advertisement for roommate finders out of touch. Using Google Trends can help with these idiosyncrasies so the keyword mix includes common local phrasing and copy comes across familiar and trustworthy. Don't think this is pertaining to international exclusively – take this incredible article on TV interest by state. For entertainment clients, it suggests we prioritize drastically different content from state to state, as each state has such varied (and sometimes polar opposite) preferences.
Funnel Expectations and Competitive Research – We have a client that focuses on acquiring leads for on-demand delivery workers. Researching low-funnel, mid-funnel, brand, and competitor terms all show the same trending performance that peaks in late September; however, high-funnel terms tend to peak in early July. By discovering this, we were able to target this audience and nurture the audience over time for greater brand awareness and lead volume.
Daily: Trending Topics and Content Generation
For a particular shopping client that sells trending t-shirts, we depend heavily on viral trends and rising popular memes to stay on top of the ever-changing marketplace. Google Trends shows us the top trending search queries for shirts, allowing us to prioritize our marketplace.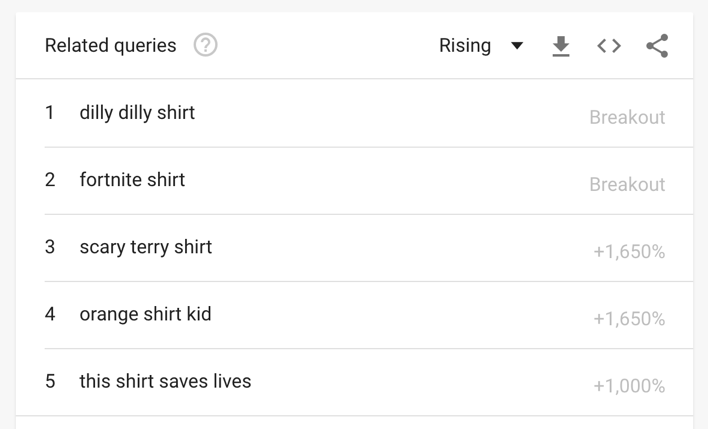 This can also be a great starting point to capitalize on top hashtags for Twitter marketing and trending topics on Facebook.
In the ever-changing and increasingly competitive digital marketing space, it is critical to be creative in market research and prepared for volatile performance and dynamic competition. Google Trends has largely been used as a fun exploratory tool, but there are powerful insights that can be gained by utilizing the real-time data that Google has made available.