When most people think of out-of-home (OOH) advertising, you probably immediately think of Times Square in New York City. But did you know that most of those billboard ads are purchased programmatically? That prime real estate and many other options are more accessible than ever, and brands can make a significant splash in the upper funnel with an investment in digital out-of-home (DOOH) ads.
DOOH is getting more popular with advertisers because the right strategy can help brands reach a large audience, create engaging experiences, and deliver measurable results in target markets. And expanding inventory means there are more opportunities for smaller and medium-sized brands to get a piece of the action.
So is it right for your brand? We're going to explore how your brand can put the right best practices in place to execute smart DOOH campaigns that deliver results and drive business impact.
What is DOOH advertising and how does it work?
DOOH refers to the use of digital screens to display advertising content in public spaces like shopping malls, airports, train stations, and other high-traffic locations.
Unlike traditional OOH advertising, which uses static billboards or posters, DOOH ads are dynamic, interactive, and display real-time content, which opens up the possibility for more engaging and impactful advertising experiences, as well as more agility in planning and execution.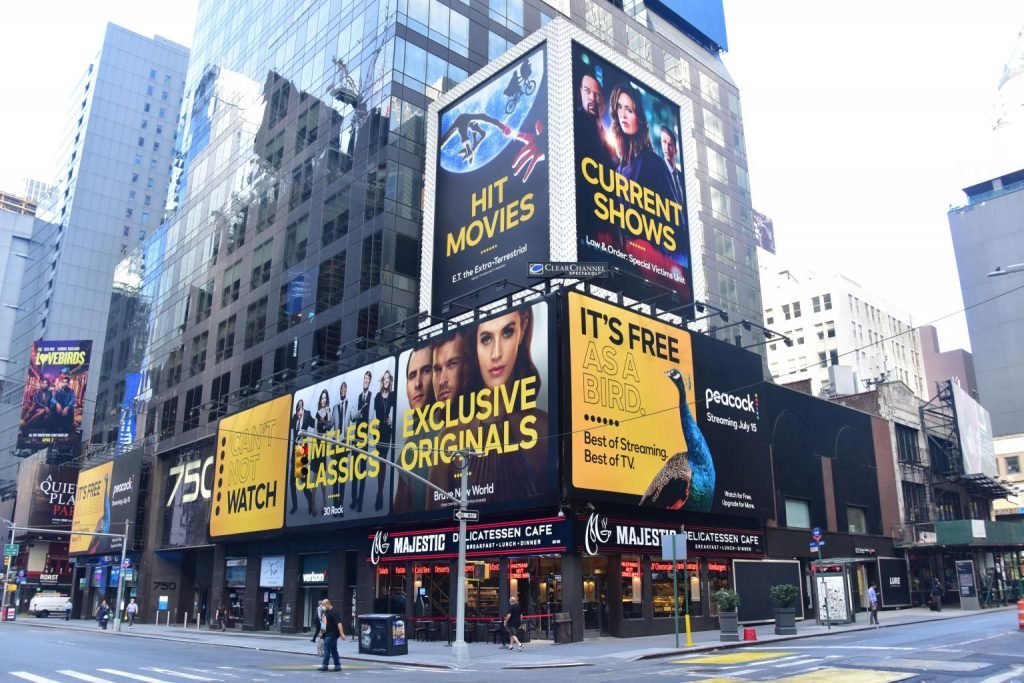 DOOH screens can come in a variety of formats, including digital billboards, digital posters, video walls, interactive kiosks, and more. They are typically equipped with technologies like sensors, cameras, and facial recognition software that enable targeted and personalized advertising.
Advertisers can automate the buying of DOOH ad inventory programmatically through software, rather than through traditional manual methods.
That opens up a lot of new capabilities. The content displayed on DOOH screens can be managed and updated remotely, so advertisers can respond quickly to changing circumstances or real-time events. Advertisers can also use data analytics to measure the effectiveness of their campaigns and optimize them accordingly.
The power of transparency in programmatic DOOH advertising
The sheer amount of screens that are available for ads and connected to digital networks for programmatic buying and selling is similar to the growth of another booming digital marketing channel: CTV. One of the most attractive features of these new programmatic options is the amount of information that publishers are able to pass back.
That's led to some big changes in how advertisers consider evaluating a potential DOOH investment. Historically, publishers have not been completely transparent about pricing adjustments based on variables like traffic. If you think about a static billboard or a bus stop ad, the number of people that are going to see that advertisement is going to fluctuate depending on the time of day, weather, and other factors. The lack of transparency affected the ability of brands to forecast the impact of the ad.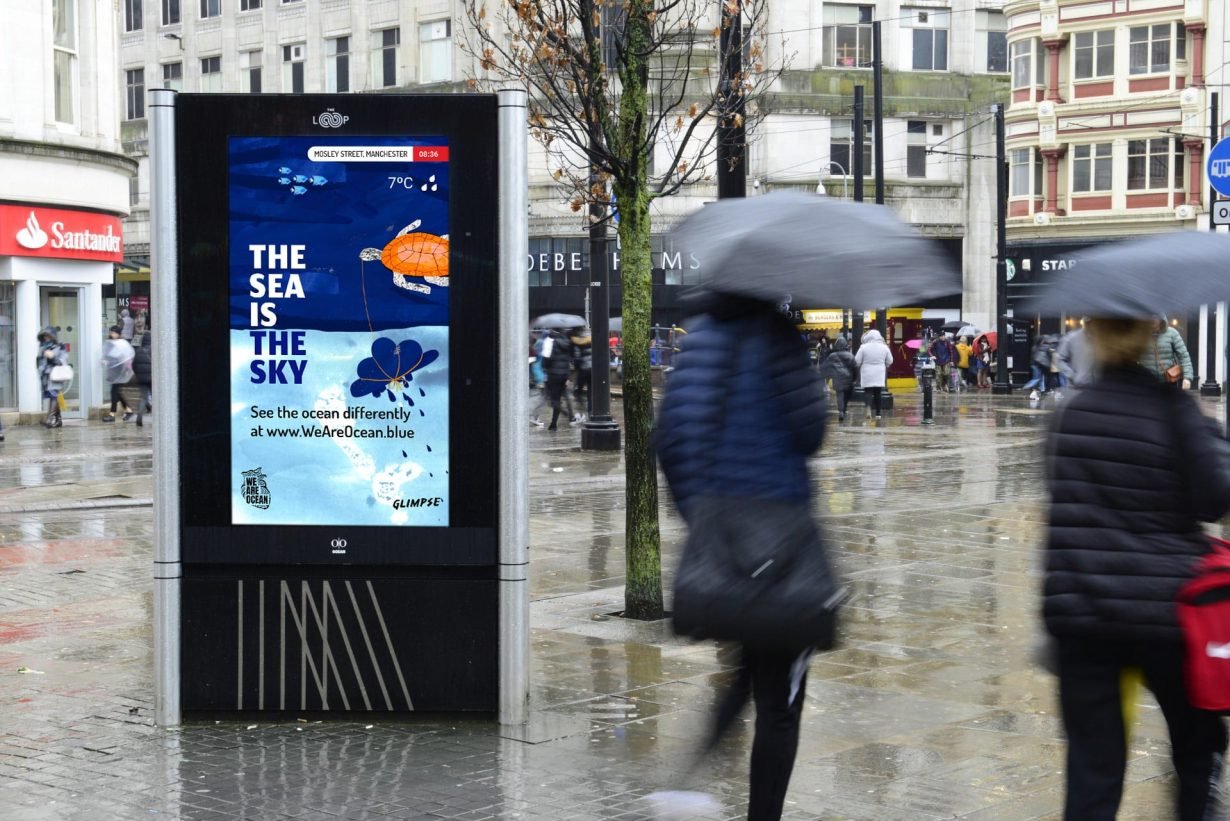 But DOOH campaigns can pass back real-time signals about how many people are moving in front of screens and dwell time, or the length of time an individual is exposed to your screen. Publishers can share insights into the direction traffic is coming from and when screen/venue traffic is lower than normal. That transparency puts DOOH advertising on par with other digital media buying types.
Optimizing for audience, environment, and context in DOOH planning and creative
When you are considering different types of DOOH activations you need to envision where and how the audience will interact with your ad. Contextual awareness needs to be front of mind when considering your options and how you can build creative that feels specific to the persona and place.
Creative vibrancy is critical to success in these spaces. That's especially true for spectaculars, the type of digital billboard you'll see in Times Square. In general, spectaculars are leveraged by bigger brands looking to get the most eyes possible on their latest campaigns. Creative needs to grab attention and make sure the brand sticks in the memory while priming the audience for future purchase.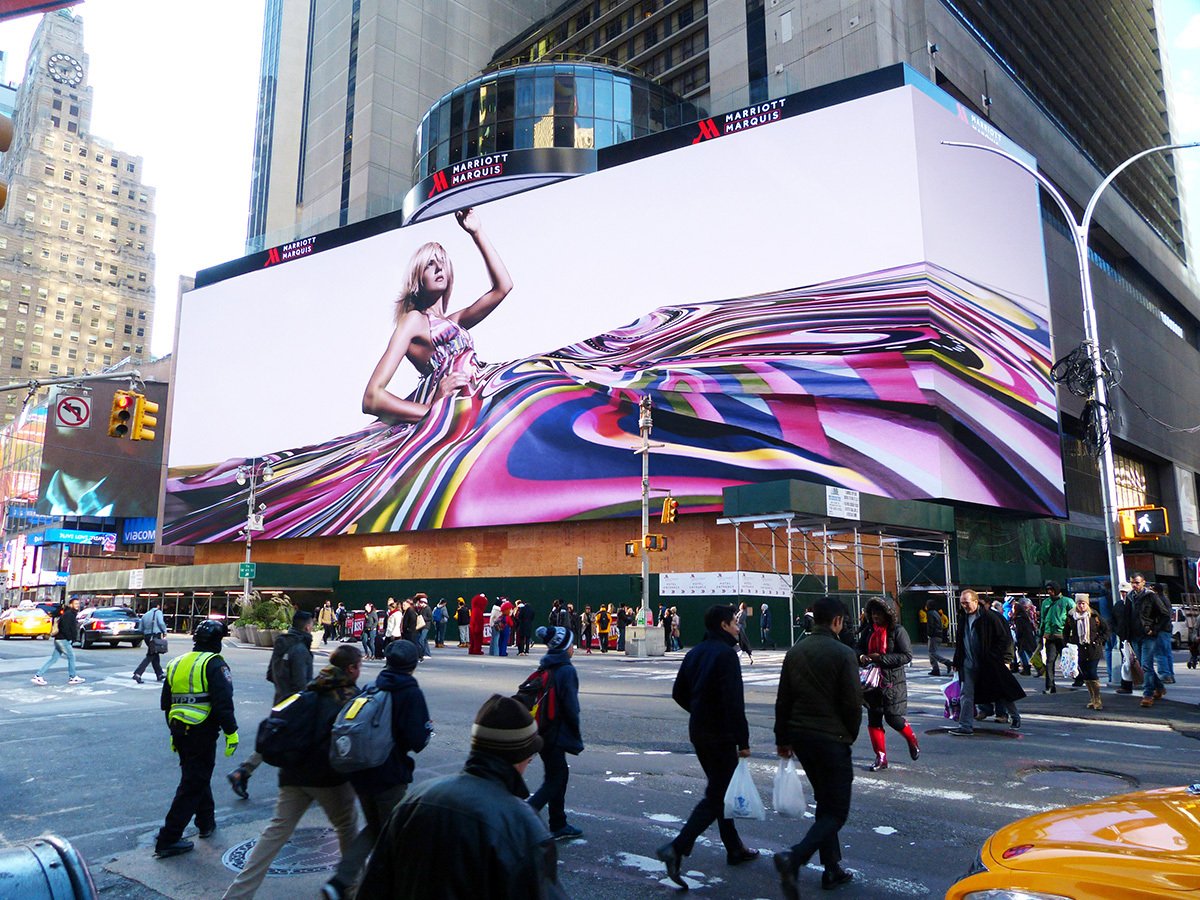 Most businesses may not have the budget to deploy a spectacular. But there are other types of programmatic DOOH ads that can deliver meaningful impact on your business if you have the right strategy in place.
The key is to look for opportunities to get your brand in front of the right audience at the right time. Let's say your brand is a pharmaceuticals or financial services company and there's an industry event for your target audience in a specific location.
If you know when and where the conference is and when and how people are likely to be traveling, you can deploy dedicated messaging to get in front of conference travelers at key points on screens at the airport, in the back of a taxi or Uber, or in rideshare apps.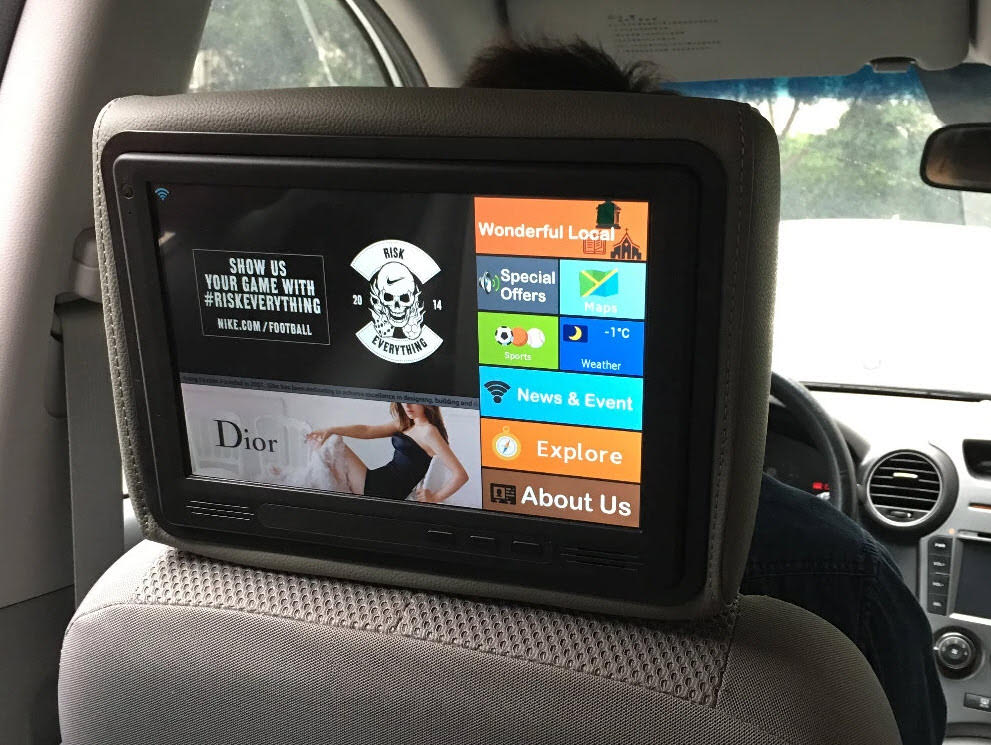 Those contextual capabilities combined with real-world audience insights are very unique to DOOH advertising, and an important value add.
Planning and deploying a DOOH strategy for your brand
If you're considering adding DOOH to your marketing strategy, start by looking at your media mix and assessing if it's the right fit for both your audience and budget.
Think about where your audience is and where they are most likely to see your ads so your campaign makes the biggest impact possible. For example, looking at local geo(s) or specific screen types can help you focus on the right spots that will be most impactful for both the brand and the consumer.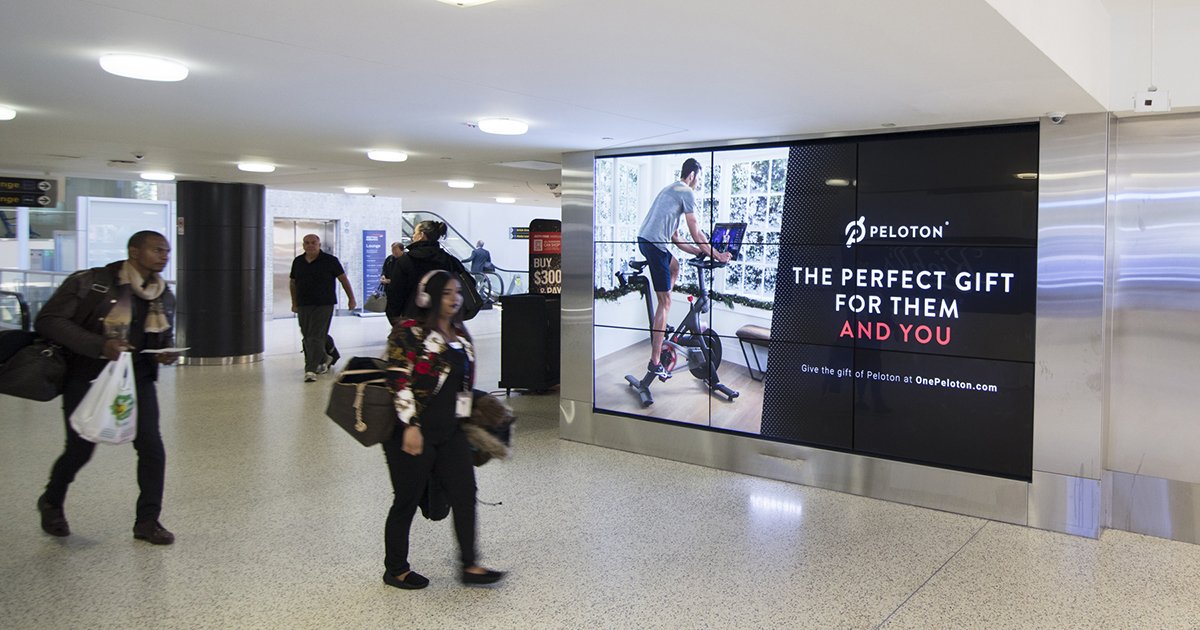 Before you set up your campaign, remember to take these considerations into account:
Creative: Whether you're working with your in-house marketing team, agency partners, or contracting freelancers, you'll need design, copywriting, and more
Location: Determine which locations are the right fit based on audience, context, foot traffic, and more, then get an idea how much those spaces will cost you.
Style: The type of content, whether a static image, motion graphic, video or illustration, will depend on the type and size of your screen and how you want people to interact with it.
From a budget perspective, advertisers can save money by repurposing TV and digital video spots that have already proven effective.
A good rule of thumb for evaluating DOOH campaign success is owning around ~15% share of voice for a specific venue type (e.g. billboards, bus stop, inside transit, etc.). Share of voice measures how your campaign compares to others in a set time frame.
Measuring the impact of DOOH campaigns
Programmatic buying platforms (or demand-side platforms) are automated systems that allow advertisers to strategically target users with creative. Users are targeted based on the parameters set up in the demand-side platform. Finding the right one for your business can be tricky.
Brands should look for a system that will cover all of their programmatic targeting, tracking, and delivery needs. Get as much as possible under a single roof to cut down on ballooning costs that can occur when you're working with multiple partners. Brands should work closely with agency and platform partners to forecast spend levels as far out as possible to try and minimize fees.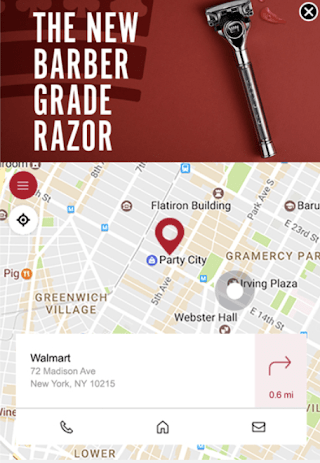 At lower spend levels, measuring impact is more difficult. It takes more effort and additional steps to measure DOOH campaigns, which sit in the upper funnel and are built to drive brand awareness. Looking to signals like local brand search trends or social chatter can help you get some immediate insight into an ad's efficacy, but serious brand measurement requires much longer time windows, regular incrementality testing, and tools like brand lift studies.
You can also look at your sales data. If you are deploying ads for a CPG brand that is carried through a chain like Walmart or Krogers, you can pull in sales data for particular stores around your activated DOOH ad that can be correlated with the campaign.
To get access to additional metrics like the amount of foot traffic your ad is driving to a particular location, you'll need to work with your DSP and/or third-party measurement partners that track users exposed to DOOH ads, measure how many users visit a location at a later date, or purchase a specific product from a specific store.
Whatever the size of your business, DOOH offers new ways to reach your audience with the right messaging and creative at critical real-world touchpoints.