The end of 2023 is coming at us fast, but you shouldn't shy away from using the peak shopping period of Q4 to learn some things that will set you up to maximize success in 2024. People discover, research, consider, and buy new products much faster during the holidays, so you can learn a lot about your audience's shopping behavior if you're willing to experiment.
In fact, it's the perfect time to dip your toe into CTV if your brand hasn't started investing in one of the fastest-growing marketing channels already. You can use the compressed shopping timeline to run an experiment that will help you actually prove the value of CTV so you can unlock budget and appetite in Q4.
By now, you already know where your ad dollars are headed as we barrel toward the holiday season–but it's not too late to run a targeted CTV experiment that will pay dividends next year.
Taking advantage of Q4 shopping intent to test into CTV
The idea of experimenting during Q4 might sound a little scary; after all, Q4 is already stressful enough for any marketer. But it's no secret that customers are more committed to making purchases around the holidays than any other time of year.
Whether they're looking to buy for themselves, a friend, a family member, or a loved one, customers go through a much faster cycle between discovery to purchase during Q4. eMarketer even expects sales in November and December this year to grow 4.5%. All that extra shopping gives your team a lot of opportunities to try some new things out.
There's also never been a better time to test into CTV. Both OTT and digital video options like TikTok and YouTube can offer more control and flexibility to advertisers than traditional linear buys.
CTV has also become more relevant to consumers using social as their method of search, beginning and ending their searches on platforms like TikTok and Instagram rather than turning to Google. With CTV, you can more easily connect with those consumers by showcasing your ads across different channels.
Leveraging geo-testing to prove the viability of CTV
With these perfect lab conditions in place, you're ready to jump into the Great Q4 CTV Experiment!
Proving viability and business impact in the upper funnel is always a tricky business, especially if you're hindered by a lack of executive buy-in due because of the current state of the economy, a lack of interest in brand marketing/the upper funnel, or the relatively high prices of CTV ads.
But that doesn't mean it's impossible. CTV's a valuable advertising space, and even brands that aren't at the top tier of measurement maturity can use Q4's strengths to move up the funnel in a data-driven way.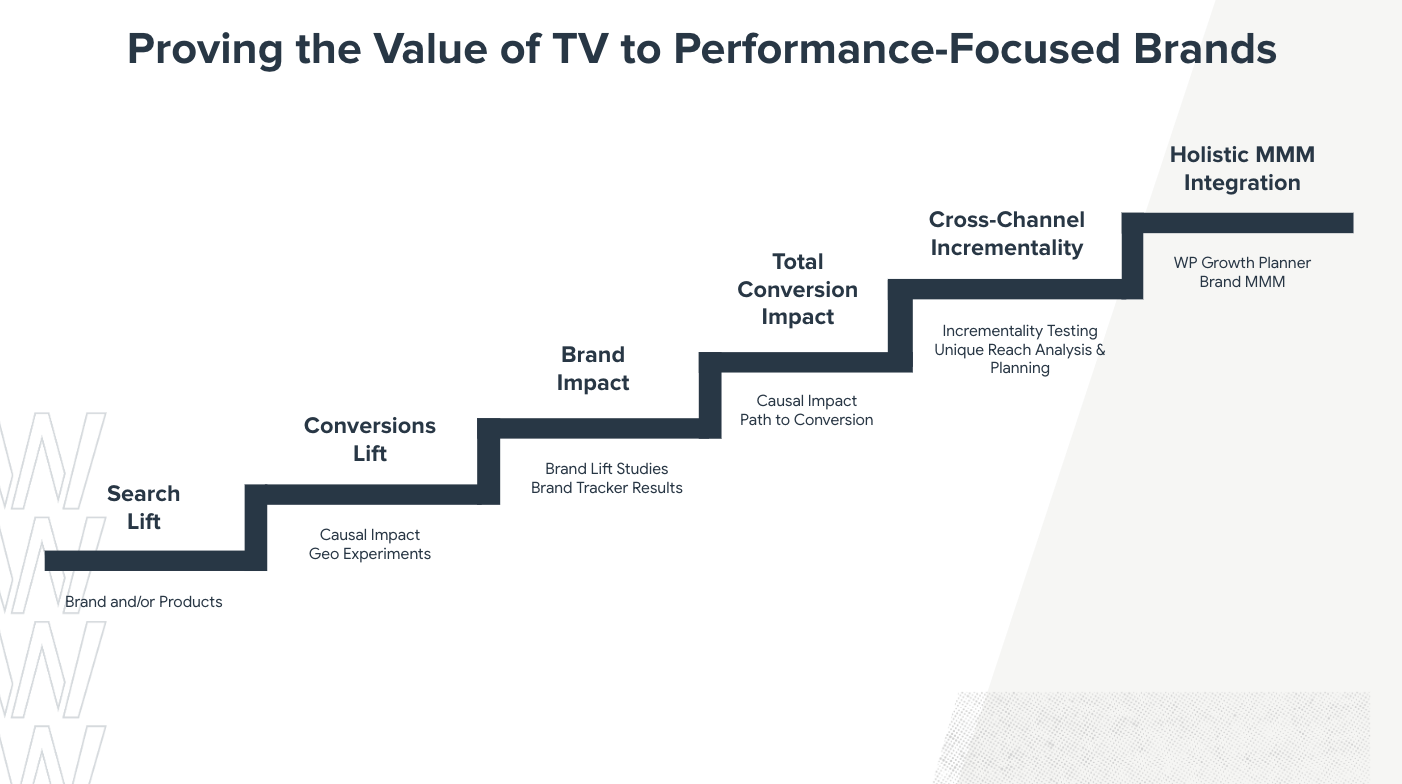 For this experiment, you'll need to focus on a specific niche so you can isolate your results and prove that they're really connected to your CTV activations.
The easiest way to do that is by creating a geo-targeted test in one specific place or area. By niching down to just one area, you can prove that any conversion lift is flowing from those CTV ads, since the rest of your marketing will serve as a control.
Before you get started, you need to define two main things:
The core metrics you plan to monitor in real time to evaluate success, like business metrics (e.g. profits) and proxy metrics (CPA, search lift, brand lift, etc.)
An agreement with your team upfront about what success/failure looks like
Finding the right CTV test for your brand
You've got the metrics. You've defined success. Now it's time to take to the lab and launch your experiment.
That starts with the platform. Your target audience isn't watching every conceivable channel or using every service. Insights into viewing behavior should drive your platform decision. Most of the publishers themselves are siloed, which makes it difficult to keep track of all the different places where you can buy inventory. That's why you need to take a streamlined, audience-first approach to media planning that's driven by data.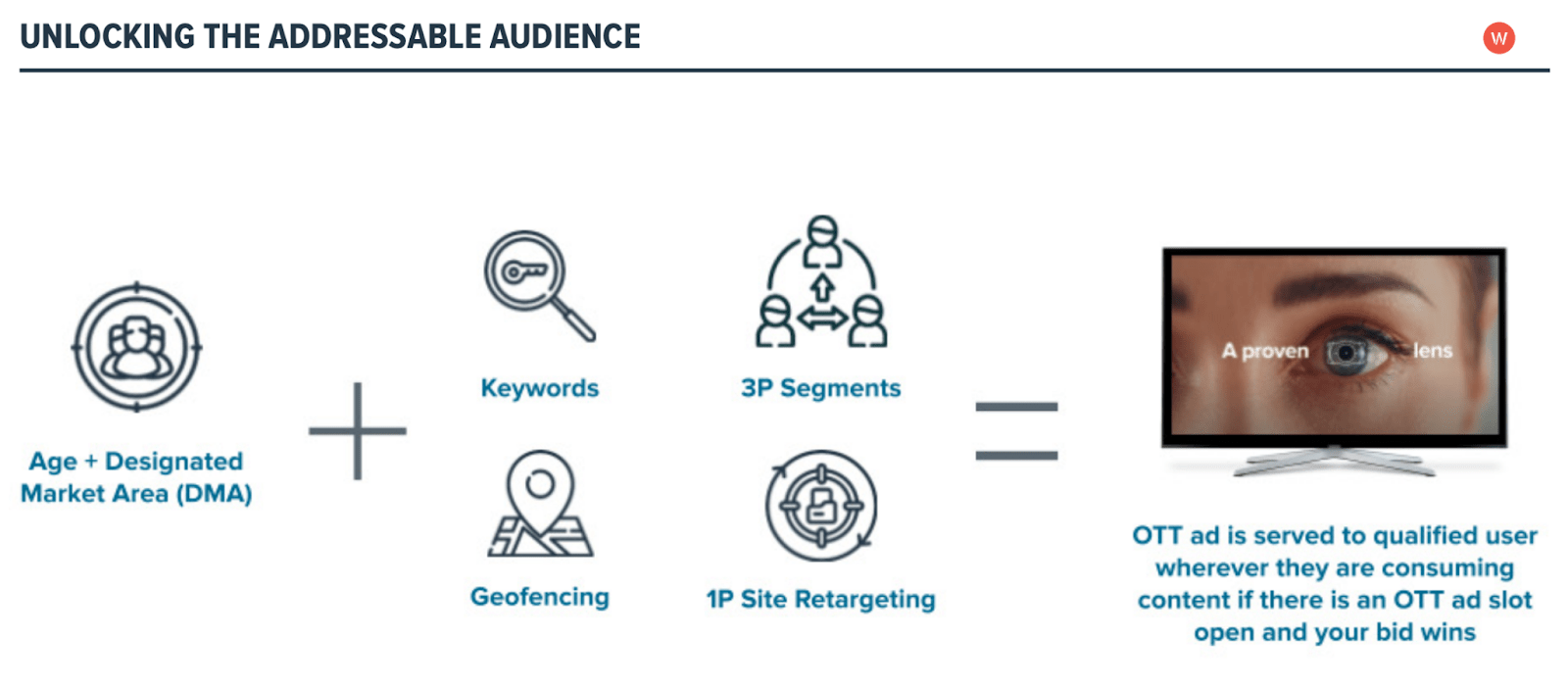 Traditionally, all we knew about TV audiences was their basic demographic information: age and gender. But now much more information can flow into your media buying decisions: affinities, interests, preferences, and more.
In an increasingly complicated streaming world, first-party data can serve as a proxy for audience identification before launch. Depending on the device and publisher, you can layer on first- and third-party data matched to TV viewing data or target audiences via DSPs or directly through partners.
Start researching different streaming publishers like Hulu or Netflix and digital options like YouTube or retail media networks (RMNs) to find the right fit for your audience and business.
RMNs are playing a bigger and bigger role when it comes to OTT inventory, so don't count them out, especially if you're already running non-TV ad campaigns on those platforms. Their superpower is the vast store of first-party consumer data they already have, which can be a big advantage.
Once you've chosen your platform(s), you need to make sure the creative you're deploying will appeal to your audience. Creative has always been a major barrier to entry for prospective linear TV advertisers, but there are some shortcuts you should deploy for your OTT ad buys.
If you're running video ads of any kind on social media or video-specific channels like YouTube, you have both the building blocks and some cheat codes because you know how that creative performs with different audiences for your brand or product.
Look for creative themes that are effective in those campaigns (or even consider repurposing the creative itself), then iterate and expand on what's working for your most important audiences and apply those lessons to your CTV campaigns. You may need to adapt your messaging and creative for the new channel, but they shouldn't be completely different: remember, you're building a seamless brand experience.
Once you've got your ingredients in hand (audience, platform, and creative assets), you're ready to roll. Take the following steps to ensure you're getting the most you can out of your Great Q4 CTV Experiment:
Deploy match market testing to understand the incremental impact of your newly expanded media mix
Measure incremental site traffic and conversions at the household level through an identity graph using a tool like The Trade Desk so you can evaluate CTV performance at the household level
Measure how your CTV ads are affecting the rest of your media mix in a data clean room environment (typically available at the network level)
By testing in a limited area, you'll be able to see the impact across all of your marketing channels: if you run CTV in Iowa, for example, you'll likely see a halo effect across your Q4 conversions that doesn't exist in other regions that aren't running the ads. That's the magic of a Q4-specific experiment: by pairing a geo-targeted test with the high-purchase-intent holiday season, you'll see results much faster than you would at any other time of year.