Amazon recently launched Brand Analytics and made it available to sellers that are brand registered on the platform. Brand Analytics is one of Amazon's most important releases to date as Amazon is finally giving brands access to search and keyword data.
To find Brand Analytics, you can navigate to Reports Tab in your Seller Central Hub or visit https://sellercentral.amazon.com/analytics/dashboard/searchTerms while signed in to Seller Central.
The first question from sellers on Brand Analytics is how do I use this new tool and data?
It's important to understand the data that Amazon is giving us, specifically what these columns mean.
Sellers Can Get Insights Into:
Competitor Performance
Keywords with Potential Search Volume
Customer Shopping Behavior
Most Click/Conversion Share for Specific Search Terms
Estimates of Search Traffic Increases or Decreases on Specific Search Terms
The Amazon Search Term Report Will Include:
Search Term – The words that a buyer will enter into the search bar to start a product search
Search Frequency Rank – According to Amazon, "the numeric rank of a specific search term's popularity when compared to all other search terms during a given time period." Which in layman's terms tells us the popularity of that keyword across all of Amazon compared to other search terms. The closer you are to #1 the higher the number of given searches for that search term.
# Clicked ASIN – The ASIN that received the most clicks for the time period selected. Amazon will show the first, second and third most clicked ASINs.
# Click Share – Percentage of clicks that the product received in comparison to the total clicks based on the search results in the selected time frame.
# Conversion Share – Percentage of conversions that the product achieved in comparison to the total conversions based on the search results in the selected time frame.
How Can Sellers Use This Data?
By understanding what keywords are converting the best and what size of the market share competitors currently own, can better optimize advertising campaigns. For example, you can plug in a competitor's ASIN to see what search terms they appear under and inputting those search terms as keywords in campaigns. Or you could find all the search terms related to your product and finding the ASINs that own a high percentage of click or conversion share and adding those into product targeting campaigns to grab more impressions.
Another interesting note is that you can find trends of keywords by looking at different periods of time to help influence your Amazon marketing tactics from SEO to Advertising. If you sell seasonal items you can easily look back at weeks prior for keywords to judge if searches are going up and down as you move into seasons.
The provided click share and conversion share data can also help paint a picture if you are losing ground on any specific keywords. By looking at data over two different points in time you can compare your click and conversion share to see if you are being beaten out by competitors and can easily identify areas for improvement that previously sellers would not be able to see.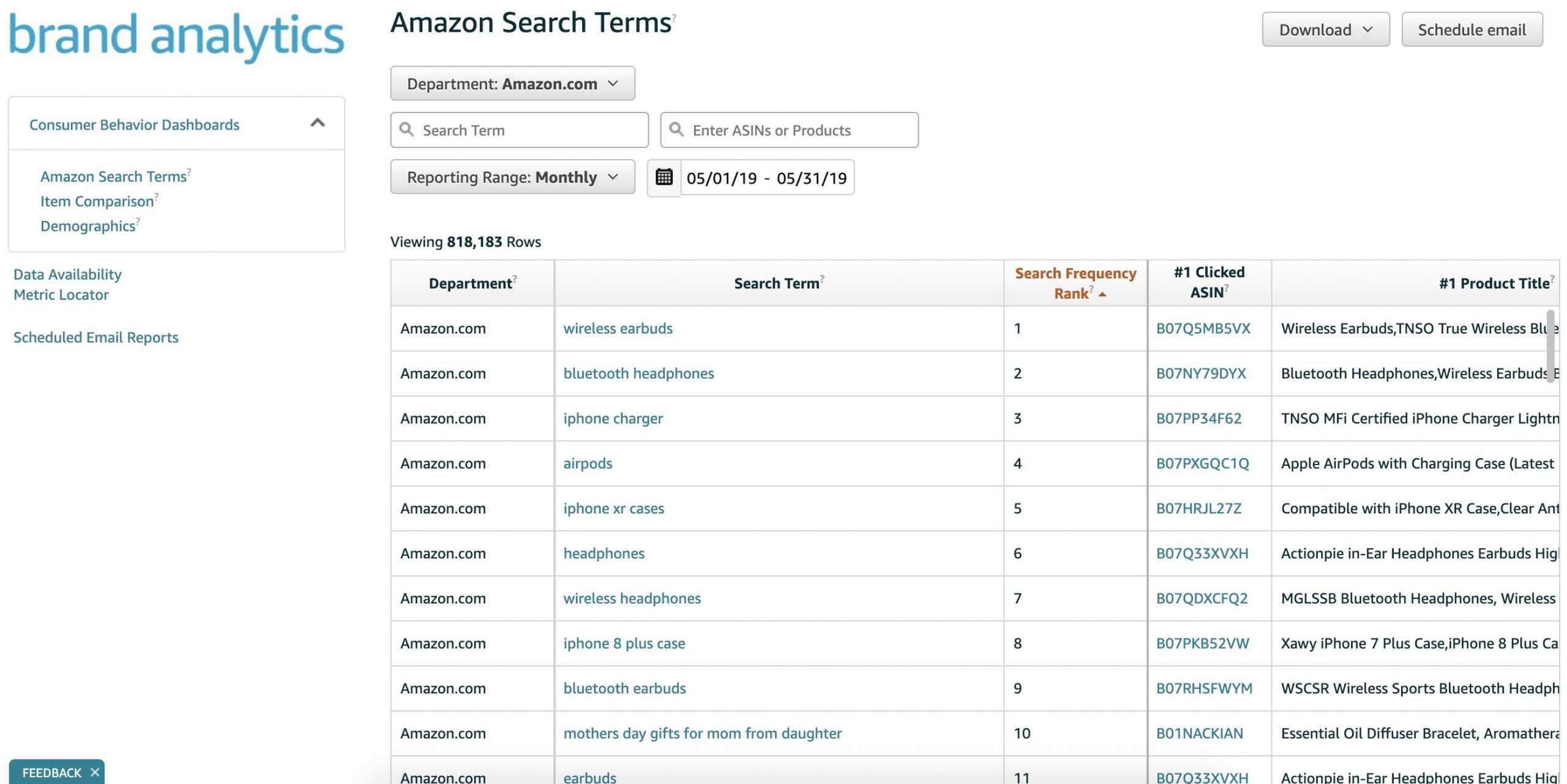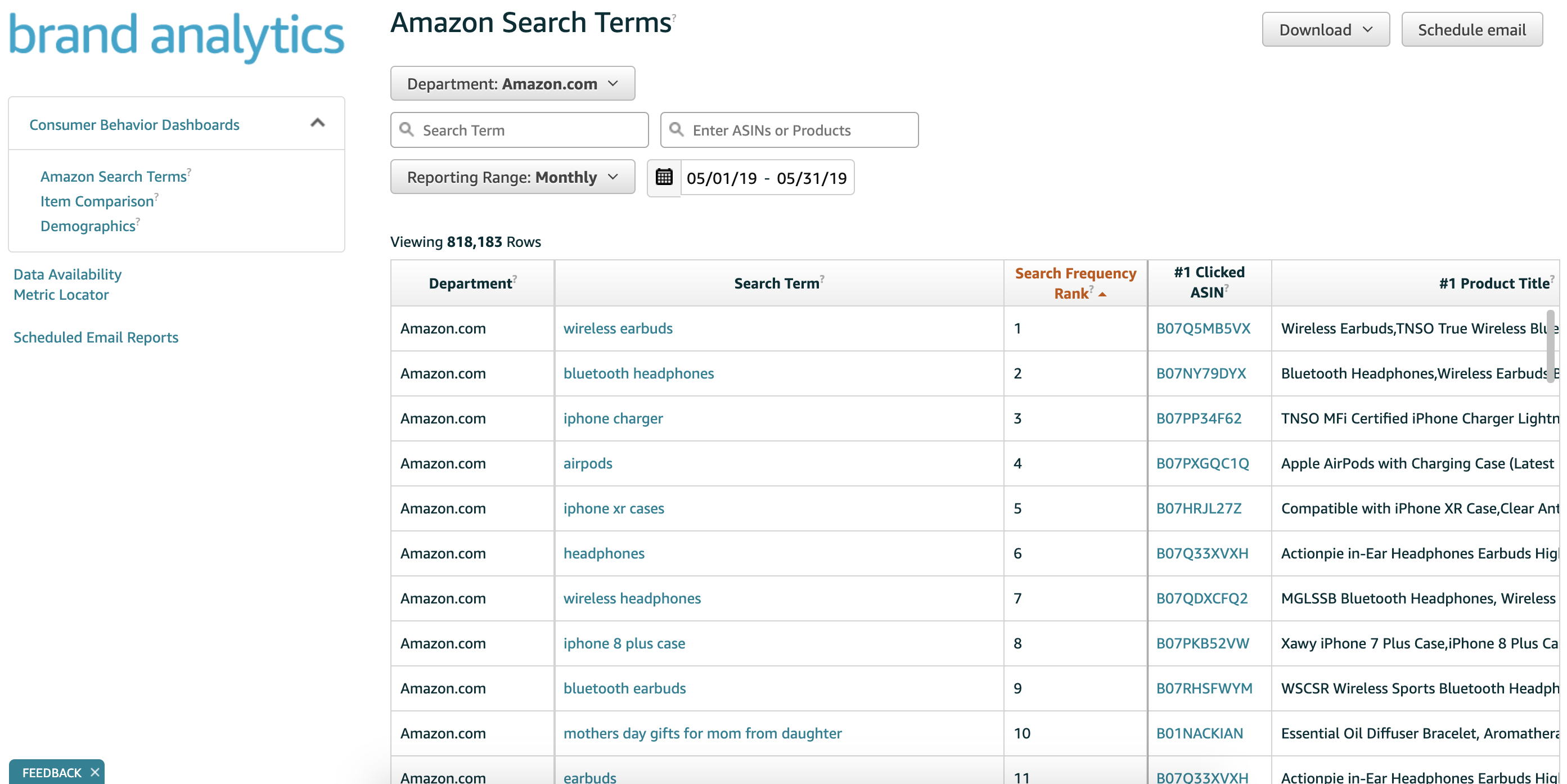 Moving Forward With Brand Analytics
These added data points will help sellers refine campaigns and optimize performance, but more importantly, the launch of Brand Analytics shows Amazon's commitment to offering greater insight into how to drive success on the platform. While there is still more to be desired, it's an exciting addition for every data-driven marketer and digital marketing agency.