While I'm by no means a veteran of the search marketing conference scene, this year's PubCon event was hands-down the best one I've attended. It offered a variety of speakers touching on a range of topics, and – Okay, I'm not fooling anyone here. The conference was in Vegas… I could have gone to a convention for collecting and mounting moths and still had a great time.
Regardless of all that though, I did leave the conference with a handful of solid takeaways – as opposed to jotting down every single piece of information in every session I attended. That was how I handled notes at SMX West (my first conference), and while I did learn a lot, I left feeling absolutely overwhelmed with information. As Scott Cowley said, "scrambling to capture everything for a blog post means I'm trying to be comprehensive, which means that the best, most actionable content gets lost among the weeds." Too much new information means that for the most part, I'll only remember the things I actually have a chance to try for myself, and when you have 10 pages of notes, that's not really practical. Anyway, this time around, I listened intently but only wrote down things that I had never heard of before, or those that really interested me. I feel that this approach is much more effective.
I attended sessions on a wide variety of topics. I will attempt to categorize the notes from those sessions in some way here, so bare with me. And now (drumroll please), without further adue, here are John Vantine's main takeaways from PubCon Vegas 2010!
Keywords & Keyword Research
All too often, a company will optimize their site for "industry" keywords. It's very important to use "customer" vocabulary – your average customer doesn't use industry speak.
Stephan Spencer offered this example: "hooded sweatshirt" vs "hoodie", or "kitchen electronics" vs "kitchen appliances". How many people that are looking for a new blender are going to search for "kitchen electronics"? Just because your keyword selection makes intuitive sense doesn't make it right.
Carolyn Shelby (aka @CShel) had some great recommendations for identifying customer vocabulary:
Ask members of your target audience about your product and pay close attention to the language they use.
Pull logs of your internal site search – this is what people think they should be finding on the site.
Don't just use tools – sit down with a group and brainstorm! Invitees should include people who are experts on the subject matter, as well as individuals who interact with your target audience on a regular basis.
Run your keyword list through your favorite keyword research tool (she uses Raven). Look for the keywords with the highest search volumes. Take note of alternative keywords and keyword variations. Be sure to add these to your master keyword list.
Separate your keywords into two lists:

Those that you have content to support, and
Those which you don't yet have content for.

Use the first list to reconsider internal linking, and the second one for new topics for your editorial calendar. You have an editorial calendar, right? No? Make one!
Tom Critchlow recommended gauging keyword popularity by using stats.grok.se to view wikipedia article traffic statistics. I'd never thought of this before, and it's definitely an interesting new approach to an old problem.
When choosing which keywords to optimize your site for, don't spread yourself too thin. Mark Jackson recommended sticking with 1-2 keywords (or keyword phrases) per a page. In no way is this new or cutting-edge advice, but I've seen people try to optimize a page for several keyword phrases, and the end result, more often than not, is generally pretty weak.
If you're optimizing your site for local terms, Greg Boser suggests that you keep Google Instant in mind. For example, let's say you're optimizing a page for "web design los angeles". Think about what happens when someone starts to type "web design" into Google Instant – they're going to see all of the major web design firms – and your competitors!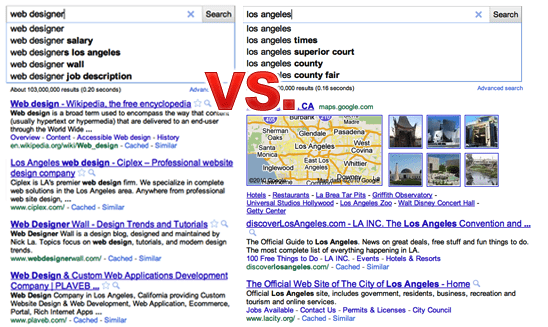 In this situation, it would be more effective to optimize for "los angeles web design", because when someone who is looking for web design in the LA area types "los angeles", Google Instant will show them local businesses and tourism, so they'll most likely keep typing "web design". I've been conflicted many times when "[area] [business]" and "[business] [area]" returned the same search volume, so this struck me as some pretty awesome advice.
Even before Google rolled out instant search, this was solid advice, because Google Suggest presents the same dilemma. Maybe the searcher was looking for a web designer, but is now presented with software, classes, and templates – maybe they can do it on their own?
Wil Reynolds had a lot of good general advice regarding keywords.
Want to determine the seasonality of keywords in your niche? Try using Google Insights. Take a look at the filters before using this tool and make sure that they are set properly. Depending on the nature of your business, you may only want to change "Worldwide" to your country, and perhaps even a specific region and metro. Seasonality will obviously vary when viewing worldwide trends versus trends in the US.
Be sure to take a look at the similar keywords (not shown in screen capture above) that Insights offers! PROTIP: Insights will only show limited data on the page. Export the data (by clicking "Download as CSV") to view more. This is not a new tool, but it tends to get overlooked.
Wil was one of several people over the course of the convention to recommend using the search suggestions (autocomplete) made by major search engines. He shared a very helpful tool for this – Soovle. Enter a search term into Soovle, and you'll see suggestions from multiple sites. Not just traditional search engines, but also sites like YouTube, Amazon, and Wikipedia.
Soovle: No one said it was gonna be pretty! Use Soovle to get search suggestions from multiple search engines.
This is helpful in that it gives you a nice variety of insight into your keyword's niche. In the example above, Google suggests "Teach Me How To Dougie" lyrics, YouTube wants to teach us how to Dougie, and Amazon wants to sell us the CD. This tool, if used properly, will give you a variety of perspectives for your keyword research.
Has Google Instant had an affect on your long-tail traffic? When Google Instant was released, people were worried that it'd have a serious effect on longtail traffic. Wil mentioned a tool (actually, it's a spreadsheet) that you can use to determine what (if any) effect the release of Google Instant has had on your site.
He made another great suggestion for those looking to learn more about the keywords used in a particular niche: use Delicious.com!
You can use Delicious to see how different users tagged and categorized a website. Choose a site (or several sites) that you'd consider to be an industry leader(s). Take a look at how users on Delicious categorize and tag those sites – this will provide insight into some of the jargon used within the niche that you may otherwise not encounter.
Use Google suggest to see who your searchers are comparing you (or one of your competitors) to. Try typing "[yourbrand] vs" and see what suggestions are provided. This is a fantastic source of information, especially for larger brands. If someone is comparing you ("Brand A") to another brand ("Brand X"), this is a great opportunity to create content that will list for that query. Write an article listing why your product is better than Brand X!
Craig Paddock suggested using MS Ad Intelligence (it's free, fast, and works from within Excel) and YouTube's Keyword Tool.
Mark Jackson suggested the Wordtracker Question Tool. Enter your keyword, and see what kinds of questions people are asking about that keyword. This can be helpful when researching a new niche, but can also be fantastic for coming up with content ideas. What questions do people in this particular niche have? This tool will show you.
Blekko was also a hot topic at PubCon. Blekko is a new tag-based search engine. Okay, so what's so special about that? Well, their approach is unique in that they are very open with their ranking formula. With Blekko, you don't need to mess around with multiple browser plugins and web-based tools to figure out why site A is outlisting site B… Because they make all of this information readily available. I'm not going to go into detail on this here, but if you're interested, check out Search Engine Land's recent post on Blekko's SEO features.
SEO For Multimedia & Rich Media
Wesley Cox compared video SEO to the Oklahoma Land Run of 1889, in that there are significant opportunities and low barriers. Video is 50 times more likely than text to appear in the SERPs, so it's like free land or free gold… You just need to make sure that Google can find your videos.
Wpromote's own Michael Mothner wrote a great article over at Inc.com about just that – optimizing video content for search, so that's a great place to get started if this is all new to you.
Morgan Brown had a list of 25 steps for video search domination… Here are the ones that stood out to me:
Keep your videos short. 19.4% of viewers bail after 10 seconds, and 44.1% leave after 60 seconds, so use that knowledge to your advantage when creating video content.
Create thumbnails that get attention. At the very least, use a human face, and try to avoid using something abstract if at all possible.
Don't neglect your title and description.
"Nail the end slate" by giving the user something to do at the end of the video. End it with a logo, a URL, a phone number, etc.
Make an offer. Offer the viewer some incentive (perhaps a coupon code?) for viewing the videos.
Add video transcripts. YouTube allows you to upload these.
Make sure the video is "shareable". Videos with social media options get 20% more traffic. Facebook is the #3 video site on the web, and is also the #2 referrer to YouTube.
Put video on pages that convert. Zappos has seen 6-30% increases in conversions on pages with video.
So, should you host your video on YouTube, or on your own site? Brian McDonald does both. He hosts videos on multiple sites. This way, he can test out thumbnails and see which ones get more clicks, since both videos will show up in the SERPs.
In-House SEO
Garrett Rent does in-house SEO for Sallie Mae, so I'd imagine that he knows a thing or two about tackling SEO in a large corporation. He stressed that you "get to the top of the funnel". Is SEO at the right level (in terms of hierarchy) of your organization? If needed, make a push for reorganization. If SEO is an afterthought, it can result in the need for backtracking, which is usually very inefficient.
Jessica Bowman suggests that you need a healthy organization in order for SEO to truly prosper – an organization that can embrace change. SEO needs to be a part of every team, and needs to occur at the beginning of the development life cycle.
Don't bank on your IT team to handle SEO. Get educated and "own" the code. Develop a set of best practices by putting SEO in the back of everyone's mind. Also, beware of outsourcing. Miscommunication, and generally having "too many cooks in the kitchen" can lead to more harm than good.
Ash Nallawalla suggests that you get your content writers thinking about SEO. Teach them about keyword research and links. Make sure that they understand the importance of using proper anchor text when linking internally. Show them how to use Google's Keyword tool (or whichever tool you use for keyword research), and get them thinking about the language of the customer.
Garrett also stressed the importance of getting your redirects (301s and 302s) done properly. He suggested a FireFox plugin called Live HTTP Headers, which allows you to view the HTTP headers (surprise surprise) of a page while browsing. You can (and should) use this to check that redirects are implemented properly.
Everything Else
It pains me to throw a bunch of uncategorized advice in here at the end, but this stuff is too good to discard for simply for organization's sake.
"Future proof" your site! Start your next project (or redo your existing site) from the ground up with this HTML5 boilerplate template, shared by Jon Henshaw of Raven Tools.
Are you creating (or considering creating) an infographic? Visualizing.org looks to be a fantastic resource for all things infographic. These have proven to be a fantastic method of spreading brand awareness and building natural backlinks.
Usability testing can be expensive and time consuming. Loop11 is here to change that. Use Loop11 to create quick and easy usability tests. You assign a series of tasks for the testers to complete on the pages you're looking for feedback on. You have multiple options for recruiting participants, too. I have seen usability tests for large sites carried out internally in the past, and this tool would have been a godsend back then.
About to launch a new layout? Before it goes live, you should give AttentionWizard a try. It utilizes "advanced software algorithms to simulate visual perception and attention". Essentially, it uses an algorithm to create a heat map that simulates the attention of a user. This can help you to identify things on the site that distract users from goals/conversions – and it's instant!
Page speed was definitely one of the bigger topics at SMX West. At PubCon, I didn't hear about it nearly as much – maybe because earlier this year Google announced that it was part of their algorithm, putting an end to the speculation? Either way, I did hear about one tool that I'll be using from here on out: GTmetrix. It pulls data from both Google Page Speed and YSlow, eliminating the need to run both tools separately. Nice.
Spying on your competitors? Trying to identify what sites are owned by the same person, or otherwise networked together? Leave it to Michael Gray to present a solution to this one. You can actually use Blekko to connect the dots here. Copy the AdSense or Analytics ID of a site and search for it on Blekko – it'll display all of the other indexed sites that are using that same ID!
I'm gonna wrap this up with a Firefox plugin that I hadn't heard of before: Enhanced Google Analytics. I'm a bit of an Analytics nerd, so I got excited about this one. It's a Greasemonkey script that allows you to view what has changed over time: new referring sites over the last 3 days, keywords with 50% higher traffic over the last 7 days, etc. Awesome concept, and I can't wait to actually use it.
That's a lot of information. I hope you got as much out of my post as I did out of the sessions that inspired it. I obviously learned a lot while I was there, and made some great connections.
More than anything else though, I left the conference feeling refreshed. Certainly not in the traditional sense of the word, as I probably got 10 hours of sleep all week, but refreshed in terms of my interest in search. Interacting with the community in a social environment and meeting others who share your passion for SEO is a wonderful way to reconnect.
If most of the stuff mentioned in this post interests you, I'd suggest trying to make it out to one of these conferences. The next PubCon is next March in Austin – maybe I'll see you there?