On October 25th, Wpromote hosted our very first Wprobono: Digital Day in LA event! This special day, our effort on behalf of Pro Bono Week, featured 30 lucky nonprofits chosen to attend a full, totally free day of workshops and discussions centered on how to best promote their causes and bring in donations through digital marketing. Don't worry, though; we're happy to spread the love. To do just that, we've created this awesome interactive infographic that will teach you some of the latest tips and tricks that were shared with our attendees. Read on for actionable strategies straight from Wpromote's marketing masters in paid search, SEO, email, paid and earned social, and more!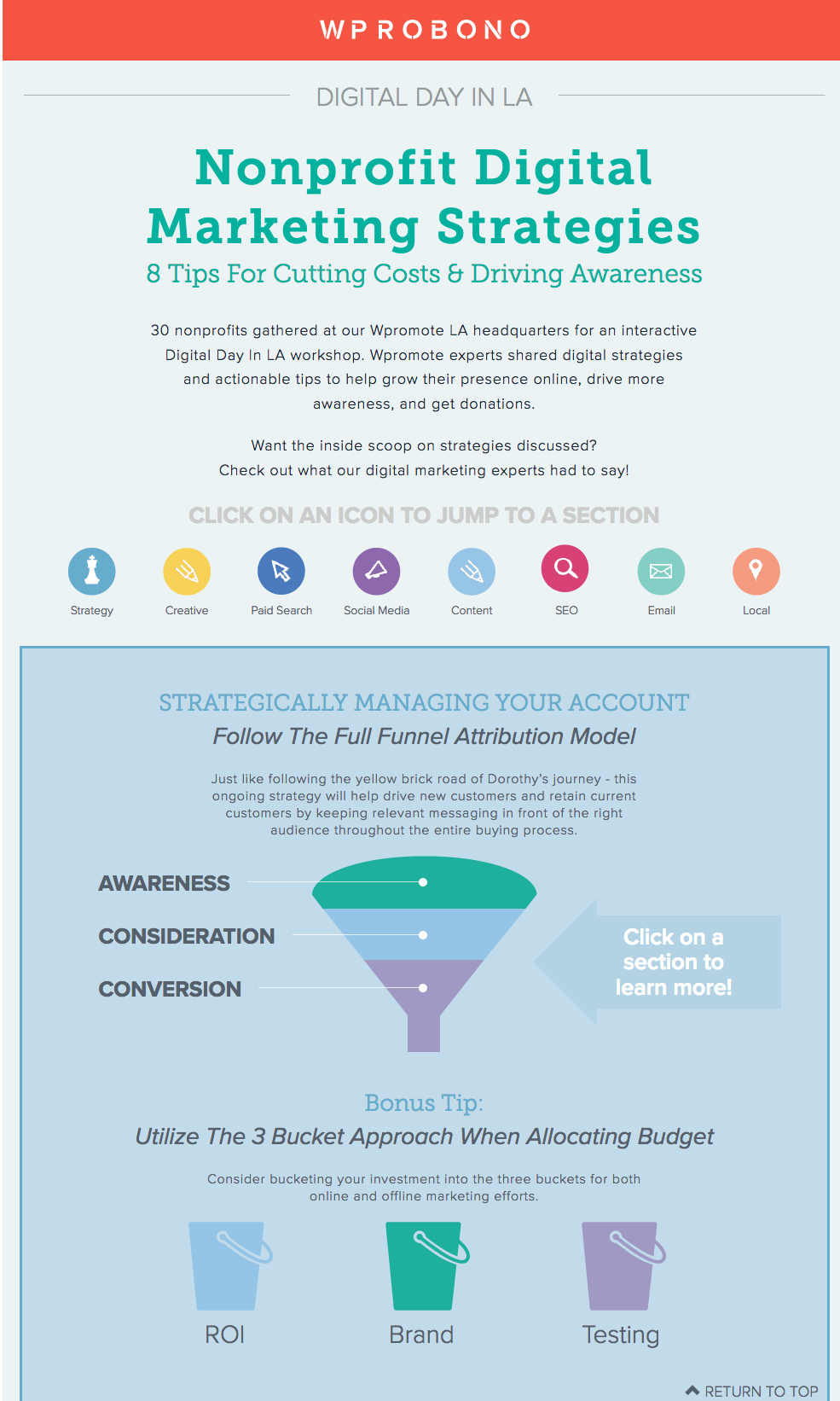 A big thank you to all of our attendees: After-School All-Stars, The Neptunian Woman's Club of Manhattan Beach, IPaintMyMind, Walk With Sally, Read to a Child, The Riordan Foundation, Peace is Loud, The Midnight Mission, Tree Musketeers, Designed Giving, Koreatown Youth and Comunity Center, PATH – Making it Home, Alpha Resource Center Santa Barabara, Wagging Dog Rescue, Giving Children Hope, Dizzy Feet Foundation, CHOICESS, and Down with Dystonia.
---
Like this infographic? Feel free to copy this code and put it on your own blog.
<a href="https://www.wpromote.com/community/culture/wprobono-digital-day-la">
<img src="https://www.wpromote.com/wp-content/uploads/2020/04/wprobono1-2.png" alt="Wprobono Digital Day in LA" border="0" />
</a>