The sun is shining, temperatures are rising, and we're already halfway to Christmas. It might feel hard to start thinking about the holiday season when you're actively sweating in the sweltering heat, but that's exactly what you need to do if you want to deploy an influencer marketing strategy that reaps benefits for your business in Q4.
The truth is that influencers are already looking ahead to the future and their schedules are filling fast. Unless you want to find yourself without a high-performing influencer partnership and perfectly timed campaigns (the marketing equivalent of a stocking full of coal) when the temperatures start to drop, the time to start planning is now.
So shake the dust off your jingle bells and start decking the halls: here's what you need to know and do to start preparing your strategy and stay ahead of the holiday marketing competition.
Start holiday conversations with influencers in late Q2 or early Q3
When you work with influencers, you need to remember first and foremost that they are human. They have lives and a limited amount of time at their disposal; once a schedule is full, whether that's because of brand partnerships or personal travel and family commitments, that's it. You're out of luck.
Some influencers even take "digital detoxes" (a.k.a. time away from social media) for a few weeks during the holidays so that they can rest and recharge to avoid burnout. So you need to start partnership conversations in late Q2 or early Q3 (hey, that's now!).
Getting ahead of Q4 isn't just better for influencers, it's also better for your brand. You'll have more time to ideate and test, plus you'll be able to put together a more sophisticated plan across a series of posts or multiple touchpoints. And you'll get first pick of the right influencers for your business instead of just scrounging for whoever still has a spot open on their calendars.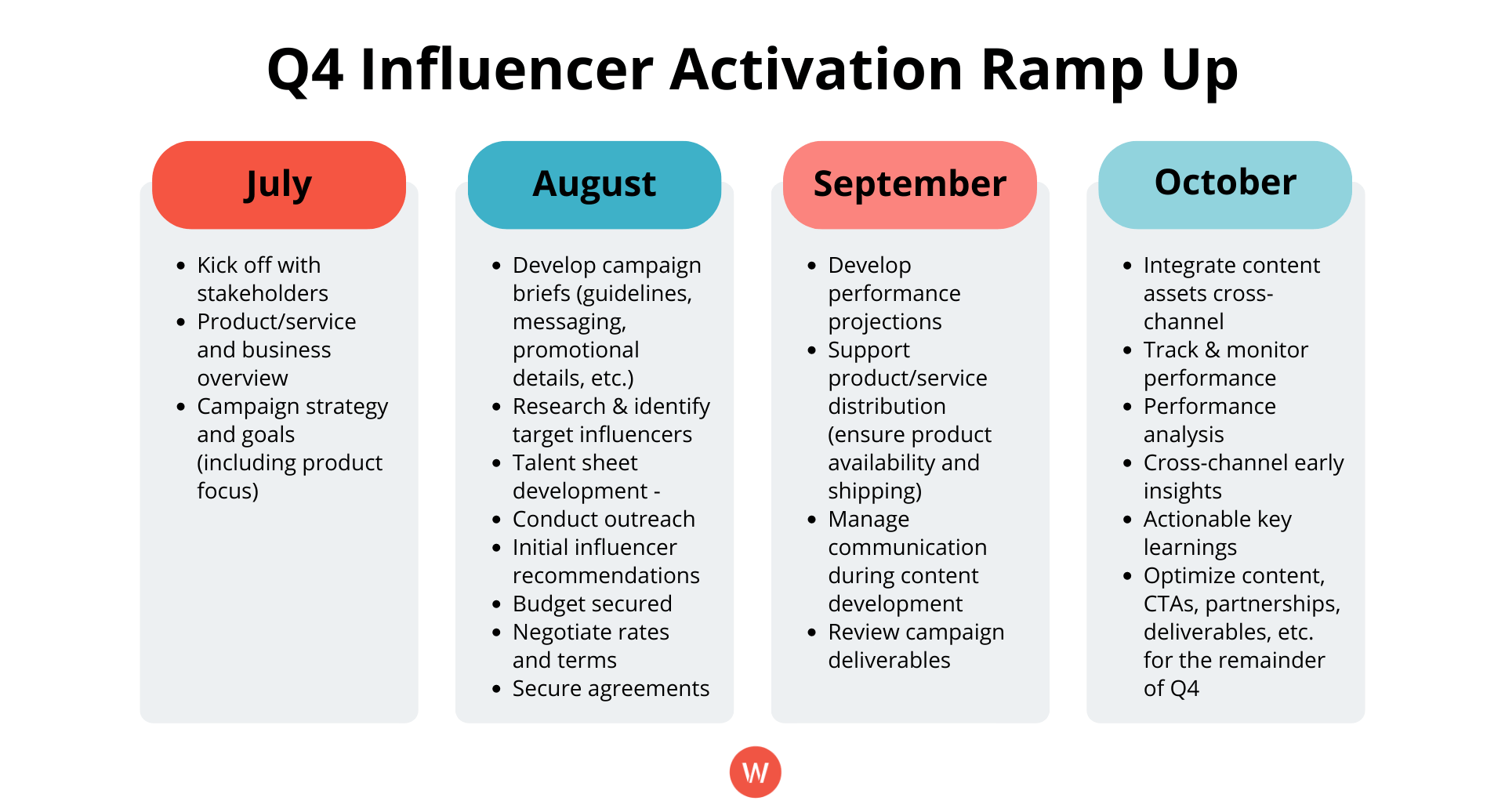 Just imagine: you've made the perfect case for investing in an influencer marketing strategy, secured the budget, gotten buy-in from executives… and then you find out the influencers you've built the strategy around are completely booked. You need to make sure to lock down any perfect fits or in-demand names well in advance.
But getting the partnership you want isn't the only benefit of starting early. Influencers and their managers are very aware of the high demand in Q4 so they charge more for activations during that period. The earlier you kick off the process, the more room you have for negotiation.
Plus there's the Q4 stress of it all: the closer you get to peak shopping periods like Black Friday/Cyber Monday or the holidays themselves, the stronger the sense of urgency. That pressure can lead to rash decisions; you want to be able to go into the holidays with a strong, intentional strategy that leaves room for agile, real-time decision-making so you can make adjustments as you go. Don't limit your choices or back yourself into a corner because you're late to the party.
Don't limit your holiday influencer marketing strategy to product or brand placements
Ideally, any partnerships with influencers you've forged throughout the year should be integrated into your wider marketing strategy and leveraged across channels to maximize the results—and that will also make it clear that they're not simply an attempt at a cash grab in the end of the year rush. Remember: today's consumers are savvy and very aware of marketing machinations. They'll also let you know when a partnership doesn't work, so don't forget to monitor comments and listen to your audience.
Influencer partners should be involved in the creative process from the start so you can take advantage of their audience expertise and build trust with both your partner and their audience. There is a wide range of ways to make the most of your engagement, from integrating influencer content onto your website via curated gift guides and live shopping experiences to organic social giveaways and unboxings. The earlier you get started, the more thought you can put into the strategy and the creative so your campaigns feel authentic and your partnership can be structured to keep everyone accountable.
View this post on Instagram
If you're looking to expand your creator net to your wider audience, an early start is even more important. If you're launching paid social branded content ads (BCA) or user-generated content (UGC) campaigns, creative has to be submitted, reviewed, and approved before it can be properly integrated into paid campaigns.
Those ads will also need to go through a learning phase, when the social platform's machine learning capabilities are figuring out the best way to deliver your ads across different audiences, times of day, and placement. The longer they run, the better optimized they'll be as the system learns more about what works and what doesn't.
You can kick off your partnership creative sessions by bringing this list of ideas to the table to discuss with any influencer partners you're considering contracting with for the holidays:
Curated gift guides
Limited-edition products
Unboxings
Giveaways
Affiliate codes/discount codes
Live shopping sessions
Make sure fund and inventory for Q4 influencer marketing partnerships are in place
As marketers, finding budget for specific intiatives is an essential part of your job. But it's not always everyone's favorite part of the game. Nonetheless, you need to be prepared to make the strongest possible case for any influencer partnerships as soon as possible because you have to have any funds secured before you start those conversations with influencers (and/or their teams), especially for peak periods like the holiday season, when there is a lot of competition for their time and services. If you don't, they'll just move on to another brand.
This can get tricky because some businesses won't release funds allocated to a specific quarter until that time. Make sure you're upfront about expectations with your partners and double-check that your contracts are drawn up well and clearly get everyone on the same page about when and how much someone is getting paid.
On top of this, shipping and product inventory is already an issue during the holidays. We saw these problems in 2021, we saw them in 2022, and we'll likely see them in 2023. Your product, merchandising, and inventory teams need to be aligned and fully briefed on the products an influencer will be promoting to ensure those products are available and ready to ship as soon as you launch the creative, unless your campaign dictates certain launch and order dates.
Finally, make sure that the promotional language and materials have already been approved before you pass them on to the influencers. Unless they're a part of the creative process or you've given them free rein to interpret the materials how they see fit, don't let them see an in-progress copy if you want to avoid any mix-ups or miscommunication that can set timelines back.
At the end of the day, using influencers as part of your holiday marketing strategy should be fun. After all, they're a way to connect with your audience in a way that's authentic and relatable. So before you start singing carols and seeing sugarplums dance in your head, remember:
Start influencer conversations about the holiday early (like now)
Collaborate with influencers on creative instead of dictating what you want from them to maximize the value
Look for opportunities to integrate your influencer campaigns across channels
Get all your ducks in a row internally before you start discussing holiday activations with potential partners