When was the last time you visited a local business for the first time without Googling it beforehand? If you're like most Americans you searched that local business before arriving. Today, 4 out of 5 consumers use search engines to find their way to local stores. And those local searches are no longer just reserved for smartphones – they are happening on every device, every day.
Advertising in Google is like opening up your new business on the most popular corner in town. You're putting yourself in the best position possible to catch a potential customer's attention in your local market. The strategies below will help you get the best value out of that prime real estate.
1. Set Yourself Up For Success
While it may seem like location targeting is pretty straightforward, there is one setting you may want to pay a little extra attention to in your set-up. Under your campaign settings, there is a drop-down menu titled "location options (advanced)." Click this, and you'll expand some interesting targeting options.
Even though it seems like you are targeting Santa Monica, California, the advanced settings will default to allow your ads to show to not only people in Santa Monica, but also those who have shown interest in your targeted location or are searching for your location. So technically, someone could be in New York and search for "lawyer in santa monica" and your ad could show.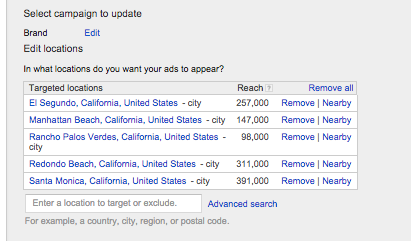 I tend to agree with Google's default setting on this one for most situations. For instance, someone may be traveling and looking for a service back home. However, in cases where budget is limited and the market is highly competitive, I have opted to target only people in my location in a few cases. Normally I look at the one where the majority of my conversions are coming from and will adjust my settings from there.
Helpful Tip: AdWords actually has a nifty tool you can use to take advantage of in the interface when you're setting up your locations, especially if you aren't familiar with the area you are targeting. When you go to set up what location you will target, you'll have the option to generate nearby areas to target simply by clicking the "nearby" button next to a location already in your targeted locations. This will give you some ideas of surrounding cities you can add into your targeting.
2. Leverage Location Extensions

A location extension is an ad extension tied to your Google My Business listing which pulls in your address to your ad. If a user clicks on this extension, they will be given directions to your business. On mobile devices with particular searches such as "hair salon near me," you can even trigger a special "nearby business" ad format.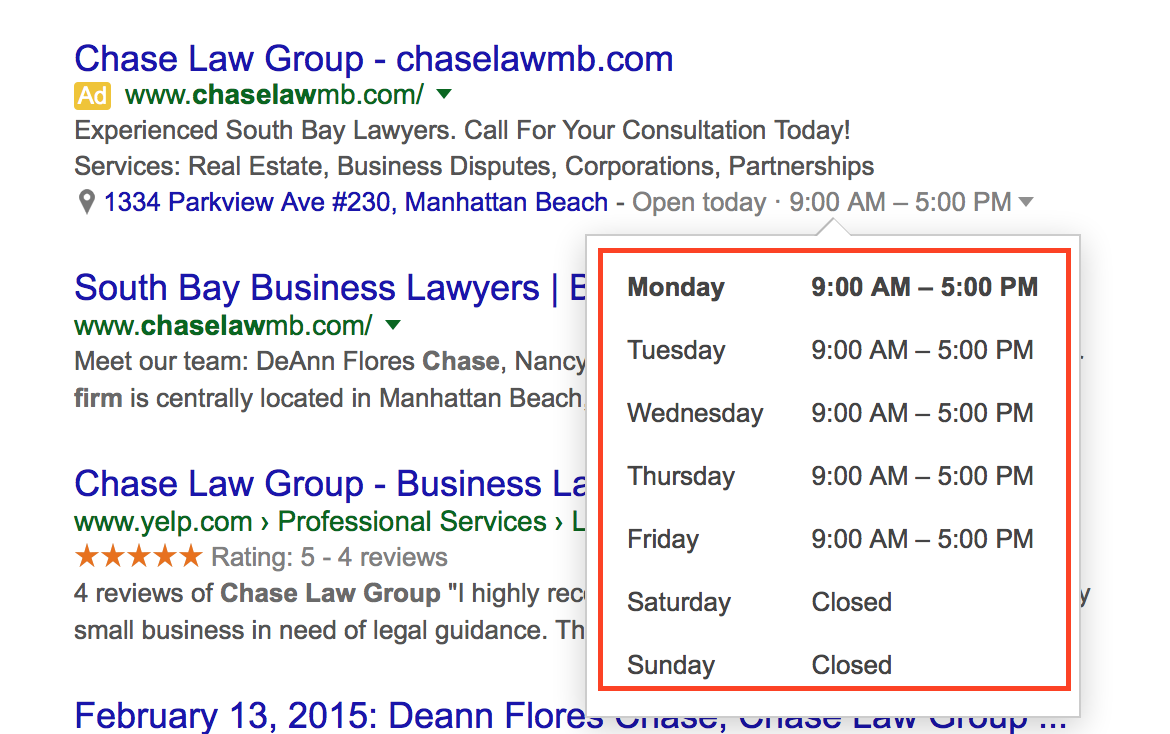 Whether on desktop or mobile, location extensions are a fantastic way for you to showcase relevant information about your business. One of my favorite features of location extensions is the ability to pull in hours, as you can see from these screenshots. If you hover over the hours, it will even expand so you can see the full weekly breakdown of the businesses hours. This is all pulled in from Google My Business so as your hours adjust, you can make changes in your Google My Business dashboard, and it will sync with your location extension.
Location extensions are particularly important for non-branded searches where you're competing against others to grab the user's attention with your ad. If a user can see more information from your ad, they will be more likely to notice your ad and click on your ad over a competitor's ad.
Helpful Tip: Have multiple locations? You can sync all of your locations at the account level and Google will show the closest location to the user who is viewing the ad.
3. Learn The Local Lingo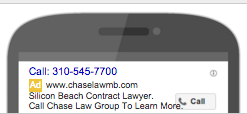 On the topic of making your ad stand out in a non-branded search, it's important to also consider the ad copy in your ad and how that can be tailored to your audience. One way to tailor your ad copy is to include the city you're targeting in the ad copy.
If you happen to be targeting a few cities, sure, it's a little extra work but not completely tedious to copy the campaigns and adjust the appropriate city name to show in the ad. This also lets you allocate your budget amongst different cities. If you want to spend more in an area you're trying to build brand awareness in, you can easily shift more of your budget to that campaign.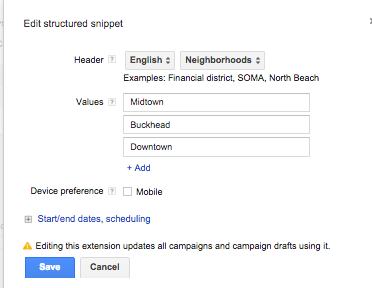 Lastly, there is a way to take advantage of your local area by utilizing another ad extension called a "structured snippet." You can specifically call out neighborhoods you serve in that area. One interesting requirement of using the neighborhood structured snippet is that you cannot call out major cities. Google requires that you have to target specific sub-regions or districts within in a city. Even Google wants you to make sure these are hyper-specific to your location!
Helpful Tip: While it's great to use the actual city name, don't forget about other popular nicknames for the city or area you may be targeting. For instance mentioning "Silicon Beach" or "South Bay" can still be a great local modifier to include in your ads.
4. Bid Strategically
On the topic of bidding, even if you don't separate your campaigns, there are ways to bid more competitively based on location. You can add a bid adjustment, either an increase or decrease, in certain zip codes or cities. This will allow you a better shot at showing your ad to users in that particular area in the best position possible.

Helpful Tip: In the "Dimensions" tab, if you have location extensions enabled, you can view the distance users were from your location extension and how that impacted performance. You may be surprised to find that users a little further away may convert more. One possible explanation for this is the fact many people work and live in different locations so they may be searching for a business while at home to visit the next day at work.

Whether you've been advertising for years or 24 hours, keeping these tips in mind will help you make the most of your local paid search campaign.