Once your business has a loyalty program in place, it's easy to think that the work is done. If it were only that easy! In reality, the success of a loyalty program depends on customers joining and maintaining their status within the program.
In this blog post, we're going to walk through just a few of the ways that you can leverage your online marketing channels to drive awareness, re-engagement, and attainment of valuable customer feedback all through your company's loyalty program.
Membership Campaign
A membership campaign to spread awareness of your program to new and existing customers is most often one of the first types of campaigns that you will want to run when you're looking to promote your company's loyalty program.
Goal:  Promoting awareness of the loyalty program
KPIs: Member Signups
Channel Specific Strategies
Email
Notify existing customers about your loyalty program through an email that they are most likely to open. A post-purchase order confirmation email would be a great example – perhaps even letting the customer know how many points he or she would have earned on their most recent purchase if they had been a loyalty program member.
At the very least, details about your loyalty program should be linked somewhere in your emails. The popular beauty chain, ULTA,  links its loyalty program in the footer of its emails.

Paid Channels
All paid channels can roll out retargeting efforts to both new and existing customers. For new customers who have been to the site but have not yet purchased, the messaging should be tailored to showcase the benefits of the program for a "first-time" purchaser, if there are any. For existing customers, messaging might highlight some of the benefits of the loyalty program for frequent purchasers.
Status Update Campaign
Loyalty programs present a unique opportunity to drive past purchasers (who are part of the program) back to the site without having to rely on a promotion or a new product release. The best way to do this is through a status update campaign that informs the loyalty program member of how many points that he or she has earned to date.
Goal: Re-engagement
KPIs: Site visits & customer lifetime value
Channel Specific Strategies
Paid Search
By using an email list of members in the loyalty program, we can create an audience through customer match to leverage in our paid search efforts. We can then showcase specific messaging only to these members when they query terms that indicate that they are looking to make another purchase either from us or from a competitor.
Content Marketing
While updating program members on their status through ads or emails, they will also be reminded of how the program works. Creating a video that explains how the loyalty program works can be an effective and engaging away to explain the program.
A video Starbucks made to promote and explain their loyalty program.
Customer Survey Campaign
Loyalty programs not only serve to increase customer lifetime value but can also provide an ideal audience of your best customers that businesses can leverage. One way to do this is to solicit feedback from members of your loyalty program. A customer survey specifically targeted to loyalty program members not only helps your business attain feedback, but it also sends a message to loyalty program members that their feedback is being heard because they are a priority customer.
Goal: Re-engagement, customer insights
KPIs: Survey completions
Channel Specific Strategies
Email
Email is an ideal channel to send out a survey because the messaging can be highly personalized.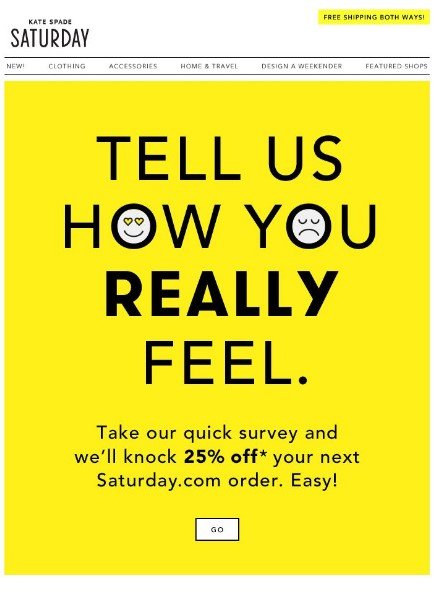 Kate Spade Saturday Customer Survey Email
Paid Social
Facebook, in particular, is another channel to consider when surveying customers. While a business could run ads targeting loyalty program members with a link to the survey, another option is to natively survey customers within Facebook. A lead generation ad format on Facebook allows an advertiser to submit unique questions for customers and then collect the customers' email address. The benefit to surveying members within Facebook is that a member doesn't have to leave Facebook and may, therefore, be more likely to complete the survey.