Financial services are changing fast: today's consumers are well past the days of paper tax returns and checks in the mail. But many companies in the industry are still struggling to deliver accessibility and innovation in this traditionally slow-moving and highly-regulated field.
Younger, tech-savvy consumers are looking for modern solutions, and brands need to adapt now to connect with these critical audiences before it's too late. Millennials and Gen Z are quickly becoming one of the fastest-growing segments of finserv consumers: at least 4 million Gen Z-ers will open bank accounts each year through 2026 and almost two-fifths of Gen Z will own life insurance by 2025.
Younger and older customers alike are looking for finserv experiences that mirror their experiences with the rest of the consumer world: they expect personalized solutions, cutting-edge features, and messaging that really resonates with their needs. To capture their attention and convert them into customers, brands must adjust their strategies and reposition traditional offerings for a new generation of financial services consumers.
Personalizing experiences to drive customer connection
To appeal to younger audiences, financial services brands need to offer the same individualized experiences customers are getting from other consumer brands. According to Gartner, 86% of financial institutions said that personalization is a goal, but many brands still have a long way to go when it comes to implementing it into all of their processes.
That's not surprising: the customer journey is increasingly complicated, regardless of industry, as people get their information from more sources, from social and search and TV and personal recommendations from influencers or publications.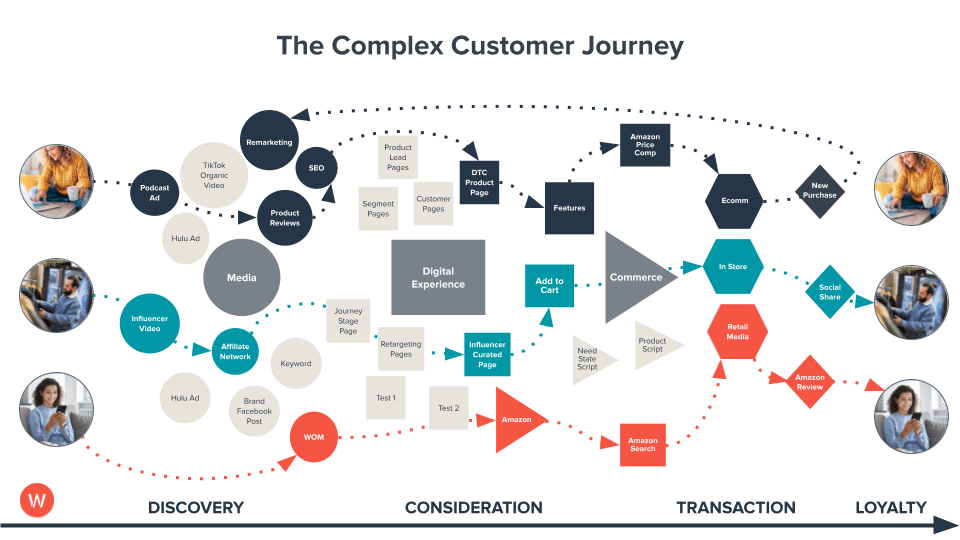 To successfully personalize the customer journey, your business needs to provide the right information, from the right source, in the right tone, at the right time, at each critical touchpoint, wherever it occurs, all the way through the customer journey and after conversion, from advertising to customer service.
Personalization starts with effective targeted advertising. While broader advertising efforts like TV are great for raising awareness, digital ads give you more opportunities to get specific, which can be particularly effective when the audience is already aware of and familiar with your brand. Targeted digital ads help you reach the right customers and phase out the rest–which is especially important for financial services institutions in today's complex economic landscape.
For example, many insurance companies have recently been shifting spend toward targeted digital advertising to avoid customer segments that aren't the right fit for their services, like people in areas where they don't offer insurance or are at risk for extreme weather events.
But truly personalized advertising goes beyond targeting customers. Once you've locked onto the right audience and optimized your ad spend to target them, you need to create messaging that will actually resonate.
A great way to do that is by leveraging AI tools to create personalized content. Brands need to jump in now to stay ahead of their competitors–according to eMarketer, about 17% of banking execs said their companies had already started using genAI as of April of this year.
While smaller players often rely on sales teams for personalization, that approach is time-consuming and expensive. AI can streamline the process by creating hyper-personalized content targeted at specific customers. GenAI tools can use language, terms, and phrases that appeal to specific demographics to help you stand out from the crowd while reducing costs.
AI has unique applications for financial services beyond customer acquisition, too, including providing customer service, improving fraud detection models, automating processes like payment or claims processing, and more. But it also poses special risks: brands need to ensure they're complying with evolving regulations in the industry and avoid using AI tools in high-risk areas.
Many finserv brands are starting to use AI to improve customer experiences on websites and mobile apps, which is more important than ever in today's competitive market; eMarketer found that banks report they're losing up to 20% of their customers due to customer experience deficiencies.
AI chatbots can provide an especially big advantage for finserv brands, because they can provide customer service faster, directly in your brand's app, all without forcing phone call-shy Gen Zers to speak to a human representative.
The insurance startup Lemonade has had big success using AI chatbots in their app, focusing on younger consumers ages twenty to forty-one. They use insurance chatbots to respond to claims and an AI model to assess risks, appealing to consumers' desires for a streamlined, online-adapted financial experience.
Implementing these kinds of features seamlessly throughout the customer journey is a great way to gain loyalty and improve lifetime value. You should also highlight them in your messaging. Great, easy-to-use mobile apps and websites are important to the Gen Z and Millennial consumers many finserv brands are competing for today.
Building trust with finserv audiences by providing relief and connection
While transitioning to all-digital experiences for customers and increasing automation is crucial for finserv brands' success, you need to make sure you're not losing your connection to your customers. With financial services requiring less and less human interaction, brands need to find new ways to connect with customers, especially in an insecure economy.
Some of this sits on the product side: you need to provide services that are helping them overcome specific challenges or meet particular needs. But marketing plays an equally important role: you need to deploy campaigns that feature messaging and creative that speak directly to your audience and highlight the features or benefits that will make their lives better.
Lemonade has shown off their up-to-date approach with ads targeted to pain points for younger insurance consumers, who don't want to deal with old-school hangups like waiting on hold or reading through a packet of incomprehensible terms and conditions.
With a lot of consumers facing financial difficulties coming out of a year defined by inflation, finserv companies also have an opportunity to offer some relief and earn their loyalty through financial guidance, enhanced loyalty programs, and personalized advice.
Your marketing should highlight any existing relief offerings and emphasize new products and features to gain a competitive edge. If your company already offers some of these benefits, you can also repackage any personalized features as personal plans just for each individual customer.
Individualized offerings can increase trust with your customers and appeal to new audiences looking for guidance in difficult financial situations. State Farm used this tactic when they introduced their "Personal Price Plan," which created new messaging around a personalized quote service they already offered.
Another way to attract new customers (and retain your current ones) is through budgeting and money management tools that help consumers reach their financial goals. Consumers are looking for financial support from services like banks, but brands need to avoid one-size-fits-all solutions to build trust.
For common financial scenarios, companies can easily provide that kind of guidance by building out content libraries and helpful financial resources. The content can be optimized for search to attract new people to your website or leveraged on social through videos featuring in-house experts or by partnering with influencers to expand your reach to a broader audience.
Of course, you should always be cautious about how you provide financial advice, since it requires specific training and qualifications and wrong answers can lead to angry customers and potential liability. This probably isn't a good place to implement AI, at least right now. And for more complex questions, there's no replacement for human financial experts.
Preparing for the future of financial services marketing
Although financial services companies face specific hurdles when it comes to implementing new tech and modern marketing methods, customers still expect their financial institutions to keep up with the times.
To stay ahead of the curve, you need to find innovative solutions to meet the expectations of younger consumers and compete with other finserv brands while avoiding regulatory or legal pitfalls. You should also make sure your messaging is up to speed with what finserv consumers are looking for during the current period of economic uncertainty. Offering your audience the right kind of support can go a long way in gaining their trust.
Finserv brands that adapt to the needs of today's tech-focused consumers have the chance to win big. Brands that fail to meet this moment might end up as yesterday's news.