Your website is the single most important part of your digital marketing strategy.
So why do so many marketers fail to treat it like the performance channel it is?
Great paid media campaigns on search and social are subject to a process of continuous optimization to unlock incremental performance improvements, but most brands are content to treat their websites to a full redesign every couple of years with minor tweaks to content in between.

That's a huge problem: if you're not applying the same performance approach to your site that you are to marketing campaigns, you're leaving money on the table.
Enter conversion rate optimization (CRO).
What is CRO marketing and why is conversion rate optimization important?
The vast majority of campaigns you're running right now likely lead to one place: your website. Whether SEO or paid search, social media or content marketing, programmatic display or email, most of your marketing is driving people straight to your site, where they actually convert.
CRO marketing is an ongoing optimization process for your site that utilizes web analytics and UX research to identify ways to drive more conversion events and A/B test potential improvements. It is not a substitution for full-scale site redesigns, but should be leveraged in tandem with those massive periodic overhauls to ensure your site is doing what it was built to do as effectively and efficiently as possible.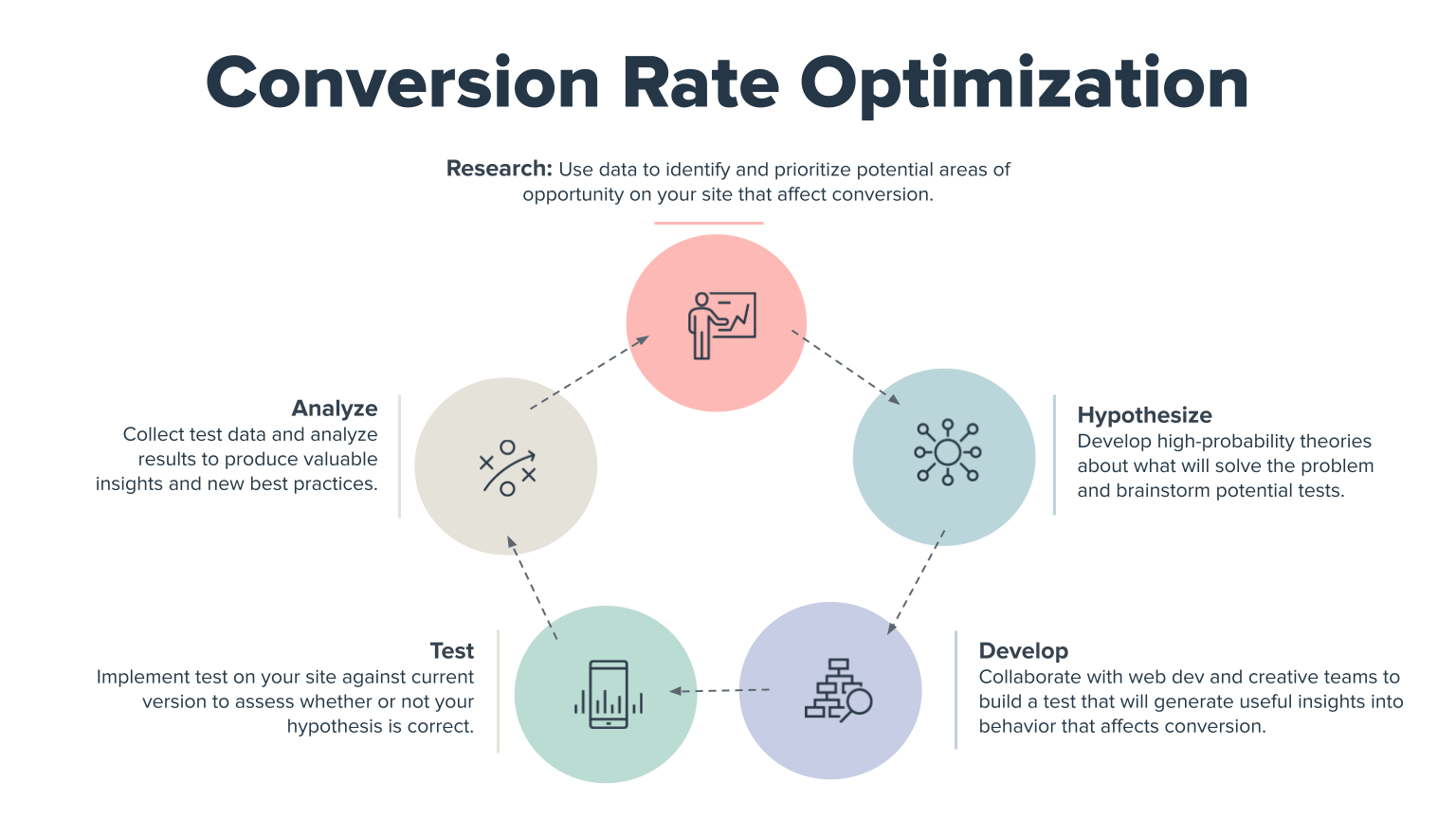 It's crucial to note that CRO marketing should be an always-on process to fully unlock the potential benefits and drive incremental performance gains that lead to significant business growth.
Let's explore why it's so important using a simple analogy: you own a grocery store, and you get the word about your business by sending out coupons in the mail and putting up signs around town featuring various discounts and deals. All of that costs you $1,000, and, as a result of your efforts, 1,000 people come into the store.
That seems like a pretty solid return on your investment at first glance. But because you are a responsible business owner, you dig into your receipts and realize that only 100 people actually bought anything. Even worse, the average purchase total was just $1. The end results of your campaign actually end up like this:
Traffic: 1,000 visitors
Conversions: 100
Average order value: $1
Revenue earned: $100
Ad spend: $1,000
Conversion rate: 10%
ROAS: 0.1
Ouch.
You realize you need to change something to convert more of that traffic into paying customers and get that average order value up to make your investment in the coupons and signs worthwhile.
That's where CRO marketing comes in.
You rearrange the front of the store to showcase the items that were bought the most the last time so people can find them easily. You dig into some industry research and realize that if you put the peanut butter right next to the top-selling jelly, people are likely to buy both. You set up some attractive displays featuring related items with recipe recommendations. You don't change the entire layout of the store, but you look to do something different in the most highly trafficked areas to entice more people to buy, and get those customers to buy more.
The result?
Traffic: 1,000 visitors
Conversions: 200
Average order value: $10
Revenue earned: $2,000
Ad spend: $1,000
Conversion rate: 20%
ROAS: 2
Return on ad spend skyrockets, your revenue goes up. By optimizing your store for conversion, small changes have resulted in huge performance gains for the exact same initial budget.
Your website offers many more potential performance levers than a physical store because you can personalize the experience for every shopper based on specific previous purchases and behavioral data. You can experiment with UX, copy, design, and more.
You should never consider CRO "complete." Optimization should be continuous and new tests launched on a regular basis for the entire lifespan of your site.
Benefits of conversion rate optimization
If you have an active website, you should be leveraging CRO. Consumer behavior is always changing and preferences shift. CRO unlocks the necessary agility to react in real-time to those changes, and proactively identify opportunities for performance improvement.
That doesn't mean actual site redesigns aren't important; they're a critical component. CRO is what's happening between redesigns, and can even help stabilize site performance if conversion rate dips after a new site launches, which is a common initial challenge post-site redesign.
There are three core benefits you'll see when you invest in CRO that operate like a chain reaction to drive performance gains:
Campaigns will be more efficient: Rising tides raise all ships, so you'll see stronger ROAS across all of your marketing channels that drive to your site when you apply CRO.
Conversions will increase: The actual number of conversions will go up if your website is built for performance, which will benefit your marketing campaigns across the board.
Acquisition costs will decrease: Increasing conversion rate (CVR) efficiency will lower your customer acquisition costs (CAC) because you'll be converting more visitors while spending the same amount.
Here's an example of how CRO makes campaigns more efficient, increases conversion, and brings down customer acquisition cost:
CRO requires investment of both effort and money. So let's take a look at how you should approach CRO from a practical perspective.
Conversion rate optimization best practices
CRO is an incremental program that takes time: you need initial data to know what you should be testing to improve conversion on your site, then you'll continuously feed new data from your tests back into your CRO program.
One of the biggest mistakes you can make is looking at CRO as a one-time expense or a limited-time investment. Remember: CRO should be ongoing, forever.
You should be running tests all the time to identify new opportunities to optimize your site and drive better performance.
Running a CRO program for three months and abruptly cutting it off won't unlock the full benefits of CRO for your business. An average test takes two weeks to run (sometimes longer), and that's not including build time or analysis of the performance data you've collected.
Think about it this way: would you stop optimizing all of your social campaigns for a year or more once you see some performance improvement? Or would you keep trying to get the most out of them and testing new elements that could drive even better results?
Some experts estimate that 30% of your total marketing budget should be spent on CRO because of the massive impact it can have on performance across your entire marketing strategy. However much budget you decide to allocate to CRO, make sure that you aren't allocating money as a single expense, but as a recurring investment.
Your paid media teams are spending money right now. If they send high-quality traffic to a site that isn't built to convert, that money is not well spent.
Wordstream found that while the average website conversion rate is 2.35%, the top 10% of sites see a whopping 11.45% CVR. That's a massive differential that represents a serious bump in real revenue dollars.
If you haven't paid enough attention to CRO in the past, you're not alone. According to a recent survey from the CMO Council, the top marketing leadership deficiency according to marketers is around customer journey, acquisition, and conversion. But it's not too late to start.