There are billions of smartphone users around the world, and that number steadily increases year after year, feuling a huge and diverse market for new apps.
With more than 8.9 million mobile apps available to download from the Apple App Store and Google Play Store today, you need to get strategic about marketing your app if you want to boost visibility, generate organic downloads, and drive long-term engagement for your brand.
Enter app store optimization (ASO).
What exactly is app store optimization (ASO)?
App store optimization refers to key enhancements to your app's download page that ensure your app will appear at the top for key search queries and encourage more people to download it. While the goal of ASO is nearly always app downloads, supplemental goals can include increased brand exposure, positive app reviews and ratings, audience engagement, and additional marketing channel diversification.
If you're brand new to app store optimization, the basics might be more familiar than you think. In fact, there are quite a few overlaps between traditional search engine optimization (SEO) and ASO, including tactics like keyword optimization, backlinking, and conversion optimization.
The main differences between SEO and ASO are the ranking factors, which are illustrated in the following checklist: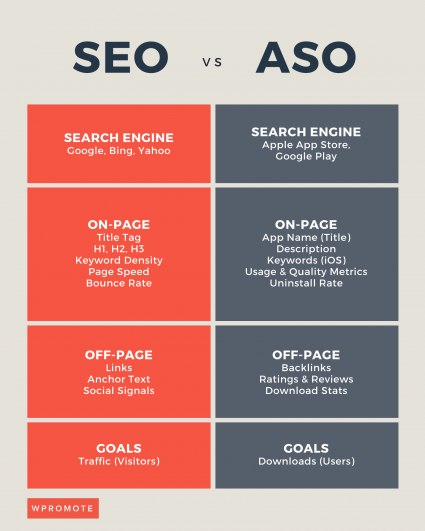 Just like SEO, optimizing for your app's visibility is a constantly ongoing process. When you build an app, your goal is to drive downloads. Combining app store optimization with consistent performance tracking and measurement ensures you will stand out in the App Store (Apple) and Play Store (Google).
Understanding your mobile app audience
To understand how to boost organic growth, you first have to understand how people are searching for and finding apps.
People are mostly hunting for specific apps in app stores like Google Play Store and Apple App Store, with a whopping 70% of mobile users utilizing search for new app discovery. Additionally, 65% of all downloads occur directly after an app store search, making ASO a key driver for success.
But app store optimization isn't as simple as plugging popular search terms into your app listing—it goes much deeper than that. Taking the time to truly understand what queries are resonating with your target audience in real-time is key to an effective ASO campaign.
Matching keywords with your customers' needs will help find your app on the app store more easily. For help analyzing keywords, we recommend starting with Google Keyword Planner, then migrating to more advanced app store optimization tools like App Radar or Sensor Tower.
Once you understand what's resonating with your audience, you can leverage strategic, high-intent keywords that will allow for greater app interest, engagements, and downloads.
Why should you invest in app store optimization?
Major app stores are quickly becoming a prime medium for consumers to discover new brands and products through their mobile devices, which (on average) individuals view and interact with daily.
Having a strong app store presence allows your brand to have a wider digital footprint and can act as a supplemental media channel to help bolster new user acquisition. In fact, optimizing your app might be the single most effective marketing strategy for mobile apps and games. Here are some of the top ways you can benefit from investing in ASO:
Drive organic growth (i.e. lower acquisition costs): A good ASO strategy will undoubtedly boost your app's organic installs without costing you any extra ad dollars. Not only can it help you maximize your budget, but it also ensures steady, sustainable growth for your brand.
Capture relevant users: It's not enough that your app is found. It has to be found by the right users: people who are actually on a hunt for an app like yours. ASO allows your brand to reach a targeted audience by matching your app to relevant keywords: search terms people are actively using to find your application and services.
Drive more revenue and conversions: There are various ways to monetize your app. This includes in-app ads, in-app purchases, and subscription models. But if your app store listing page isn't converting, then your ad spend may be going to waste. Remember, ASO also involves conversion rate optimization: getting people to click through and download.
Reach a global audience: ASO can help you take your app global. By making your app available in other languages through an app store optimization process called localization, you can get users from all over the world to discover your app.
The core components of a successful ASO strategy
While app store features and available fields will vary, the following are the core optimization items you will need to focus on and improve:
Application Title
Application Subtitle (exclusive to iOS)
Application Keyword Field (exclusive to iOS)
Application Description
Ratings and Reviews
Let's take a closer look at each item to better understand exactly how they will impact your mobile app's ability to rank:
Application Title

Your primary keyword (most valued) should be featured in your application title. This is the keyword that most closely matches your users' intent, and will help drive more qualified mobile traffic to your app listing.
During the ideation phase, identify exactly which keyword will best resonate with your audience and help move the needle. As a good rule of thumb, it's always best to include your brand name within your application title.
Currently, an application title should use a minimum of 20 characters for iOS and a minimum of 35 characters for Android. For iOS and Apple, you have a maximum of 30 characters for your application title, so use the real estate wisely.
Application Subtitle (exclusive to iOS)

App subtitles are only present on iOS listings but act as the second most powerful indicator for Apple's rankings. Include keywords within this section to further expand your app's overall organic reach. Pro tip: Try not to duplicate any keywords that you have already featured in your primary app title. You won't get bonus points for repeating keywords.
It's always good to A/B test different variations of your app title and subtitle to ensure that you are putting your best foot forward in terms of ranking and targeting. Don't be afraid to switch things up now and then. Taking the appropriate measures to consistently revisit, test, and revamp is key to a successful ASO campaign.
Keyword Field (exclusive to iOS)

The keyword field allows your brand to list a series of keywords that your app should be associated with. Use this area to include the remaining priority keywords that you've identified during your initial app store optimization research. Like your app subtitle, there's no benefit of repeating keywords that you've already mentioned.
Application Description: When it comes to app descriptions, Android and iOS function very differently.

Android Description: Think of your Android description as the wild west, or the internet back in the early 2000s. There's no regulation on keyword stuffing, and every instance of a keyword being utilized simply acts as another checkmark towards hitting consistent rankings. Take some time to take a look at the description of your top competitors. How many times are they using their keywords within their app description? This should give you a good benchmark for what you should try to achieve within your own app description copy.
iOS Description: On the flip side, iOS descriptions function a lot more closely to today's internet rules. Keyword stuffing holds no benefit. In fact, the entire description section is not indexed for keywords. Because of this, you should shift gears and create a description that is entirely user-focused, such as including value propositions that build trust with your audience. Accurately describing the features of your app, while also highlighting benefits or promotions users will receive by downloading, is a great way to approach your iOS description.
App Reviews & Ratings

Your app's reputation directly impacts your brand's overall credibility in the eyes of your customers as well as the app stores. A solid ASO strategy should include brand management to ensure that users are happy with your app and are leaving positive reviews. Apps with a higher number of positive reviews rank better on both iOS and Android.
On the flip side, negative reviews can hurt your chances of ranking. Make sure you have a way to communicate with your customers and allow them to give feedback in the app, whether it's to vent their frustrations or offer suggestions for improvements. A positive experience can easily turn a disgruntled user into a happy one, which may affect how they decide to review your app.
Other ASO Factors:

Total Downloads: Major mobile app stores look at your app's total number of user interactions and downloads to determine its relevance for specific keywords, which can ultimately impact your app's ranking.
Deep Linking: Linking directly to your app listing from your mobile website can help funnel users to an optimized landing page with a clear call-to-action (CTA). Include deep links throughout your website to streamline the conversion process and guide users to relevant content that will drive action.
App Previews & Screenshots: Within each mobile app platform, you have the opportunity to display images on your app listing. Take this opportunity to showcase the best features of your app as well as the fantastic UX you've created. A/B testing is one way to ensure that you're showing the right in-app information to your audience.
App store optimization example: Keen drives a +100% increase in organic app downloads
Keen is an established organization within the online psychic reading industry whose app is an extension of their services. They teamed up with Wpromote to boost app ranking for competitive keywords that captured their target audience and gain the traction they were looking for from the mobile market. Together, the team carried out a multi-layered ASO strategy:
Strategic Competitor Auditing: They performed keyword audits on all major competitors to identify the best opportunities for short-term keyword growth and eventual long-term keyword growth once application authority had been established and user interaction had improved.
Multi-Channel Integration: They utilized content marketing and SEO to create supporting content for their app across desktop and mobile search. By expanding their app reach across channels, they were able to capture and funnel new users to their app listing at exponential rates.
A/B Testing: To better serve their audience, the team leveraged additional A/B testing on their app listing's CTAs and imagery to find out what users wanted—improving overall user engagement/conversions.
Brand Management & Review Management: To enhance the user experience and promote long-term brand credibility and trust, they consolidated negative reviews based on review topics, identified consistent UI and UX issues, and proactively responded to unsatisfied users.
With a fully integrated, data-driven ASO strategy, Keen was able to capture additional first-touch users via Google Play and iOS App stores, surpass competitors in revenue-backed keywords, and improve total revenue tied to their app users. All of these factors combined helped the brand ultimately yield a +100% increase in organic app installs year over year.
Check out our ultimate guide to holistic channel integration, featuring real examples from top brands implementing innovative strategies to better serve their customers and capture market share.