Marketing is at an inflection point. The acceleration to digital due to the pandemic has led to a perfect storm of convergent challenges. Marketers are coping with massive consumer demand for digital, while siloed data and tightening privacy restrictions make the customer journey harder than ever to understand.
Your brand's most valuable asset, your marketing data, shouldn't be slowing you down when there are more opportunities than ever to accelerate business growth. We know that better than anyone, because we're on the performance marketing front lines every day. And we've been listening to our clients and what they need to get ahead.
We realized that brands need technology solutions that unlock the power of that data, that predict the future and find new paths to profitable growth instead of just helping them track what's happening right now.
That's why we want to introduce you to our new proprietary tech platform: Polaris.
We know a lot of agencies claim a lot of things about technology, but we put in the time and investment to build something real. We brought CTO Paul Dumais on board to helm the ship, and in the last year we expanded our engineering and digital intelligence teams by 190%.
The result is Polaris, a fully realized tech platform built so our digital intelligence, media, product, and engineering teams can collaborate to invent new apps and modeling rapidly to help our service teams better serve our clients, then scale those solutions faster and without the crazy price tag. We've already integrated 30+ data sources into our tech stack to make sure those models are built on a rock-solid, privacy-resilient data foundation.
Polaris serves as the canvas for advanced modeling and predictive capabilities we could only speculate about even a year or two ago. And the benefits to our clients are no longer hypothetical.
Let's get to it and dig into three of the apps available at launch: Growth Planner, Cluster Analysis, and Anomaly Detection.
A forecast for optimizing investment across every channel that actually works: Growth Planner
Multi-channel attribution is dead. The technological and legislative changes to data privacy mean it's impossible to accurately track individual users across platforms. Anyone who tells you otherwise is selling a bridge to nowhere. The reality is that we can no longer rely on the accuracy of traditional omnichannel models.
So we built a better solution.
We unlocked the right data science and automation capabilities to build Growth Planner, a high velocity mixed media modeling solution that forecasts across a client's entire year to find the optimal investment of their available dollars to hit revenue targets.
There are two ways this can work: we can give Growth Planner a budget, and it will build the optimal investment plan across channels and predict the revenue outcome. Or our teams can use Growth Planner to work backward from a revenue target to understand exactly how much budget they will need to hit it and how to invest across channels to get there.
This isn't speculative. We have clients using Growth Planner right now, and it works. Here's how:
It looks across all of your digital channels and the entire funnel to maximize margins because profitability is the endgame.
It tells you how to invest down to the specific tactic, down to the channel, down to the month, the week, the day.
We track model accuracy on a weekly basis across all channels, and it is predicting the future successfully—and making sure our clients are ahead of it. That's a non-hyperbolic gamechanger.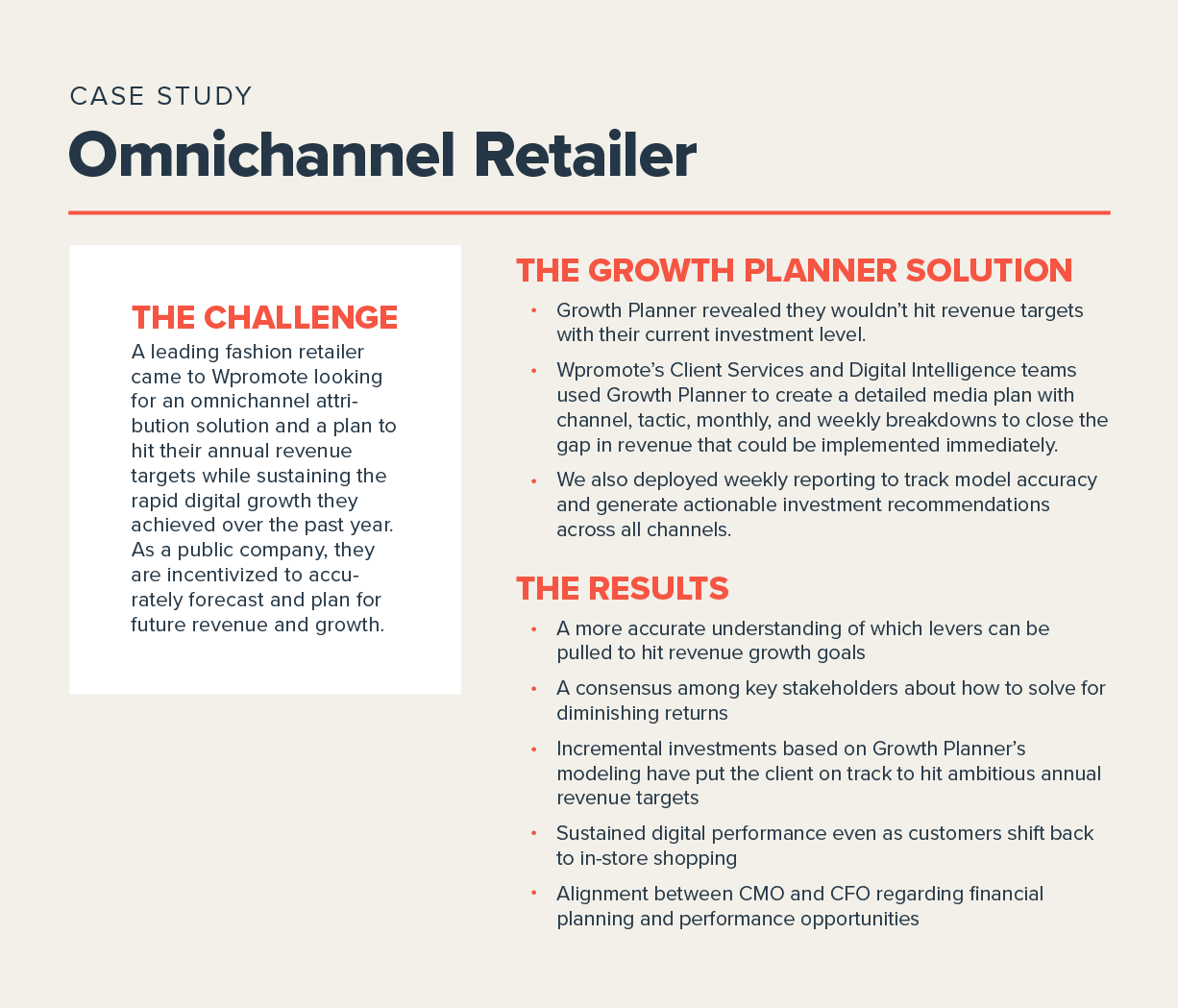 And we're not stopping at traditional "performance marketing channels," because integrated marketing strategy is the key to success for our clients. Right now we're building in the capabilities to integrate non-digital channels like linear TV and direct mail.
The craziest thing? Growth Planner is just one of the apps in Polaris.
Cross-channel data analysis that identifies which actions will have the greatest business impact: Cluster Analysis
Remember how we mentioned the importance of integrated marketing? We aren't kidding. We believe that you cannot unlock the full value of your marketing if your channels aren't working together seamlessly toward a common goal: your core business objectives.
But we know it's not easy. Every platform is so different, and bringing everything together can feel both cost-prohibitive and close to impossible, especially as platforms increasingly respond to data privacy challenges by building walled gardens.
Our team is ready to meet that challenge. We built Cluster Analysis to discover optimization opportunities hidden in massive amounts of data across paid and earned so we could drive performance gains in both channels at the same time.
Cluster Analysis does away with the massive, manual, million-row spreadsheet that attempts to collect and combine data across channels most marketers know all too well. Instead, our app automates the process so we can spend time on strategy.
The app buckets keywords based on similar features to create clusters both within and across channels so we can prioritize and execute the optimizations that will make the biggest possible impact on your holistic search marketing performance. Our experts can take those recommendations and layer in their expertise and experience to drive powerful results.

Cluster Analysis started as a bridge between paid and organic search, but we've expanded its capabilities to find similarities in any data set and efficiently sort them into groups, from using paid KPIs to sort SKUs into more profitable product groupings to breaking large audience pools into more effective segments to target across channels.
Our experts can add as many dimensions as our clients need: the app works just as well with 20 metrics as it does with 5. Scaling is a major challenge for our enterprise clients across all of marketing, and Polaris was built specifically to scale these solutions and make them as accessible as possible.
Proactively resolving issues and capitalizing on opportunities at scale: Anomaly Detection
If this past year has taught us anything, it's the importance of speed and adaptability. When everything is changing on a daily or even hourly basis for both your business and your customers, you need the right tools to make moves quickly at scale.
That's not new in the fast-changing world of digital marketing, of course, but 2020 forced businesses to make agility a top priority. We started building Anomaly Detection to help our clients respond rapidly to any changes outside of the normal variance in their key metrics.
That gives businesses two distinct advantages over the competition: they can quickly resolve issues if something isn't working and move fast to take advantage of new opportunities in real time. And those advantages came into stark relief as the pandemic established our new reality.
Anomaly Detection is based on a model we train on a selected metric based on past data. We build a forecast based on that model and define how much variance above or below the forecast constitutes a statistical anomaly. Our teams are immediately alerted to any spike or drop beyond those bounds, investigate possible causes, and assess if we need to take action.
The larger and more complex the business, the bigger the advantage from Anomaly Detection, because it allows our experts to:
Shift budgets to mitigate loss or substantially increase returns
Monitor paid channels for over- or under-pacing spend to ensure flawless quality assurance
Track organic keyword visibility to identify new search trends and the impact of algorithm updates or site changes
Alert our clients to non-marketing issues that could affect outcomes, like cart functionality errors
The leader in performance marketing means never settling for the status quo and pushing the limits of what's possible
We've won a lot of awards, from The Drum Awards to being named Search Engine Land's Agency of the Year. But those awards are only important to us because they validate our Challenger Approach and inspire us to keep pushing the envelope.
That's what Polaris is all about: building a better future for our clients and moving the industry as a whole forward. There are a lot of agencies out there and more marketing technologies come to market every day, but we believe we have found the secret to marketing that drives profitable growth for our clients.
The solution brands need to succeed in this brave new marketing world isn't just a new piece of technology. It's not just the human marketing expertise and experience agencies bring to the table. It's the powerful combination of the two.
Polaris is built to grow, but most of all it is built to unlock new strategic options for our clients, more precise tactical guidance for our experts so they can drive incremental performance gains and ensure efficient spending, and the integration of expertise and technology that will allow brands to achieve their full potential.
Ready to explore how Wpromote and Polaris can help your business? Talk to an expert.