Google Brings Augmented Reality to Map Navigation
70% of navigation app users use Google Maps. As a proportion of the 2.7 billion global smartphone user base,this is around 1.4 billion people.
Google maps services is using a technique called global localization to improve their navigation. The process is focused on creating a more useful, visual, and precise navigation, utilizing visual positioning services (VPS), street view, and machine learning to more accurately identify position and orientation. Localization is the process of using a reference point to determine the position and orientation of a device.
Remember Pokemon GO? That game was based on similar technology. Critics called Pokemon GO dangerous because of user habits. Some users were so absorbed in their phones that they would ignore real-world hazards (i.e. traffic). Google has built in prompts to mitigate this risk and only allow users to walk a certain distance while looking at the AR function.
Why does this matter? If you have a real-world location for your business, it is beneficial to ensure that you have a Google My Business profile and on top of that consider the AR functionality.

AR looks to make increasing use of non-transient structures and landmarks; it might be good practice for businesses to make it more of a point to rank for key terms related to these landmarks.
It is also easy to see how important it is to consider how your business looks from a joined-up marketing/UX perspective, answering questions such as:

Is your branding clear and visible in the real world? (It might be from across the street, but how about from 100 paces away?)
Is your real-world branding consistent with what it is being presented as online?
Google's indexing bug was first discovered on April 4th. The bug caused pages to be accidentally removed from Google's search index. On April 7th, Google announced that it had fixed the bug, which we shortly thereafter discovered was not quite the case.
If you were one of the 4% of pages that Google de-indexed, you may see a loss of traffic and KPIs.
Google has not announced what caused the issue, but as of April 10th, Google has yet again claimed the bug is resolved.
Why does this matter? It is important to monitor site traffic and be aware of external factors that can impact your metrics. In the case of this bug, the drop in traffic appears to be completely out of anyone's control. Take a holistic approach when referencing and discussing data, and be knowledgeable of the technology digital marketing depends on.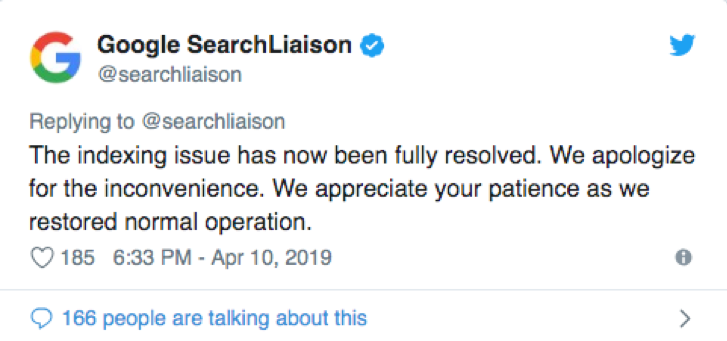 Primally Pure officially started in February 2015. Teaming with influencers to create content, discounts, and even affiliate deals, they are now selling almost 4,000 products a month.
How? Influencer marketing is shockingly powerful.

"75% get the 411 from family, friends, and acquaintances. And as many as 92% trust individuals over brands (even if they don't know these people personally)."

Primally Pure established itself as a reputable brand by focusing on product quality and maintain a product-focused mindset. Primally Pure demonstrated through blog content and visuals why their brand is more expensive than the other generic off-the-shelf alternatives. Through using high-quality informative content, Primally Pure demonstrated to buyers how their "life will measurably change when they change their decisions."
"Their work with TNS and Ogilvy shows that 66% of recent purchasers of beauty products said YouTube allowed them to visualize the product they're going to buy. And it's one of the reasons why unboxing video views have grown 57%, uploads have grown over 50%, and these videos have received over a billion views in just this last year."
Why does this matter? Obtaining loyal, long-term customers can be a challenge. Follow the example of Primally Pure and establish your brand around a quality product(s).