Google is coming in hot in 2022, announcing that the tech giant was proposing a new potential replacement for third-party cookie targeting.
First, a little history: in 2021, Google delayed its self-imposed early 2022 deadline to start phasing out third-party cookies in Chrome until 2023. At the time, they renewed their commitment to Federated Learning of Cohorts (FLoC). FLoC would utilize first-party data to probabilistically generate cohorts aligned with modeled interests and propensities. Advertisers would then be able to target their ads to these cohorts, rather than the individual user.
While the deadline has remained the same, Google announced this week that they were dropping FLoC in favor of Topics API.
So what exactly does this mean for advertisers? At this point, it's not entirely clear. We've gathered some perspectives from across the web to better understand what the announcement means (and what it could mean).
What is Google's Topics API?
Topics identifies a user's top five interests based on a week's worth of web activity that are stored for just three weeks before being deleted. Advertisers will be able to see three of those interests: one per week for that three-week period. Topics are stored entirely on-device without involving any external servers, including Google's own servers.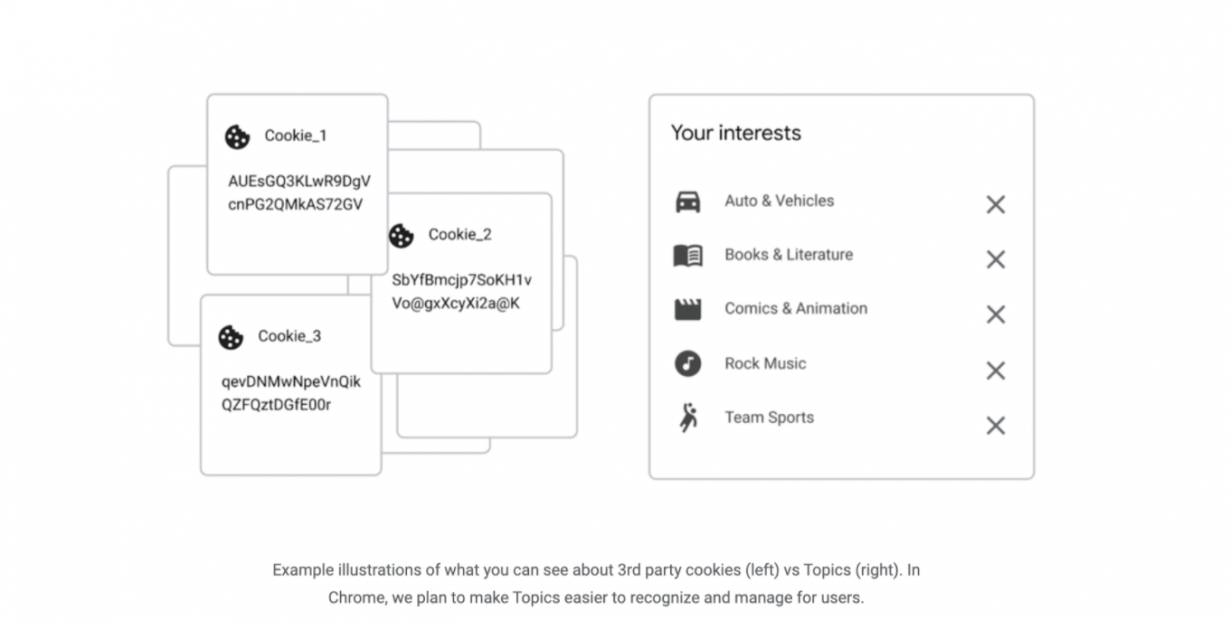 Currently, there are 350 available topics, but Google is planning on adding more, although that number is likely to remain in the hundreds or low thousands (as compared to 32k+ in FLoC). What won't appear are what Google identifies as sensitive categories like race and gender. They're also building in Chrome functionality that will give users more visibility into their own topics and control over what advertisers can see.
Simon Harris, Director of Trade Desk at DPG Media, outlined his initial takeaways from Google's more in-depth technical explainer:
2/4 Interesting to see Google have come full circle as pre-canned Topics was initially discussed prior to the first OG. From a consumer POV it is good to see them take a common sense approach here.https://t.co/QMShRO5sxp

— SimonJHarris (@SimonJHarris) January 25, 2022
4/4 For publishers:
◾️Only topics of sites that use the API will contribute to the weekly calculation.
◾️Google propose choosing topics, based on site hostnames, rather than additional than the full URL.
◾️The mapping of hostnames to topics will be updated the cadence is TBD. pic.twitter.com/4xsz1ZfCP4

— SimonJHarris (@SimonJHarris) January 25, 2022
Will Topics API let marketers effectively target users?
This is probably the biggest concern right now. Critiques of the FLoC proposal tended to focus on continued privacy challenges: was Chrome still collecting too much user data? Could data be stitched together to identify individuals? The nail in FLoC's coffin was likely GDRP compliance; earlier in 2021, Google suspended FLoC trials in Europe as the proposal's viability under GDPR was called into question.
Balancing privacy with advertising efficacy is obviously extremely tricky. Google SVP Hiroshi Lockheimer explains that, like many businesses that depend on digital ads, Google believes that calling for the end of all targeted advertising is not realistic.
Some say there shouldn't be interest-based ads on the web, but we think that's not realistic. Many businesses (not just Google!) depend on ads to sustain themselves so that we — the consumers — can enjoy many of the things on the Internet.

— Hiroshi Lockheimer (@lockheimer) January 25, 2022
Looking forward to the collaboration and feedback.

(End of 🧵)

— Hiroshi Lockheimer (@lockheimer) January 25, 2022
John Wilander, one of the architects of and the public face for many of Apple's controversial privacy initiatives, threw down on Twitter, claiming that many of the privacy issues raised around FLoC still apply to Topics.
"Being less scary than FLoC doesn't mean it's 'good.' It will tell third-party trackers about what kind of sites you browse, and it could help websites and advertisers ID you across devices." https://t.co/lzmYCTGPhn

— John Wilander (@johnwilander) January 26, 2022
It's weird for me that Chromies talk so much about the dangers of cross-site data leaks, and then their coworkers propose a new web feature, Topics API, which could just as well be called the Cross-Site Data Leak API.

— John Wilander (@johnwilander) January 26, 2022
Topics are clearly being positioned as a much more privacy-first targeting replacement for third-party cookies, but marketers are already questioning how effective this new approach will be.
Wpromote's VP of Digital Intelligence Simon Poulton expressed doubts that Topics could serve as an effective third-party cookie proxy on their own based on Google's initial proposal. The truth is that marketers will likely lose a lot of the precision they're used to when it comes to audience targeting. The FLoC proposal was intended to preserve many of those capabilities, and Topics offers a much simpler approach that includes significant time restraints and provides advertisers with much broader contextual information.
Paul Bannister, CSO of CafeMedia, dove deep into Google's available information and came to the conclusion that Topics are a step in the right direction for privacy but a step backward for advertisers.
First up, the taxonomy of Topics only contains 350-ish categories. That's way less than FLoC (~32k), and way less than the IAB's Audience Taxonomy, which is already quite limited at ~1500. Take a look at the Topics taxonomy https://t.co/XTWGshMyRv 2/

— Paul Bannister (@pbannist) January 25, 2022
It might help by giving some quasi-psychographic information to advertisers, which can be useful. But if this is the future of targeting, advertisers can expect a pretty serious degradation on the web – although most 3rd party data is currently crap also, so 🤷‍♂️ 4/

— Paul Bannister (@pbannist) January 25, 2022
This massively weights Topics to extract value from small sites and give that value to large sites. In theory, this is for privacy reasons, but it's hard not to see this through many other lenses. I don't know if Topics will be valuable enough for small sites to turn it on. 6/

— Paul Bannister (@pbannist) January 25, 2022
about the other category, but those site owners would never know about their users interest in the other category. TLDR – adtech companies get the data, but publishers do not! (Of course, their adtech partners could share it with them)… 8/

— Paul Bannister (@pbannist) January 25, 2022
Net/net I think that Topics is a step forward on the privacy front (although I doubt privacy advocates will be happy with anything in the browser that supports advertising), but it's a step backward (from FLoC) on the advertising front. 10/

— Paul Bannister (@pbannist) January 25, 2022
Why are critics claiming Topics are anti-competitive?
Google has faced both public criticism and legal challenges around potential anti-competitive behavior, including FLoC and other privacy plans, which likely contributed to the delay in phasing out third-party cookies.
James Rosewell, Director of Movement for an Open Web, who filed a complaint against Google specifically calling out FLoC, and other critics claim Topics does not address those concerns because Google itself will still have access to data that advertisers and other parties from publishers to ad tech will no longer be able to use. Rosewell told Protocol that "Google isn't going to use it. Topics are for rivals. [Google] is still discriminating against rivals."
For its part, Google points out that its approach to privacy changes is rooted in open-sourced collaboration and feedback. Ben Galbraith, Senior Director, Product for Google, indicated to AdExchanger that the tech giant is keeping potential anti-competitive advantages front of mind as they test new proposals, explaining that "we need to make sure that whatever we do does not result in us giving an unfair advantage or favoring our advertising business, and that's the underlying constraint that dictates how we think about this."
What comes next for Topics API?
For now, most advertisers are playing the waiting game. Google will be launching developer trials of Topics in Chrome in the near future, gathering feedback from advertisers and developers and learning what works and what doesn't. Google has indicated that they will be testing Topics globally, including in the EU, which means that they feel confident that the concerns raised around FLoC's GDPR compliance have been sufficiently addressed in this new proposal.
We will continue to monitor any privacy news, announcement, or changes and keep you updated with insights and actionable guidance as we learn more.