We're always on the lookout for the next big thing in marketing so we can make sure our clients are ready to stay ahead of the competition and our marketing teams are positioned to grow and develop in new and impactful ways.
That's why we're joining forces with Visiture, an ecommerce agency based out of Charleston and Atlanta that has been doing incredible work for some really exciting clients. Every investment we make is an investment in our clients' future success, so I wanted to share exactly why I'm so excited about this news—and how it's going to help all of us achieve great things.
When talented teams work together, anything is possible.
One of the first things I realized about the Visiture team when I first met their CEO and Cofounder Brian Cohen and the rest of the team was that they shared the same passion for the kind of marketing that drives tangible business outcomes for our clients.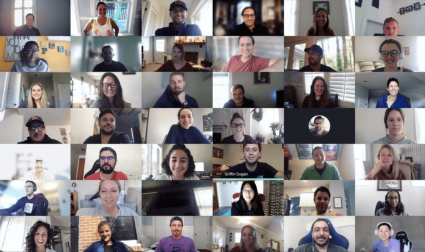 Even better, Visiture's leaders understood that the only way to break through the status quo and Think Like A Challenger is to invest in and support their people. I was immediately impressed by the talented marketers and experts that make up their team and how aligned they were with Wpromote's culture and approach. I knew that we would be able to accomplish even more together.
Plus: they have some truly great dogs over there.

We're ready to expand our clients' competitive edge through the ecommerce surge.
Forrester estimated that 10 years of digital acceleration happened over the last year of pandemic lockdowns and mandated closures. Nowhere is that acceleration more apparent than in the insatiable consumer appetite for ecommerce.
That's where we're going to be able to take our clients' performance to the next level.
Visiture's web development capabilities are top-of-the-line, especially when it comes to digital storefronts. We can't wait to bring their expertise to Wpromote's clients as we incorporate our dev teams under our new VP of Digital Experience, Dennis Ngin, Visiture's current COO. Visiture has also built strong relationships with great partners like Adobe and Shopify that we'll be able to grow even further now that we've come together.
I'm also excited to explore how we can help Visiture's clients; they work with some really amazing brands like Gerber Childrenswear, Case-Mate, and Pelican Products.
Gerber Childrenswear + Visiture Testimonial from Visiture on Vimeo.
We'll be able to help them achieve even more through some of our unique areas of expertise that are focused on amplifying growth in new ways, like Performance Creative, Media Strategy, and Digital Intelligence.
The Southeast is home to first-class marketing talent and great brands.
We've been expanding our geographic footprint across the country: from our headquarters in Los Angeles, we've opened offices in Chicago, New York, Dallas, Denver, and more. We know we need to establish roots and relationships wherever the great brands we work with are based, and where the very best marketing talent lives and works.
As our business has become more geographically diverse (even more so during the pandemic!), we are always looking for where we need to go next. The Southeast is already home to many of Wpromote's clients, employees, and partners, and Visiture was born and bred in Charleston and Atlanta, two important hubs in the new digital marketing world.
Visiture is an important part of those communities, and we're excited to provide even better support to our clients in the Southeast and explore new opportunities to invest and grow in the area.
Together, Visiture and Wpromote will be able to do even more incredible work and drive even stronger growth for our ecommerce clients.