We're excited to announce a brand new video series that Wpromote is jointly producing with Google! CEO & Founder Michael Mothner met with Google's own Katheline Jean-Pierre, business development manager and Google ad exec, for a series of videos and interviews at Google HQ about what we do at Wpromote, our holiday efforts, marketing strategies, and more! We'll be releasing these videos steadily over the next few months. The first of these videos is available now, and you can watch it below.
Wpromote's relationship with Google goes way, way back. We've been an exclusive Google partner since 2001, and we're the only agency in the country to be a member of Google's SEM Council, Social Council, and Client Forum. We're also one of only four firms worldwide to be tapped by Google to provide product feedback and help shape the way that Google works with agencies. This close friendship is what allows us to help provide Google with the input that we do, and why Wpromote can work together with Google on video series like this one.
This first video is all about our comprehensive 100 Days of Holiday initiative. In it, Mothner discusses why holiday marketing preparation, launch, and execution really does take up one hundred days, and in fact really should occupy an entire year's worth of planning. Towards that end, we developed a full holiday roadmap to help our clients and any business interested in streamlining their holiday season learn all the key dates they need to know.
Be sure to check out our custom holiday revenue calculator to help businesses determine just how much revenue they could earn this season by optimizing their marketing this holiday. This handy tool allows any business to input their numbers from the 2014 season, as well as fill out a short form about how well they did (or didn't) perform, and find out how they'll do during 2015.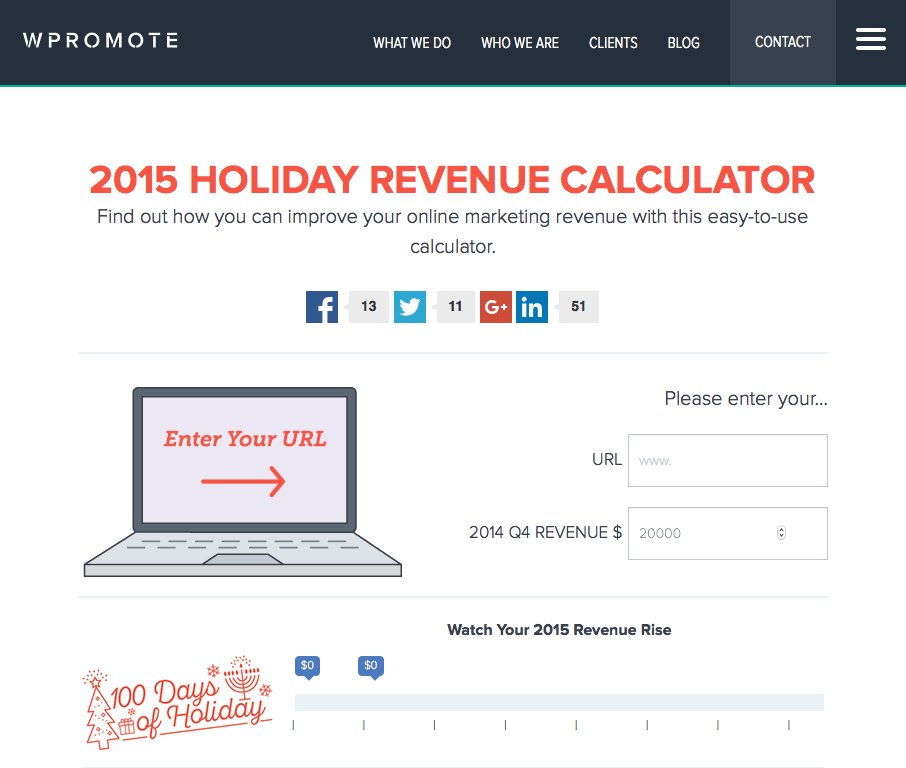 For the rest of the video, Jean-Pierre and Mothner discuss the major takeaways of the holiday season, the most commonly overlooked issues in holiday digital marketing, and what Michael would expect his biggest holiday 2015 successes to be if he could look back from the future. Check out the video above to hear his insights and to learn more about the Holiday Planning White Paper straight from the man himself! Continue to check back here in the coming months for more updates on the Wpromote and Google video series as these videos are released.