Wpromote had the pleasure of participating in the 9th annual IRCE 2013 conference in Chicago, a major e-retailing event that draws in nearly 10,000 executives from more than 40 countries. The event featured 205 speakers and 120 sessions, and was jam-packed with relevant, timely information from some of the top leaders in the ecommerce world. Our Wpromote team enjoyed sharing an exhibit and educating businesses about the ecommerce strategies that can drive success for their establishments.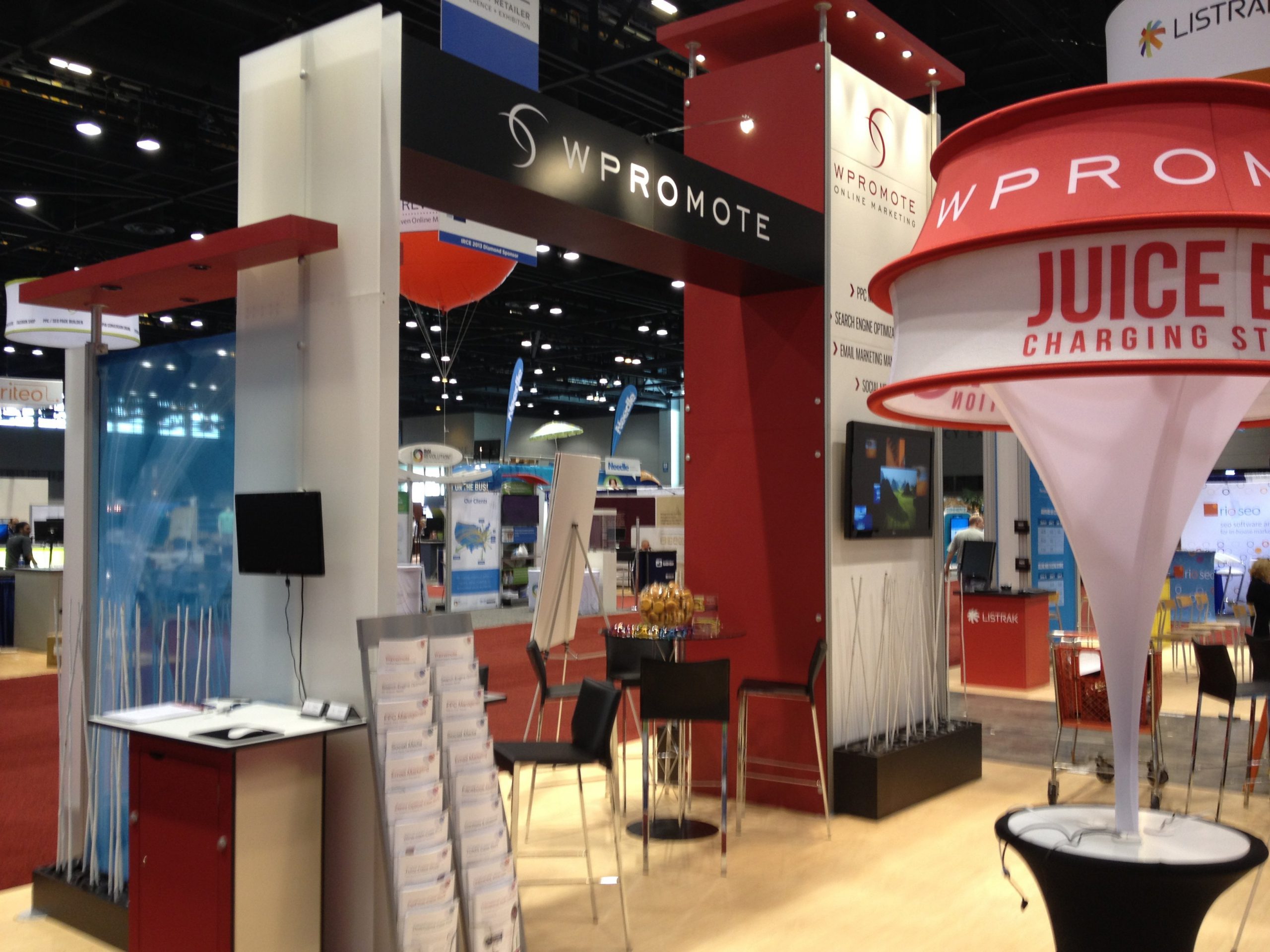 As a gift to our blog readers, we would like to disseminate to you some of the great information discussed at the event. Unfortunately we couldn't do the conference justice in one small blog post, so here are some of the highlights we feel are significant to pass on to you… enjoy!
Content That Competes
The first presentation that made an impact discussed 10 tactics for creating content that sells. The presenters were Ken Burke, Founder & Chairman of MarketLive and Peter Taylor, Director of Business Development & E-Commerce at Sport Chalet.
The presentation began with some eye-opening stats…
The competition is fierce for ecommerce stores. Nearly 80% of the revenue e-retailers produce hails from the top 50 merchants, and guess who is sitting pretty at the top?
You guessed it… Amazon.
Did you also know that 30% of U.S. adults start their purchase searches on Amazon vs. 13% on Google or another search engine?
In 2009, consumers preferred search engines to Amazon by 6%, yet the stats flip-flopped by 2011 when nearly 18% more consumers preferred Amazon to search engines.
Thankfully, the presenters did not leave us lamenting over our irreversible fate. Great content and a unique brand experience are the two competitive threats ecommerce establishments have in their arsenal to compete with the big brands.
How can you compete with "beast-like" establishments such as Amazon?
Here are a few strategies…
1. Embrace The Content/Commerce Connection
Connect the dots with your content to allow consumers to become enthusiastic and embrace your brand fully. Use value added content and give consumers a simple way to purchase
Example: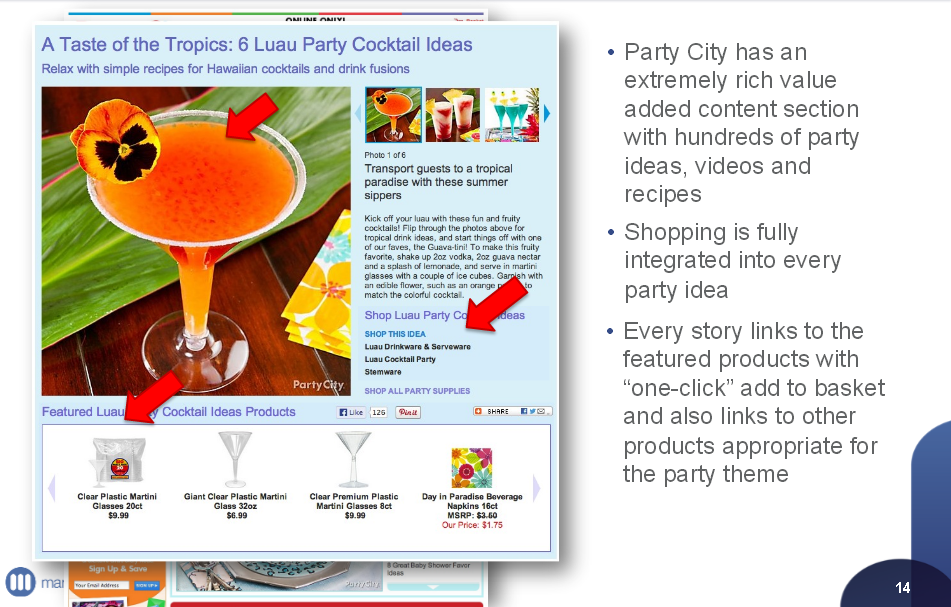 Party City published a large content section on their website that includes dozens of fun party videos, recipes, and more. Each piece of content features related products including a quick, one-click access for consumers to purchase products.
2. Social Proof Is Key
Who would you trust more with a product recommendation? Your friend who has used the product or the brand who is selling the product?
Consumers' voices are always louder than the brands touting the awesomeness of their own products. Consumers are more likely to have confidence in a purchase when they see other consumers making similar purchases. Leverage this concept and create pockets of social proof around your products.
Here is an example that illustrates using social proof with a strong call to action on a landing page…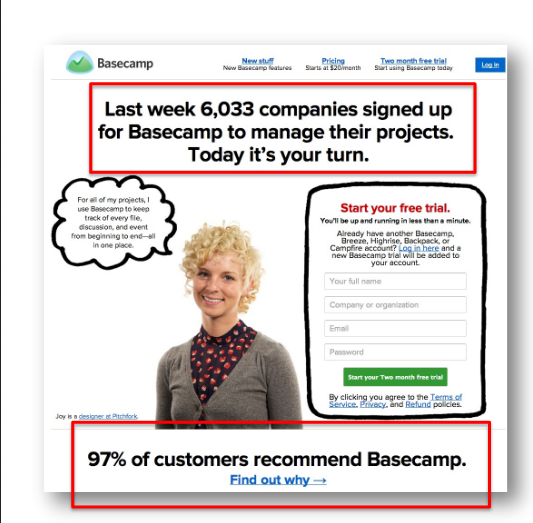 The presenters displayed another example of social proof in action. Here is Charlotte Russe using customer social activity in real-time as a marketing strategy.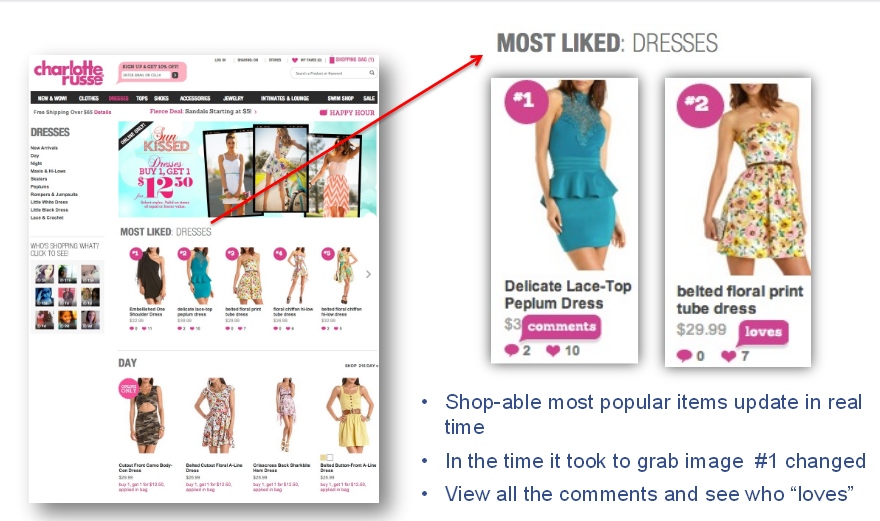 3. Don't Just Create Random Content Around Your Products… Make It Purposeful!
This is how you stand out from your competitors, even if they are as large as Amazon.
Create creative, interesting stories to differentiate your brand and build connections with your consumers.
Cost Plus World Market makes a connection by telling the story of its products in "The Africa Collection."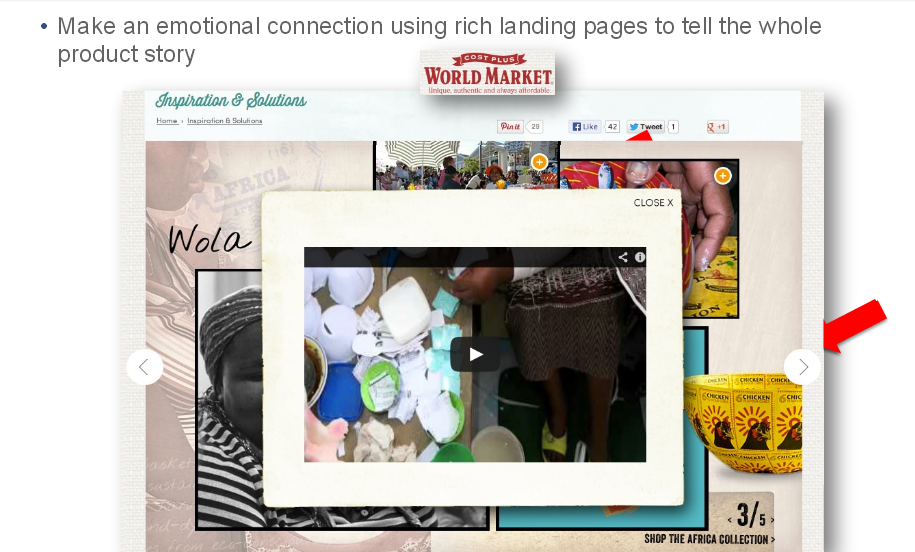 World Market also gets this content in front of as many eyeballs as possible via social media promotion and banners on its website. Let people KNOW your content is there!
Customer Experience
Whether you want to rank in Google or you want to please your customers, both require a valuable website user experience.
Michael Hines, VP of E-commerce Technology at The Jones Group Inc., and Ken Godskind, VP of Monitoring Products at Smartbear Software, gave a great presentation on the components of a high-quality customer experience.
Here is one of the memorable takeaways…
Website performance is synonymous with business performance. Even the smallest delay in response time can deter the customer. The presenters cited research from the Aberdeen Group that highlighted the potential impact of a 1-second delay in response time:
11% decrease in pageviews
7% decrease in conversions
16% decrease in customer satisfaction
To increase performance, focus on three metrics: the network, browser and the users' eyes. Measure speed, load times, downtime monitoring and visual user perspective timings and optimize them to increase conversions and users' time on the site.
Adaptability
Adaptability is that "elephant in the room;" that topic you don't hear about often, but one you simply cannot ignore.
Niraj Shah, CEO and co-founder of Wayfair.com touts adaptability as the key to eCommerce success. In his presentation, he defines adaptability as…
The Ability To Fit changed circumstances.
The ability to learn from experience, and improve fitness as a competitor.
Adaptability is centered on innovation and it is the ability to not only respond to fluctuating competition, but also to changing consumer behavior and new innovations within your industry.
Shah discusses the "startup environment" as one to emulate to drive long-term growth and adaptability. This company culture has led his organization to become a true "force" in its industry.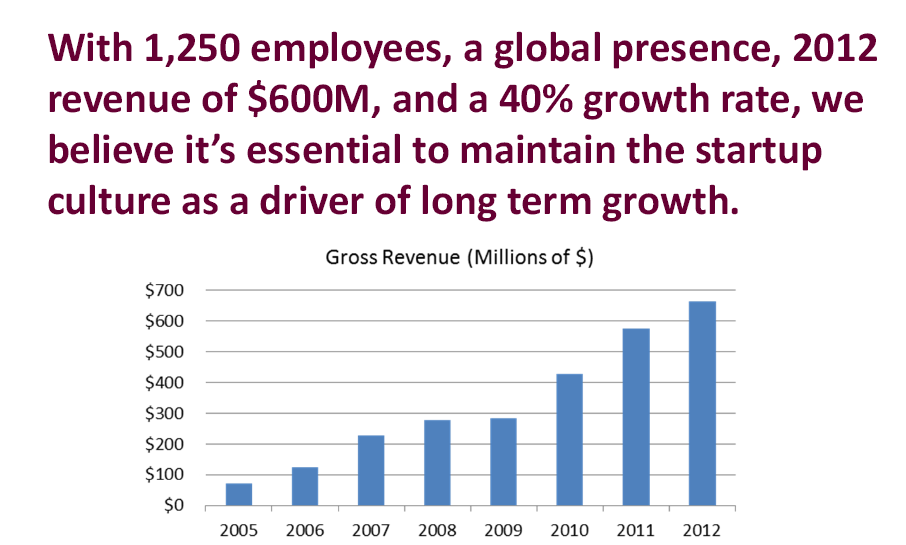 The company adjusted its strategies to the changing climate by investing profit into new ideas and strategic growth initiatives, and listening to the consumer closely to identify their changing needs. Wayfair.com is a creative brand with a strong company culture that is flexible enough to change with the consumer climate but strong enough to maintain its ground when needed. This embodies their formula of eCommerce success.
Social Media
The conference was full of numerous social networking discussions, but the one I want to highlight hails from Parvez Patel of WW Grainger Inc. and Kenneth Leung of Cisco Systems Inc.
The presentation centered on the importance of social campaigns for B2B companies.
Though social media has been primarily dominated by B2C retailers, the climate is shifting as brand/customer relationships matter, regardless of the audience. B2B customers want brands to "know them" and their business, and make them look like heroes. Social media also puts a "face" to a B2B establishment.
According to the presenters, 60% of consumers' decisions are made before they even "meet" you. These decisions can be heavily influenced by social profiles.
Because the "typical" persona of B2B establishments can lack transparency, social media allows them to become more relatable. Grainger's social mission is to "humanize" the brand and to connect with customers while offering them a valuable multi-channel experience.
Cisco engages customers utilizing many social networks to broadcast publicity around live events, webcasts and newsletters. According to Leung, social media is actually "E-marketing" and B2B companies should focus on the consumer, understand their purpose and not be afraid to experiment.
WW Grainger Facebook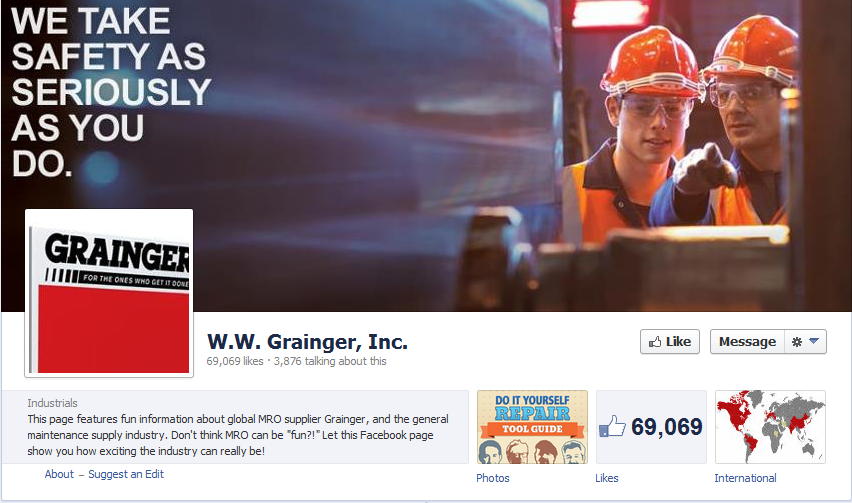 WW Grainger YouTube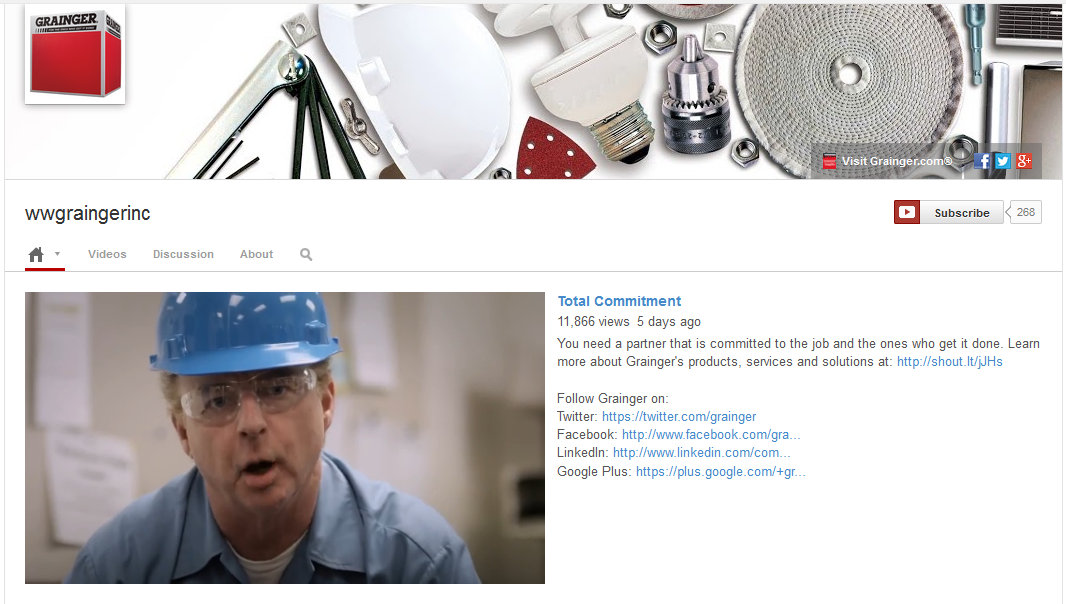 Cisco Systems Facebook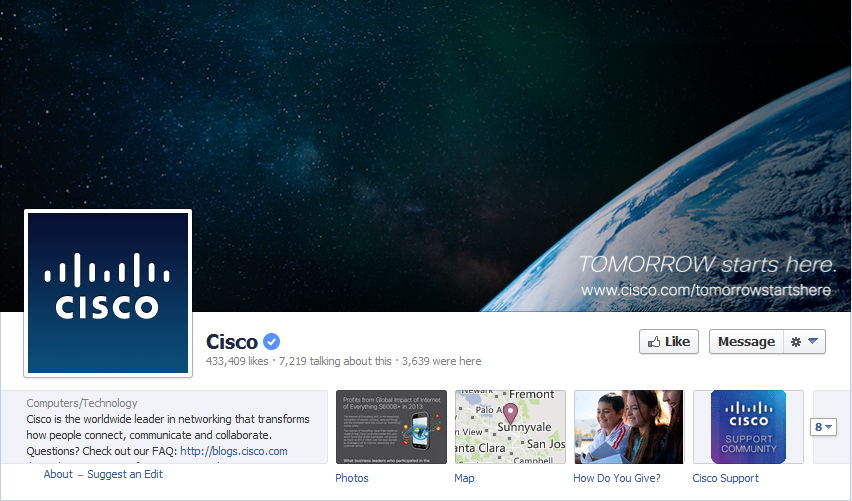 Cisco Systems Twitter
In conclusion, IRCE 2013 was full of relevant and exciting information for ecommerce establishments looking to improve sales and expand their knowledge on how to capture their customers and convert them into consumer advocates for their brands.