Google's newest feature effectively pulls and aggregates a few responses into an independent extended snippet. The search result does not include any visible links to the publishers' data. However, if a user expands the result, they are presented with multiple links and can scroll horizontally through the snippets to browse additional content with links.
Some criticize Google calling this a ploy to keep users on their page longer and that publishers are not getting enough credit. Google has responded that this is the nature of search and that they have to continuously innovate:
"Does search not become search if you can scan and scroll through results horizontally rather than vertically? Does search only remain search if it looks and acts like it's 1998."
Either way, one thing is certain, search is constantly evolving. This feature is not widespread yet, however continue to monitor your key search terms and how this display impacts your traffic and metrics.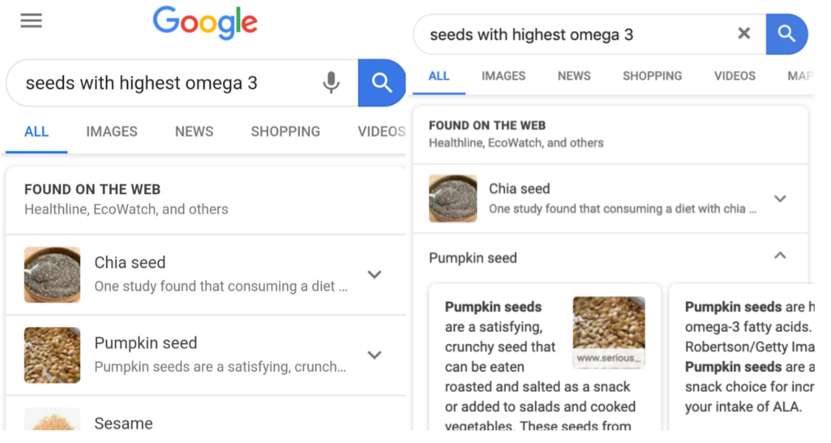 Backlinko performed a content marketing study in which they analyzed over 912 million blog posts in order to understand the relationship between content format and word count with social engagement and backlinks.
A few of the main takeaways from the study are:

"Long-form content gets an average of 2% more links than short articles"
"94% of all blog posts have zero external links"
"1.3% of articles generate 75% of all social shares"
"Longer headlines are correlated with more social shares"

The study dives into the timing of a post, headline form, and various other aspects. The article presents valuable insights into what resonates most with users.
Why is this important? In a world with a plethora of content, it is important to not only make your content stand out, but attract users to engage with, share, and link to it. By creating captivating content, you can amplify your brand staying power simply through appealing to your customer base. Take these tactics and apply them accordingly.
Featured Snippets: Content Structure vs. Structured Data
Featured snippets are highly coveted on Google as they generate an uptick in impressions clicks and overall SERP visibility due to their prominence on the page.
As with most things Google, Google has not outright declared what the algorithm is looking for in order to select the featured snippets. However, Google's John Mueller has stated that there is not a defined structured data that the algorithm is looking for. Other experts have explained that although Google doesn't necessarily target certain schemas, the structure of the content is a contributing factor.
As a refresher, structured data relates to the markup on a webpage that helps Google to understand the elements of your page (schema), whereas content structure refers to the on-page elements (H2, H1, etc.)
Search Engine Land performed a featured snippet case study in which through optimizing content structure, they were able to steal the feature snippet away from Amazon
Why does this matter? Featured snippets are valuable content assets. Utilize the key findings of this study and craft your content in an organized structured ideal for featured snippets.