The annual SMX Advanced Conference covers a vast array of information in the search industry. This year, like others, covered everything from SEO, to Social Media, to Paid Search and more. And while it did feel like every conversation touched on Google's Panda update and its effects on the industry, there was an important underlying theme, which was that local search has grown and is becoming even more important to businesses.
According to Google, local searches now account for 20% of searches on Google. Mix this in with comScore's May 2011 report and now we're looking at 2.24 billion queries a month on Google with local intent. Yes, that's billion with a B. These changes aren't just coming from search engines, but also from the mobile side. In mobile, 95% of smartphone users have looked up local information and 88% of these users generally take action within a day. Combine this with the 66% of users who use location-based apps such as Groupon NOW, Yelp, & shopkick, and this makes optimizing and managing a business' online reputation even more important.
Besides VCs pouring in all this money for location-based apps, Google is also investing, heavily marketing local search to businesses and to date has over 4 million business listings in its index.  At the same time, Google has been constantly testing out new layouts for the Google Places results. Don't assume Bing has taken this lying down though. Bing-powered search continues to grow in market share, improve its Business Portal and take advantage of its partnership with Facebook by integrating in Facebook Friend Recommendations into organic search results.
Now that may have been a long-winded intro, but the point I wanted to drive home is that search engines, developers, and VCs are investing in mobile and local search and if your business hasn't already dived deep into local search or even if you have, there are likely more opportunities for you. Your strategy shouldn't end at local SEO and optimizing solely your Google Places listing, but rather it should begin there. A common fallacy many business owners have is by becoming complacent of a having a powerful Yelp page with one-hundred 5 star reviews.  While you may be on the top now, the local search race is only heating up and as we see more new businesses and old ones jump into this space, there are now even more opportunities and marketing channels for business owners to gain more traffic, customers and revenue.
Here's five things you should know now about optimizing for local search.
1.Citations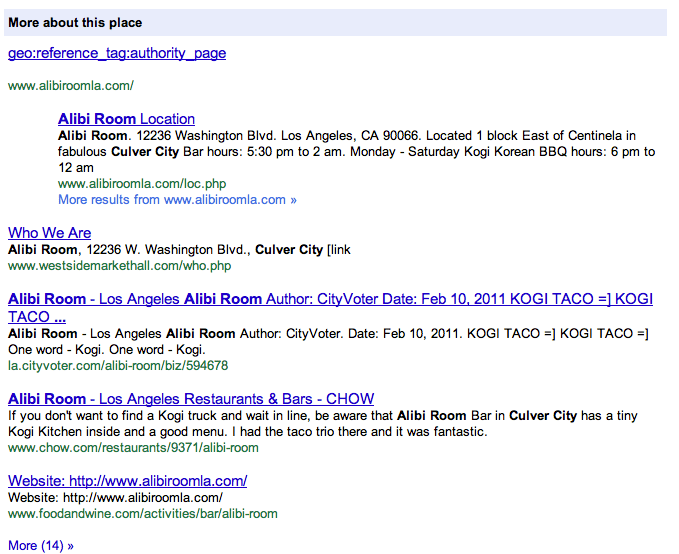 Citations continue to hold their importance in local search. What are citations you ask? Citations are references across the web to your business' NAP (Name, Address, Phone). This is not to be confused with user reviews.
A quick way to check some of the citations for your business is by typing into Google "business name" + "address" + "phone #"


For example, for the local Chipotle you would type into Google:
"Chipotle" + "307 N Sepulveda Blvd El Segundo CA 90245" + "(310) 426-1437"
Recommendation:
When dealing with citations, you'll want to make sure your business information is both consistent and updated. If you've moved offices recently, run citation checks for old addresses. While you won't have control over ever citation that appears for your business, where possible manually update outdated information or shoot over an email to the webmaster with your updated business information.
In addition, consider sending out an intra-office memo about NAP consistency or adding this to your brand guidelines. This will help build consistency throughout all of your sales documents, presentation decks, marketing materials, press releases, etc.
2. Use Varied & Descriptive Photos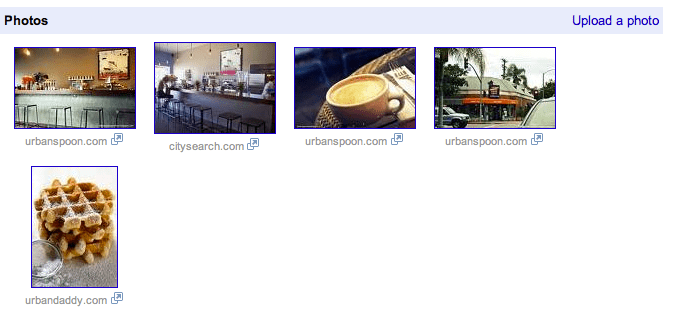 We all know that a picture is worth a thousand words, so why let your business photo default to a Yelper's unflattering photo of your most delicious dish or a pixelated low resolution photo of an empty office lobby?  (Btw, if you're wondering the photos above are from one of my new favorite restaurants Shaky Alibi)
Recommendation:
If you have a DSLR, spend an afternoon taking photos of your business. Take at least twenty photos and ask your employees to vote on the top three that they'd recommend featuring in the company's Google Places and Yelp listings.
Don't have time or a DSLR? You'll likely be able to contract a local or student photographer for under $500 on Sideskills or Craigslist. And if you've been thinking of doing those company headshots for your web site, why not knock out them out now too? (Check out our team page for a unique take on funny company pages).
At minimum use 3 photos in local listings.  Google is also offering to take your business photos for free if you're in one of their selected cities. For more information on the Business Photos Program from Google and to apply, click here.
3. Add Flavor To The Category Settings
Be creative, add humor, and let your business shine. It's great that you have free wifi, but do your competitors as well? Are you walking distance from the Conference Center that 30% of your hotel patrons stay in? Let them know. Or are you only a 5 minute cab ride from the sports arena? Differentiate yourself from your competitors.  If your staff speaks or caters to multiple languages, say so!
Examples:
Instead of "Free Wifi" try "Free WiFi & Internet (Yes, YouTube & Facebook!)
Instead of "Pet Friendly" try "Pet Friendly, We Love Dogs & Cats!"
Instead of "Continental Breakfast" try "Warm & Yummy Continental Breakfast"
Instead of "Free Movie Rentals" try "Free Movie Rentals for kids, teens, families, and couples!"
4.  Incentivize Check-Ins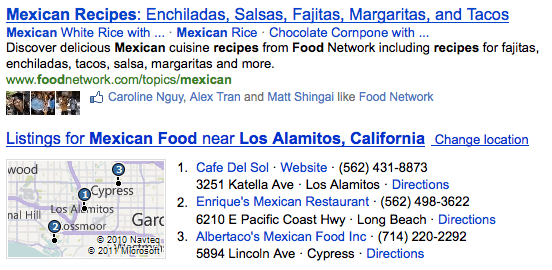 Are your competitors dominating on FourSquare, Yelp or Facebook? Do some competitive research both on their web site as well as when you're a night out on the town. What are other local businesses doing with Yelp, are there stickers on the windows or mentions on receipts? Are there opportunities to cross promote? Incentivize customers to check in on FourSquare and Facebook, or Follow you on Twitter.  In addition, with recent changes on both Google and Bing (Bing screenshot above), potential customers will see their friend's recommendations in organic listings.
5.  Monitor Your Reputation

The more you optimize for local search and social media, the more likely you'll have customers writing reviews about your business. Responding negatively, or don't respond at all and this may be even more damaging.
Recommendation:
At minimum, monitor your brand at least once a week.  Use services like trackur to save time, or setup detailed Google Alerts.
Have some extra tips, comments or questions?  Comment below!

Additional Resources:
https://sites.google.com/a/pressatgoogle.com/googleplaces/metrics
http://searchengineland.com/search-market-share-static-2-2-billion-local-queries-on-google-81143
http://googlemobileads.blogspot.com/2011/04/smartphone-user-study-shows-mobile.html