Google Shopping results are a key tool in the retail and ecommerce digital marketing arsenal, and since 2012 those results have solely consisted of paid listings. That's all changing now: Google has accelerated the rollout of organic listings, citing the ever-increasing consumer need for ecommerce options due to COVID-19 social distancing measures.
So let's break down all of the news coming out about the new features (unsurprisingly, those updates have continued to drop every day, both from Google itself and from digital marketers like us exploring and testing the feature). Above all, we're here to help you understand how to adapt your tactics and build a cohesive, effective Google Shopping strategy that balances both paid and organic initiatives.
Let's start with what this update actually looks like on the Google Shopping SERP– and who has access to the new feature.
How do Google Shopping organic product listings work?
For the past several years, ads have shown up at the top of the Google Shopping results pages for relevant queries. Now, Google will be featuring both paid (prioritized at the top of the page) and organic Shopping results in the carousel: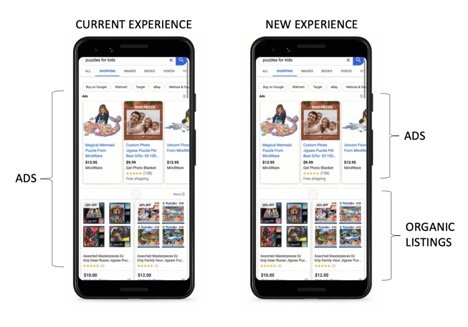 We're still gathering details about the new consumer Shopping experience on the SERP, but the official party line from Google is that Shopping results will transition to majority organic, beginning with Google U.S. and expanding globally by the end of the year.
Currently, all U.S. retailers are eligible for free listings as an extension of the opt-in surfaces across Google program. There are technically two paths to eligibility for organic listings, and we recommend pursuing both for optimal visibility and user experience:
How will organic Google Shopping results impact retailers, consumers, and marketers?
The official line from Google on organic Shopping results isn't surprising: with the increase in ecommerce activity caused by the pandemic, the search engine is repositioning itself as a retail shopping destination and seeking to enhance the overall user experience for searchers.
The reality, as most digital marketers know, is that Google has been losing retail market share to Amazon hand over fist, with more customers searching on Amazon directly instead of shopping through Google. As Amazon has run into COVID-related fulfillment issues, an opportunity has presented itself: retailers are looking for new ways to get their products in front of customers and consumers are looking for more efficient purchase options.
Enter (or re-enter) Google.
Organic product listings on Google Shopping mean retail digital marketers have a zero-overhead channel to connect millions of customers shopping from home with their products at a time when budgets might be contracting even for businesses who are seeing an increase in demand.
Google's also placing a bet on consumer behavior: consumers place more trust in organic results, which generally see higher conversion rates than their paid counterparts, and featuring organic listings make it more likely consumers will engage and buy straight from the SERP.
Consumers will presumably also have a wider selection of retailers (including SMBs) and products to consider in the organic listings. With brick-and-mortar shopping out of the picture and Amazon warning of continued delays, Google Shopping is offering online retailers the chance to compete directly for customers at the search bar. The change could represent a win-win-win situation: for the search engine, retailers, and consumers.
But it's digital marketers who will be responsible for understanding the impact of the change on their business objectives– and helping their brand successfully adapt their current Google Shopping strategy to the new experience.
How should the new organic Google Shopping results affect paid Google retail strategies?
Retailers who have dominated the pay-to-play version of Google Shopping results will necessarily face more competitors at the search bar in the long term as brands opt in to take advantage of organic listings. That influx could also up the competition for the featured paid listings, resulting in higher CPCs.
Overall, the shift seems like a net positive for marketing teams that might be feeling budget cuts at present, and an opportunity to align Google Shopping strategies with the holistic strategies already being applied to traditional Google search paid and organic results. Well-optimized, relevant listings will be rewarded with free exposure, and brands who are already opted in as paid Shopping advertisers will have an initial advantage as the first to compete for organic slots.
The truth of the matter is that there are still a lot of open questions about the change. True to form, retail digital marketers are already out there exploring and testing the new listings to fill in the gaps. But until real traffic numbers start hitting and we get an understanding of how many users are utilizing the feature, we won't have a real sense of how substantially the shift will impact the market.
Watch our latest Ask Me Anything, where B2C experts answer your pressing questions.
WATCH NOW
How do you optimize to win for organic Google Shopping results?
The path to successful optimization for Google Shopping organic results is the biggest single question mark right now: Google has not disclosed any details about how the organic Shopping algorithm works. The Wpromote SEO team has already launched a beta test with selected client accounts to test our hypothesis that tweaking the feed to better feature keywords and attributes that reflect relevant consumer search behaviors is the best path to winning a top spot on the carousel. But we're also examining whether additional ranking factors such as pagespeed, structured data, and/or backlinks may influence visibility.
Retail digital marketers should recognize this major shift as an opportunity to rigorously test different optimizations and monitor the competition. It's possible that ad clicks may decline due to the new organic competition in the short term, but we're forecasting higher user engagement and increased brand impressions. It's also likely that the success of this experiment generally for Google may result in more organic and native advertising opportunities on the search engine. Those opportunities could translate into new strategies for your team– and new ways to connect directly with consumers.