Bing Ads Is Now Microsoft Advertising
Bing Ads has officially rebranded as Microsoft Advertising. On April 29, 2019, the company announced in an official statement:
"With data, AI and automation at your fingertips, it's no longer just reaching more people that matters to growing your brand. It's about making each connection feel one-to-one, at just the right time and place. More meaningful, more timely, and more valuable — this is how we see advertising evolving."
Microsoft will be introducing more advertising products with built-in AI that will be connected to your data and business, such as the Microsoft Audience Network and Sponsored Products.
Below are the name changes you can expect to see:
Bings Ads is now Microsoft Advertising
Bing Audiences is now Microsoft Audience Network
Bing Partner Program is now Microsoft Advertising Partner Program
What You Can Expect From Microsoft's New Audience Network & Sponsored Products?
Microsoft's audience network uses a plethora of features such as AI, rich audience intent, and profile understanding to help marketers reach consumers in what they call "brand-safe environments."
Microsoft's new sponsored products feature will enable manufacturers to boost visibility and drive more traffic to their top products in shopping campaigns.
You can expect to see new product enhancements become available to the UK and Canada later this summer, such as:
Viewable impressions
Image upload
Management tool updates
Expansion of audience campaigns
In order to join this beta you would need to complete the Sponsored Products beta form.
On May 2nd, 2019, Google released a new feature for all Google Sheets users allowing them the ability to download data from Google Ads straight into a Google Sheet.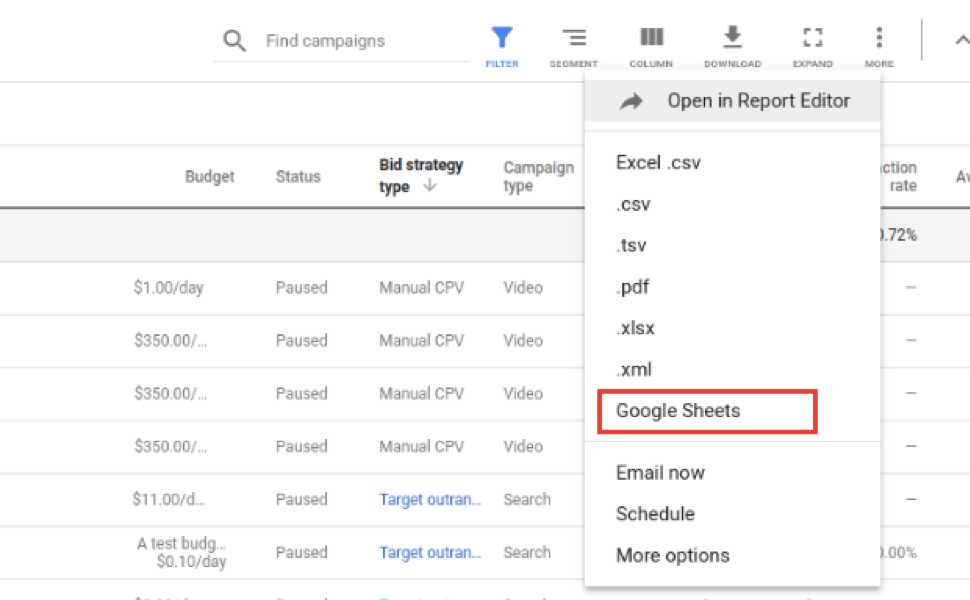 Google Finalizes Keyword Planner Updates
Google recently unveiled its new keyword planner with the purpose of making it easier for its users to navigate the UI and access easily digestible results. This new version of the keyword planner allows users to:
Download trend data for individual keywords
Use up to 10 seeds terms at a time
Get more granular competition ranking across keyword ideas
Save keyword ideas to existing campaigns
Get daily suggestions in the plan overview
Find the in-account status for uploaded keywords
View forecasts for all languages
Check out the Google Ads Help article for more.