Local businesses with physical locations that invest in Google AdWords as an advertising platform listen up: this week, Google unrolled a new update affecting both Google Maps and Local Finder that will directly impact the local search advertising landscape.
1. Search Ads Now Show In Local Finder Results
The most notable aspect of the update is that Search Ads will now display atop Google's Local Finder results, which can be reached by clicking "More places" in a local three-pack Google search result.
Local SEO specialist, Brian Barwig, went to twitter April 19th after discovering this ad placement for a search relating to personal injury lawyers. Wpromote client Chase Law Group is also receiving ad slot placement in this new ad real estate, signaling strong presence for the law vertical for this new ad placement.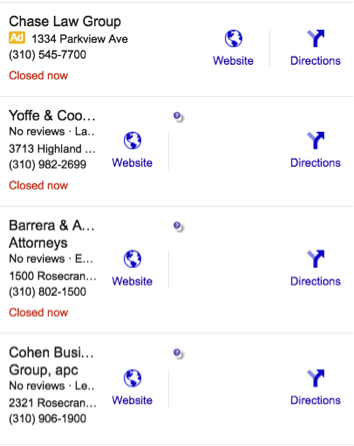 We also tested queries for these keywords, all of which showed no ad atop the Local Finder.
"orthodontists in santa monica"
"real estate agents malibu"
"real estate agents brentwood ca"
"men's hair salon venice beach ca"
However, the queries "men's haircuts mountain view," and "italian restaurants las vegas," both featured ads atop the Local Finder listings, showing that other verticals – salons and restaurants – are in the mix.
Another notable observation in this test is that when an ad did show up, it was for the same business showing in ad position one on the search engine results page (SERP). According to Search Engine Land, more than one ad is able to display in this new ad position. But all of our tests saw only one ad in this spot, the ad from position one in the SERP, which, based on our finding, is an opportunity for an advertiser to be prominent in multiple locations with one query.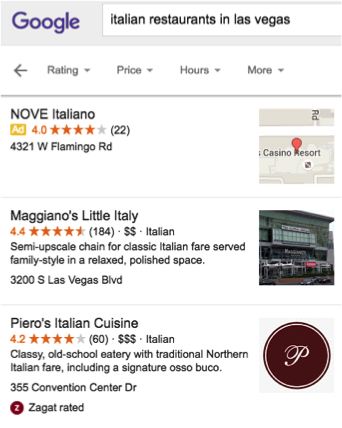 So, how are ads opted into this new Local Finder frontier? Location extensions.
By enabling location extensions within AdWords (location extensions are enabled by syncing your Google My Business Page to your AdWords account), which should be a best practice for all local advertisers, you become eligible to show ads in this space.
2. Google Maps Is No Longer A Search Partner
The second part of this update pertains to Google Maps. Google Maps is no longer part of the Search Partner network. The Search Partner network is a list of sites that Google Search ads are eligible to be shown on. Now, only advertisers who have location extensions enabled will be eligible to be shown in Google Maps.
So, if you are running text ads with no location extensions and are opted into Search Partners, your ads are no longer eligible for placement in Google Maps. Conversely, if you have location extensions enabled but are opted out of Search Partners, your ads will show in Google Maps.
The expected impact of this update:
Advertisers not using location extensions who are opted into Search Partners will likely see a drop in impressions and clicks. Advertisers using location extensions who are opted out of Search Partners will likely see an uptick in impressions and clicks as your ads now populate Google Maps.
Takeaways & Considerations
All around, this is a notable update to Google's local search advertising landscape.
The main takeaway is location extensions are extremely important. Since the dawn of sitelinks and call extensions, Google has made it very clear that advertisers who maximize their ad extension usage receive higher quality scores. This is another subtle reminder, echoing that sentiment. There's no excuse, fire up your location extensions. Lazy advertisers will be left in the dust.
This update also shows yet another encroachment of ad real estate into the organic playing field. Google, yet again, is displacing organic space for pay-to-play prominence. It's also interesting that after removing sidebar ads – a perfectly barren plot – Google would insert ads into a highly competitive organic space. Is this the first step toward a paid local pack?
Mobile is also something to watch. We emulated all of our test queries on mobile and both the user interface and results were varied for each query. This lack of consistency could point to either a separate set of tests happening in mobile, or simply that this change is isolated to desktop search at the moment.
The evolution of these updates is one to keep an eye on as a local advertiser.