November 14, 2008
For the purposes of my OpEd columns, I had intended to pretend the 1980s never happened. Take a couple generations of kids with misplaced affinity for a decade in which they were barely cognizant and the highest rate of pretension per capita, and you can make a fairly accurate conjecture about how many ridiculous "Top 5 movies of the 80s" lists have been posted on the internet (a Google search of "top movies of the 80s" yields 544,000 results – really people?). I have nothing against the decade – on the contrary, I'm quite fond of the aesthetic developed during that time – but all the rampantly dogmatic assertions people spout about the period have borne a profound apathy in my outlook. A survey of 80s polls would probably yield very convincing support for the theory of acatalepsia.
All that being said, what few strands of idealism still hold my psyche together would not allow me to sit idly by while this esteemed organization basks in the epicly atrocious Top 5 list posted Wednesday. So, I began compiling an alternative Top 5 for those of us who actually watch movies…
Before we get to the selections, I need to highlight an often overlooked designation: in these postmodern times, "The 80s" is not only a decade but a genre classification. Accordingly, I've selected the "Top 5 80s Films" (genre) as well as the "Top 5 Films of the 80s" (films released between January 1st, 1980 and December 31st, 1989). So, without further ado…
Top 5 80s Films
1. Fast Times at Ridgemont High (1982)
Early in the decade, first time writer Cameron Crowe and first time director Amy Heckerling teamed up and cast a slew of bright young talents to create one of the most hilarious, insightful, original, creative, and all around enjoyable movies ever. By shifting the focus to teens and teen issues (and putting together a spectacular soundtrack), Fast Times literally created the 80s genre film. Often imitated, never duplicated.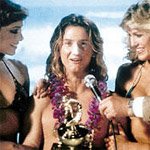 "All I need are some tasty waves, a cool buzz, and I'm fine."
Side Note: Heckerling would later direct a Top 5 90s genre film: Clueless.
2. The Breakfast Club (1985)
Sixteen Candles (1984) came before it, and Ducky didn't show up until Pretty in Pink (1986), but The Breakfast Club screams 80s louder and clearer than any other film in the spectacular John Hughes canon. "The Brat Pack" was raised in one Saturday detention period. Impressive how this film is able to capture a period so well, while maintaining such a timeless quality with its spot on depiction of the pressures and pitfalls of teenage life in America.
"I wanna be just like you. I figure all I need, is a lobotomy and some tights."
3. North Shore (1987)
Wherein our protagonist postpones college for a year, leaves Arizona for the North Shore, meets a bunch of wild characters, gets in trouble with the locals (Gerry Lopez & friends), learns to surf and live better with a wise man archetype, falls in love, refines his artistic palette, and takes on local surfer hot shot jerkoff Lance Burkhart (played by Laird Hamilton). Lead man Rick Kane isn't the one to watch here though; Turtle is the go-to guy; his acting prowess casting a long shadow over his costars. In fact, Turtle is the single best movie character of the 80s, maybe ever. Yeah, I said it! (Sorry, Spicoli. The student has become the master!)
"I can tell you're lame by the way you wear your shorts."
4. Rad (1986)
My first inclination was to leave this off, as my list is veering towards the action sports oriented titles of the decade (there are plenty I painstakingly chose to leave off). Then I realized I've probably watched this film more than any other on this list, and it probably informed more of my life decisions than I'd care to acknowledge. My mom got me a copy when I was just a wee tot, and I can easily say it's been watched well over 100 times. The tragedy of this film is that it has yet to be released on DVD, so it's something of a forgotten gem. VHS copies have fetched silly sums on eBay over the years; of course, I would never sell mine! Oh, there's also THIS.
With nothing but discouragement from every adult in his life, Cru Jones has to follow his heart and tryout for the huge BMX race touring through town. On the way, he dodges sleazy businessmen looking to exploit him, egomaniacal BMX villains he once idolized, and a Sargent Slaughter-esque policeman always after him and his friends. Then he has to start an independent company to sponsor himself in order to enter the race and prove his worth to all the detractors. It's a triumphant tale about overcoming the odds, set to the most underrated soundtrack of the decade. Besides, what could be more 80s than a high school dance turned "bicycle boogie"?
"Hulk Hogan, eat your heart out! A BACKFLIP!"
5. The Lost Boys (1987)
Vampires? Check. The Coreys? Check. Frog Brothers? Check. Kooky Granddad? Check. Kiefer Sutherland? Check. Weird beach concert featuring mulleted bodybuilder playing a saxophone? CHECK. This movie has it all, need I say more?
"Death by stereo!"
Top 5 Films of the 80s*
1. Fast Times at Ridgemont High (1982)
Believe it. Fast Times tops out both lists! In 2008, names like Sean Penn, Nicolas Cage, Forest Whitaker, and Cameron Crowe are household names with Acadamy Awards under their belts. Is it mere coincidence that Fast Times was the first appearance (Penn's 2nd) for these and so many other future stars? I don't think so. If you laugh too hard throughout the film, you'll overlook the fact that this was one of the first to approach controversial subjects like teen pregnancy, drug use, abortion, and promiscuity. It revealed a new generation with new values, entirely distinct from, but indebted to the teens of the 70s. Remember, "whenever possible, put on side one of Led Zeppelin IV."
"I'll take a meatball sub, a medium coke, and your phone number." (I heard this was how Holly and Mike met)
2. Raging Bull (1980)
I'm not going to bore you with real movie talk here. Considered by some to be the best film of the 20th century (number 4 in the AFI 100), and victim of the worst Academy Awards hoax of all time. After Hours (1985) get an honorable mention as another Scorcese gem.
3. Brazil (1985)
An epic in every sense of the word. An Aldous Huxley/George Orwell style dystopian nightmare with strange comic relief. Aristocracy, Bureaucracy, and just about every other "-cracy" are satirized here with alarming affect. Terry Gilliam's visionary directing at its absolute best.
4. The Shining (1980)
This would probably find its way into the Top 5 Horror Films of All Time. All creepy moods and spooky ambiance, bizarre and unsettling imagery, and a perfectly sinister performance from Jack Nicholson. You won't find the blood and guts of your typical 80s horror/slasher here, but if you sit back and absorb it, you'll be wringing your hands before you know it. Stanley Kubrick is simply a cut above the rest. Full Metal Jacket (1987) gets an honorable mention here as well.
"All work and no play makes Jack a dull boy."
5. Stranger Than Paradise (1984)
Here's our darkhorse candidate. Along with Down By Law (1986) and Mystery Train (1989), Jim Jarmusch took the American Independent scene by storm in the 80s. Down By Law might be better, but Stranger Than Paradise came first, and ushered in a new era of minimalism and realism in US film. Addressing themes of boredom and loneliness doesn't necessarily make for lighthearted fun, but as Jarmusch has shown throughout his career, it can make for beautiful film.
…well that was exhausting. Future posts will be far far shorter. And let's keep the 80s talk to Stone's office from now on, okay?
* In reality, this list probably reads more like Empire Strikes Back, Raiders of the Lost Ark, Temple of Doom, Last Crusade, Return of the Jedi; but George Lucas is a jerk, okay?