Sure, what happens in Vegas is supposed to stay in Vegas, that is, unless you went to Vegas for Conversion Conference 2016 like members of the Standing Dog Interactive team. The takeaways from this event are too good not to bring back to the office and share.
Conversion Conference is an annual event that draws together marketers to talk about the number one thing clients want and need most: surprise! The answer is conversions. Whether a conversion is a qualified booking at a hotel or an email sign up for a blog, many of the same strategies and principles can help marketers and clients work closely together to help improve. Here are some of our favorite takeaways from Conversion Conference.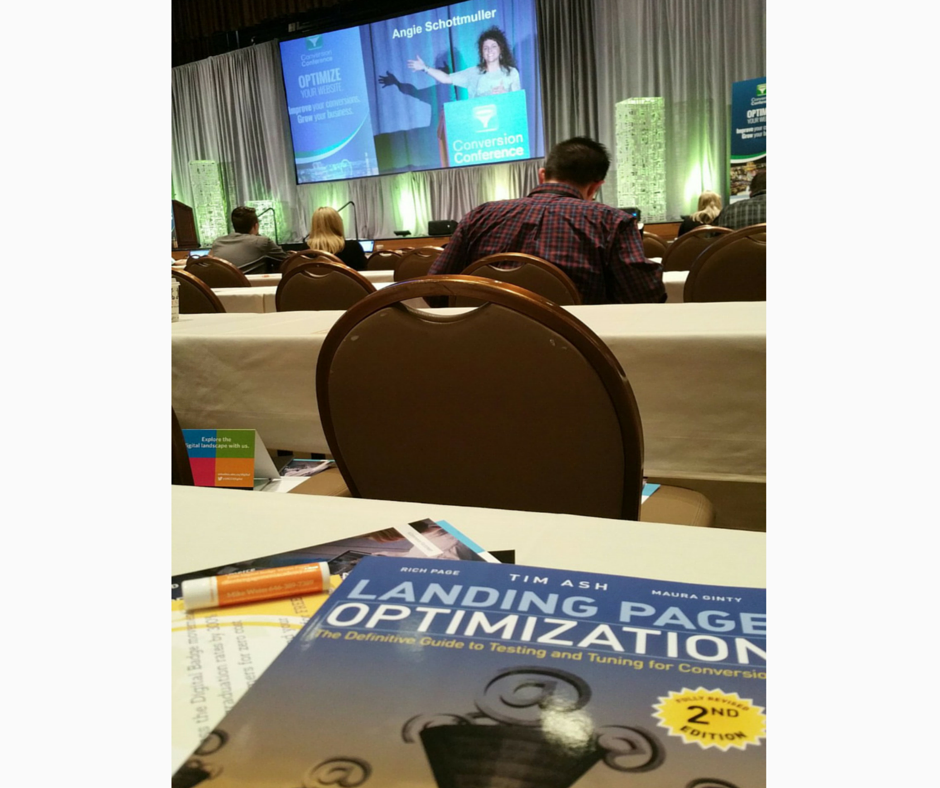 What's In A Brand?
Have you ever heard a marketer say "let's test that" as a "solve-all" for any website problem? Have you ever heard a designer fire back "that's off-brand," killing the conversation? In Tim Ash's (Site Tuners) opening keynote, he stressed the importance of ending the war between marketing and design. When it comes to helping customers convert, everything matters, including appearances. But brands also need a reality check. What does it mean to be a "brand," anyway? It's not a font or a color. It's an understanding of the unconscious motivations of your consumers. In other words, your brand is whatever your consumers say it is.
Ash gave an example of an elephant being touched by a group of blindfolded individuals. One man touches the elephant, saying, "this is like a tree." Another touches it saying, "No, this is like a wall." The third touches it saying, "No, this is a spear." No one is wrong. They're all right. As marketers, it's our job to figure out what they're perceiving and give it context.
So how can a marketer and design team work together to apply this? While testing isn't a solve-all (and many conference speakers stressed the importance of throwing out useless A/B tests just to determine a button's color), testing has a value when it is used to find what people react to and feed it back into the brand. This can be done with Google Tag Manager tracking on a page, changing what's considered bounce rate, using Analytics to follow the customer journey through a website, surveys and more. Any data collected should then be used to adapt or drop the on-site elements that consumers aren't responding to in an effort to make the conversion journey as simple and clear as possible for the consumer expectations of the brand. Marketing should have an unconscious impact on consumers.
Every Moment Is A Content Moment
So now that we've acknowledged our marketing overlords, the consumers, and recognized their control over our marketing strategies, it's time to give them the content they want. The good news? We know what they want. They want to make informed decisions. 93% of all consumers use search prior to making a purchase, and 90% of these buyers still click on organic links versus the sponsored ads (even with Google taking over their search pages with Google ads). So your website and your content matter. In fact, many speakers at Conversion Conference said that all of their conversion strategies start with content before the SEO and PPC tactics even come into the mix. Several speakers even claimed that the first thing any landing page needs is a written call to action. Once you have established that, the rest will fall into place.
Arnie Kuenn (Vertical Measures) specifically helped lay out strategies for knowing your target audience and how to meet their expectations for making informed buying decisions. From the awareness stage to consideration stage to decision stage, there is content for that. The problem is that most marketers overthink what type of content they should be doing and overshoot with "cutesy" or overly "clever" content.
Kuenn says to keep it simple. Just create content people are actually searching for and don't even worry about getting too hung up on keywords. Can you picture someone putting that article title into Google? Go with your gut. After all, you're a consumer too.
Kuenn's other big tip was: "Don't ask what can you write about. Ask what questions you get asked daily." This is where buyer personas come in handy. A buyer in the awareness stage is going to have a problem and have "I need to ____" types of questions. Answer these with content. A buyer in the consideration stage is going to look for how to solve those problems with "what ___ for" types of questions. Answer these with content. A buyer in the decision stage is going to have "who offers" types of questions. Answer these with content.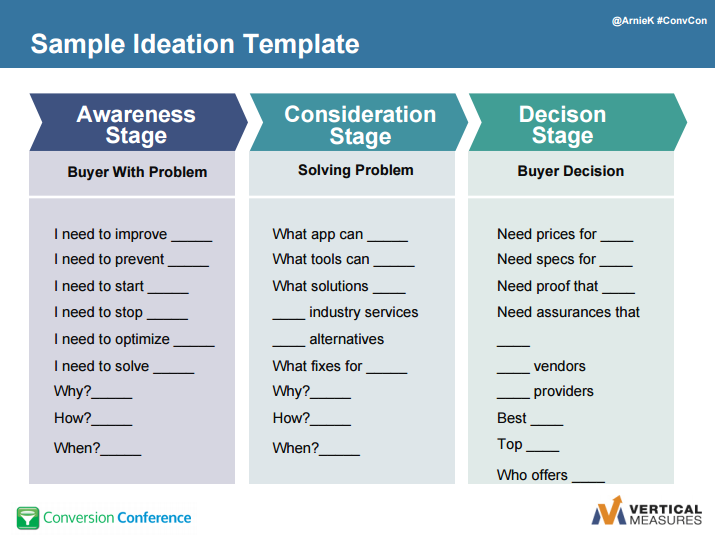 Once you know what your content plan is and where it fits in the buyer journey, then you can think about other optimization tactics like keywords and SEO. The point is that every moment has a content opportunity. Are you meeting your consumers' expectations with your content?
From SEO to CRO with Smarter Testing
In marketing, we love our acronyms, and if you haven't heard, there's a new acronym in town: CRO, aka Conversion Rate Optimization. It goes pretty hand and hand with SEO (Search Engine Optimization), and yet, a lot of SEOers are terrified of CRO. Some fear it might hurt rankings. Others fear it's just too big or expensive. But Rob Ousbey (Distilled) says it's time for SEOs to embrace CRO because it's practically SEO to begin with.
Ousbey laid out an easy to follow road map for any SEOer to make the transition to thinking like a CROer. First step to good CRO? Improving click-through-rate with testing. Ousbey kept referring to "the testing mentality" and encouraged SEO specialists to test big. Whether it's testing new title tags through Adwords in a low-cost market or using a survey to better understand consumers, Ousbey says that both CRO and SEO naturally follow from an understanding of the customer and their behaviors. This understanding leads to better keyword research and content planning and consequentially, better conversion rates.
Theresa Baiocco (Conversion Max) echoed Ousbey's emphasis on smart testing, but she also cautions against the #1 pitfall most CRO strategies fall into: not knowing what it wants a consumer to do. If marketers don't know, neither do the users. If you can identify your most profitable action (phone versus a lead form for example), you steer people toward that goal. To figure it out, Baiocco recommends a variety of testing tools such as Attention Wizard, Lucky Orange, User Testing, Crazy Egg, Formisimo and more.
Google's very own Krista Seiden also chimed in with her own take on the value of testing, saying "your site can tell you what's important." However, you have to know how to track it. That's where custom funnels and Analytics goals come in handy. While third-party tools can tell you quite a bit, a lot of information is already at your fingertips with Analytics and some of its more underutilized features.
Viva Las Vegas and viva Conversion Rate Optimization! Contact us now to see how we can help you take your digital strategy to the next level with a CRO strategy.