Recently we've been looking at ways to deal with new and interesting reputation management issues that some of our clients and potential clients have been having, but MAN these guys have an interesting unique situation I haven't seen before…as the guys on KROQ (LA Radio) were saying this morning,
'Hey lets spread that Nike is having a shoe sale, I could use some new sneakers!'
Here is the scenario: You own a successful business called In 'N' Out burgers.
It is your 60th anniversary on October 22nd, 2008.
Some Joker decides that it would be funny to spread this around the internet, text messages and anything else to see if the company will decide to actually do it:
In-N-Out's 60th Year Anniversary is Wednesday, October 22nd. All hamburgers will be sold for 25 cents, Cheeseburgers 30 cents, Fries 15 cents, and drinks are 10 cents!!! So mark your calendars!
So please note that this IS NOT TRUE it is a hoax.
So what do you do when all your customers are saying, 'Come on, it is your 60th anniversary, why not do this?' and they are starting to get complaints about it.
– Reputation Management on a major scale – This is no longer an internet thing but a national nuisance to the company. So how they are handling this – is to be SMART about it and use it to promote their brand by having their customer relations teams handle tons of extra calls and by posting the following image on their corporate website from a '60th Anniversary Rumor' link. Also appearing on local radio stations to discuss it and answer most questions with 'we need to keep costs as they are to provide the value we already provide'. COME ON! give the customer something In 'N' out! its' been 60 years? what would McBurger do?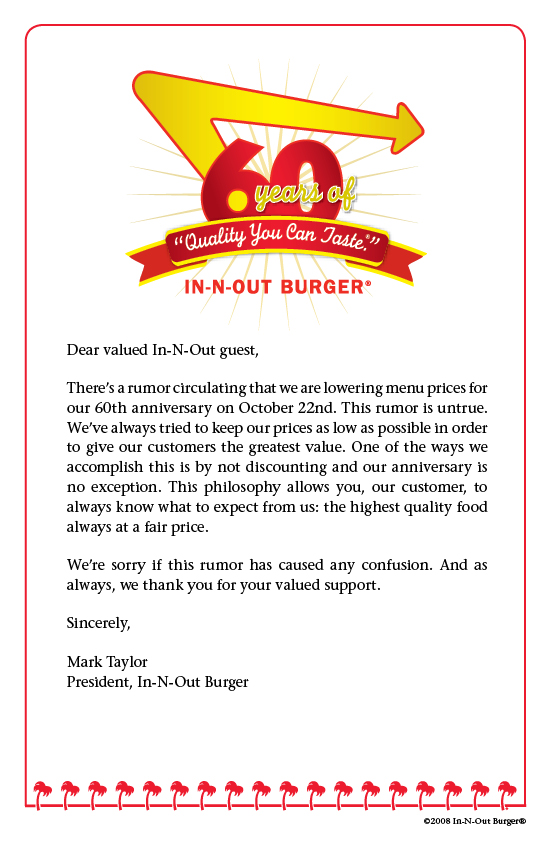 Now this is a unique case where their brand is so strong that people are using it against them, but as many say "there is no such thing as bad press", well unless you're like Nick Nolte or Gary Busey maybe…
I find it interesting to see that this kind of thing could have easily been put forth by a competitor to mess with them. In the end it got them tons of press and I feel like going to In 'N' Out today now – but I've already exceeded my once a month or two quota.
My take – I think someone did this to be funny and to see what would happen and now they are afraid to brag about it and get caught. – They will probably get caught when they take credit for it, I personally DON'T think it was a competitor but it is definitely a unique and funny situation, but more importantly it DOES leave the company with the question, 'Well what ARE you gonna do for your customers on your 60th?' – as it seems they are having a massive party for THEM only. Kinda leaves a good taste in your mouth.
So how could you spread this around so quickly? It appears that the root of this stemmed from an e-mail message (above) but could also be passed around to people internally on their personal chat networks such as AIM or MSN, or even TWITTER. Which brings me (face it folks, we're not getting free burgers so let's move on to something else now…) to an interesting new word,
"TWAM" =  Twitter Spam
Great, just when something kind of useful comes around, people like this guy, Joel Comm RUIN it by offering incentives to people for spreading the word about his stupid new book. This included asking folks to 'Tweet' (send a Twitter message out) about it using his blurb. The problem is (from Darren Rowse's great blog post about Twitter spam) showing how Joel Comm's stupid automated script is being used by people to help SPAM TWITTER and likely get removed from many people's Twitter accounts. This could have been done much more subtly by asking people to tweet about the book if they like it, not by PROVIDING them with the script to cut and paste the same message and basically turn people's ad blinders on in twitter now.
So as this was moderately successful for him ONCE, it now will open the door for marketing campaigns that will start to destroy the goodness of Twitter and force 'real users' who do more than just ask people to Digg their posts and buy their books to have to be more diligent about who they follow and block on their Twitter. Not the end of the world, but I think the only solution here is for Twitter to work on their spam filtering and flag any messages that are identical throughout the network and remove people or ban accounts that abuse the system.
Have an awesome weekend and if you are in Canada a Happy Thanksgiving. If you live in Detroit, I just wanted to give a shout out saying 'Great Effort Wings', who are the current Stanley Cup Champions who had a 'gala' type ceremony with Def Leppard(!) playing before they hosted up their Championship banner while the Toronto Maple Leafs watched and waited patiently (a tactic Toronto's coach decided to use to motivate them) before BEATING THEM 3-2. Go Leafs.
Till next time…