There is a real disconnect in today's digital marketing environment between what CEOs want (i.e. growth), what CMOs are held accountable to, and how agencies and retailers actually evaluate their digital investments. The prevailing short-term "last click efficiency" mindset is driving retailers to underinvest in marketing, which hurts both their growth and efficiency.
In this blog post, I'm going to share some key hacks that the team at Wpromote is using to help retailers go from stagnating to achieving 2-3x growth.
Understand Your Data & Your Customers
Digital marketers have all heard that 20% of your customers produce 80% of your profits.
But if this is the case, then why aren't marketers investing this way?
The key to driving efficiency and scale for your brand is to understand your customer lifetime value (CLV) by customer segment and use that data to change the way you invest your marketing dollars. Depending on the level of your sophistication, there are several ways to model your CLV, whether you have a solution like CRM Agile One or Custora, or an agency that can do it for you (like Wpromote!).
Wpromote is leading an exclusive pilot program that is actively solving this problem for retailers. Using 12 to 24 months of transaction data (effectively customer ID, order ID, and order amount – without Personally Identifiable Information (PII)), Wpromote can apply machine learning to the data and model customer segments by CLV. With this data, you can better understand the value of your customers, the segments they fall into, and how to use these segments to accelerate your growth.
How To Use This Data
First, upload your customer segments to Google and Facebook as customer match and custom audience files. You then want to change the way you invest in these audiences. For your lowest value customers, for example, you may want to reduce your bids by 80%. But for your highest value segments, you could bid up 300%. You know these customers are super profitable, so you want to be sure you are investing to win.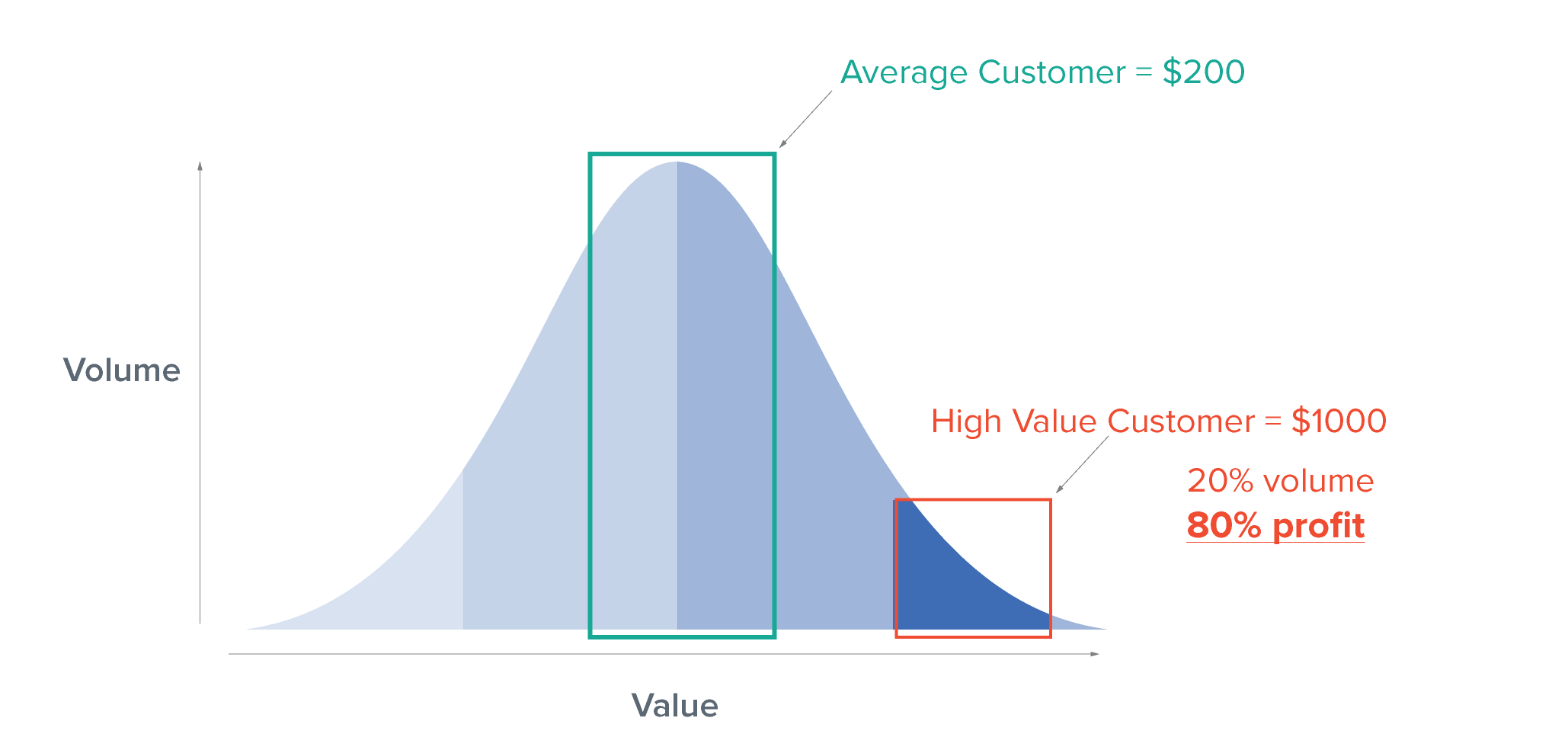 Bidding differently on your existing customers is just the beginning. Growth really comes from applying both Google and Facebook's similar audiences to your most profitable customer segments.
This tactic is working particularly well on Facebook for several reasons: their AI and matching is the most advanced in the industry, Facebook is an extremely widely adopted platform, and they absolutely dominate on mobile.
These factors allow Facebook to measure an incredible amount of interactions. Using those interactions and harnessing Facebook's AI and matching ability to find customers who look just like your most profitable customers will allow you to aggressively pursue those customers, pushing real growth and exponentially growing profitability.
Leverage 1st & 3rd Party Data Across Search & Social Buys
Let's use an example. If you are a gym and looking for new customers, you can take a list of your best customers (your 1st party data), find people who look like them (lookalike audiences), and layer on 3rd party data (everyone that currently has a Soul Cycle or Equinox membership).
This means you can find an audience that looks like your best customers who, instead, currently spend money at a different gym, and interrupt them with an offer to switch. This marriage of 1st and 3rd party data on Facebook and Instagram is what is turning social into one of the most productive channels for many of Wpromote's clients.
Shift Away From Last Click/ROI-Driven Investment Models
Digital marketers need to start shifting away from "last click" or ROI-driven investment models. If you are using these metrics to drive your investments, then you are limiting your growth as a business.
Here's another example. Wpromote partnered with TOMS to launch their business online. They were getting a $20 cost-per-acquisition (CPA), and they told our teams that as long as we achieved a $20 CPA or under, there was no cap on the budgets we could use.
However, we quickly realized after digging into the account that there was no such thing as a $20 customer. Instead, TOMS had many $2 customers converting on brand, and a number of $60 customers converting on non-brand terms.
By limiting CPA to $20, TOMS were effectively capping their ability to pursue new-to-file customers. By shifting to a profit-driven approach and fully understanding three things – the cost to acquire a new customer, their realistic margins, and lifetime customer value – TOMS, with Wpromote's help, was able to shift their marketing objectives and create accelerated growth.
Key Takeaways
By moving to a profit-driven approach and understanding your CLV, you can accurately measure your business's true profits from ad spend.
Businesses should absolutely be bidding differently, as well as building predictive bid models across search, shopping, display, and social-based off of margin and profits. Brands need to move away from a "last click" approach to drive marketing scale and truly unlock growth.
Ready to be a challenger and transform your marketing? Find out how we can do this for you.